Texas is about the size of Spain, and its varied ecosystems—forests, deserts, prairies and wetlands—mean you don't have to cross any border to visit the coast, canyons or sleepy bayous. Below we've mapped out spots across the Lone Star State for you to explore.
CANYON LANDS
West Texas and the Panhandle
West Texas has some of the state's most unexpected landscapes. Low-rise red mountains frame miles of deserts, and quiet back roads cut through cacti-dotted ranches. Then there's Big Bend National Park, a stunning 1,251-square-mile reserve where the Rio Grande river runs at the bottoms of dramatic canyons, home to more species of bird than any other national park. Afterwards consider driving to McDonald Observatory for its popular night-sky constellation tours. Big Bend's in-state rival is Palo Duro Canyon State Park, the second-largest canyon in the country, located in the Panhandle. Explore the wide-open spaces on foot or horseback, and look for white-tailed deer and roadrunners.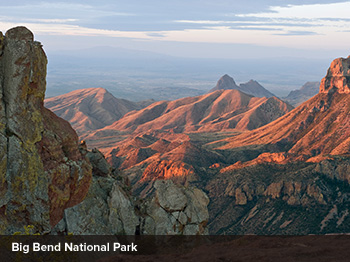 LONE STAR STATE HISTORY
W Fort Lauderdale
Texas's past goes way back in Dinosaur Valley State Park where sauropods and theropods left tracks more than 113 million years ago. Ranger-led tours take you to see footprints like elephants' along a riverbed.
A number of charming historic towns in East Texas are worth a weekend trip. Take Jefferson, which was once a major stop for riverboats on their way to New Orleans. You'll hear about that boomtown history on a river tour with Turning Basin Riverboat Tours.
LONE STAR STATE HISTORY
Road-tripping is the best way to explore the scenic Texas Hill Country. Drive through towns such as Wimberley, where live oaks line winding roads. Food is a focus here, whether you're overnighting in a B&B that offers cooking classes, such as the Blair House Inn, or stopping at the Wimberley Pie Company for a sweet slice. From there, go west to Blanco where you can sample suds at the Real Ale Brewing Co. Look out for area favorites Fireman's 4 and Lost Gold IPA. Head south to San Antonio to continue the culinary adventure. One of three Culinary Institute of America campuses in the United States is set in the revitalized Pearl Brewery District. There you can wolf down brisket at the Granary. For dessert, try raspberry or chocolate macarons at Bakery Lorraine, just around the corner.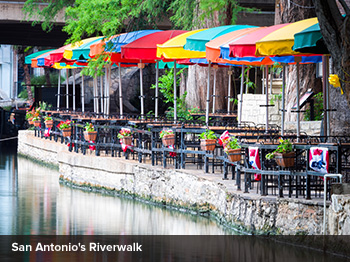 GULF COAST
Crabs and sea turtles roam the 70-mile Padre Island National Seashore, the longest undeveloped barrier island in the world (nesting season is from late April to mid-July). Even the first few miles of the park, the only section accessible without 4-wheel drive, feels vast and undiscovered. A single road cuts through acres of dunes that tumble along 50-yard-long beaches. Keep an eye out for the Kemp's ridley sea turtle, the rarest of the 5 species of sea turtle living in the park. Another Gulf Coast hit is Galveston, just an hour outside Houston. At the multimillion-dollar Galveston Island Historic Pleasure Pier you'll find roller coasters, bumper cars and classic fair food—all with views of the gulf waters.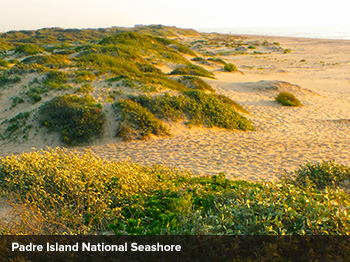 THE DETAILS
Big Bend National Park: nps.gov/bibe
McDonald Observatory: traveltex.com
Palo Duro Canyon State Park: tpwd.texas.gov
Turning Basin Riverboat Tours: jeffersonbayoutours.com
Blair House Inn: blairhouseinn.com
Wimberley Pie Company: wimberleypie.com
Real Ale Brewing Co.: realalebrewing.com
Granary: thegranarysa.com
Bakery Lorraine: bakerylorraine.com
Padre Island National Seashore: traveltex.com
NOTE: Information may have changed since publication. Please confirm key details before planning your trip.