Consider Lockhart, a ranching town of about 13,000 a half-hour south of Austin—just right for a lunchtime excursion, which is when most Texans eat barbecue. Lockhart's 4 barbecue joints all practice the traditional Czech-German cooking technique: A flue above the meat at one end of the pit draws smoke from post oak logs smoldering at the other end. That means the meat is cooked "low and slow" (temperature and time), more by the smoke than by indirect heat, a process that yields an intense, juicy flavor.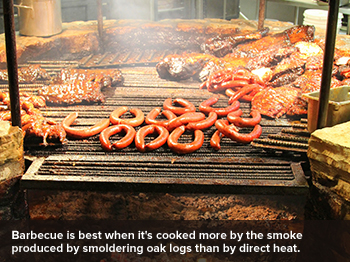 Today's barbecue circuit began around 1900, when Lockhart's Kreuz Market began smoking its oldest cuts of meat to keep them from spoiling and its toughest (like brisket) to make them more tender. If you came here before 1999, you ordered at the pit, where your lunch was piled onto pink butcher paper, and you ate at communal tables. There were no sides (only condiments like onion slices) and no sauce; you got a plastic knife for cutting and you ate with your hands.
A family feud split this venerable institution in two: The original Kreuz moved to a barn-like building at the north end of town, while a sister opened a new joint called Smitty's Market at the old location. Fortunately, Kreuz's fatty brisket and shoulder clod (a leaner cut) remain tender and tasty; the sweet pork chops, ambrosial; the medium-rare prime rib, rich.
Some things did change: Kreuz began serving sides of beans and German potatoes, horror of horrors. But you still eat the meat by hand and there's still no sauce. While Kreuz remains the quintessential barbecue experience, Smitty's ranks only a notch below. And if you insist on the heresy of barbecue sauce, just ask; they keep some hidden away.
Those who can't imagine a trip to Texas without barbecue should stop by Lockhart Smokehouse. Here owner Jill Grobowsky Bergus serves up delicious brisket and smoky ribs and sausages direct from Kreuz's Market, a barbecue mecca in Lockhart, Texas, that used to be run by Bergus's grandfather.
After lunch, stroll around Lockhart's town square, whose three-story, multi-towered Caldwell County Courthouse dates back to 1884. Or if you're a true fanatic, go for a second lunch at City Market in Luling, a onetime oil town 14 miles down US 183. They serve only brisket, pork ribs and beef sausage, along with a thin, sweet, mustardy sauce like no other.
HILL COUNTRY BBQ
The rolling Hill Country west of Austin and San Antonio also makes for a good barbecue day trip. On the way to Cooper's Pit Bar-B-Q in Mason, stop in Fredericksburg to see Enchanted Rock, a 425-foot-high hunk of granite. (Note: Make the climb before lunch.) At Cooper's, the meat sits directly above mesquite coals, as it does in backyard grilling, except that all the space between meat and heat in these huge iron pits allows smoke to mingle. (Mention "Cooper's" and most folks assume you mean Cooper's Old Time Pit Bar-B-Que in Llano, 35 miles away. Don't worry: We're getting to that.)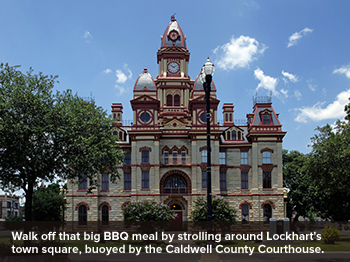 Walk up to a holding pit and point out your desires from a staggering array of meats: brisket, beef and pork ribs; sausage and chicken, of course; but also pork loin, steak, lamb ribs, cabrito (kid goat), turkey, pork chops and more. Difficult choices must be made.
THE OTHER COOPER'S
Like Lockhart, Llano (population 3,325) also is a 4-pit town. At the aforementioned Cooper's Old Time Pit Bar-B-Que, quality control can be difficult, given the number of BBQ pilgrims lured by the renowned brisket. For a more personal touch in Llano, you can't do better than Laird's BBQ, a one-man operation. The affable, wisecracking owner, Kenneth Laird, turns out a smaller menu, so while Laird's at its best may not quite match Cooper's at its best, it is more consistent.
Another must-go-to joint is Louie Mueller BBQ in Taylor, about 40 miles northeast of Austin. Textured, flavorful brisket is served up in a former basketball gym with smoke-stained walls. Even chicken, which can be notoriously dry, squirts juices when its skin is punctured. Though Mueller's is accessible by interstate, I recommend taking the scenic route: FM 969 east to FM 973, then north through pristine farmland to Taylor.
Where should you go, if you had to pick one spot? Well, one of the most wonderful things about central Texas is that hard-core barbecue hounds can argue about it all day—while sampling the savory candidates, of course.
NOTE: Information may have changed since publication. Please confirm key details before planning your trip.