Centuries before sun lovers "discovered" the island of Cozumel, Mayan women from the mainland used to paddle dugout canoes to the island to pay homage to Ixchel, goddess of childbirth. The mother of all Mayan deities reportedly granted the visiting women a fertility boost. But better yet, she offered them a good excuse to keep returning to Mexico's most enchanting island.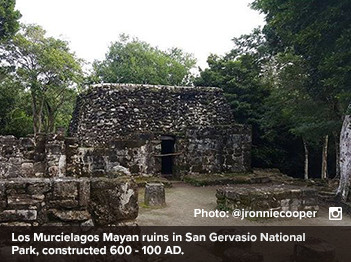 Rising above translucent Caribbean waters, 200-square-mile Cozumel continues to enchant visitors. During the day, cruise passengers fill the souvenir shops on San Miguel's waterfront. (It's Mexico's busiest cruise-ship port.) Meanwhile, savvy overnight visitors hunker down in hotel spas or lounge on the beach. As evening falls, they join the locals to reclaim the malecón (seaside promenade) and watch the sunset.
Cozumel's laid-back air tends to attract casual explorers rather than action-loving adventurers. Those who love it here usually return regularly to sample their favorite chef's latest creations, to dance with abuelitas (grandmothers) in the plaza, to dive down to new coral walls and simply to swing for hours in a hammock. But mostly, they come back to soak up the island's special blend of Mayan, Mexican and Caribbean cultures. The result? Utter relaxation.
THE PLAZA GROOVE
Just a block east of the ferry pier is Plaza Central, the main square in San Miguel—and the heart of Cozumel's social life. Flamboyant trees shade the benches around its yellow clock tower and filigreed wrought-iron kiosko, or bandstand. On weekend evenings, the plaza fills with dancers of all ages swinging to salsa, marimba and rock rhythms. Between songs everyone catches up on local gossip, as scents of roasted corn on the cob and deep-fried churros (long, sugary donuts) fill the air. Stop in at Plaza Leza (on the plaza's south side) for a Negra Modelo beer and the skinny on upcoming events, like an unadvertised dance performance or outdoor movie.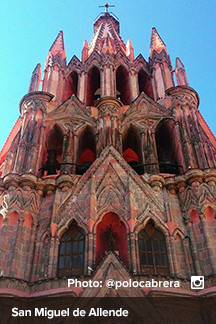 SHOP LIKE A LOCAL
When visiting cruise-ship passengers swarm the waterfront, move inland with the locals to the Mercado Municipal (Calle Adolfo Rosado Salas, between Avenidas 20 and 25 Sur). Inside this covered market, women in embroidered dresses shop for papayas, chilies, fish and flowers, while teens in school uniforms devour tacos and panuchos (like turnovers, stuffed with beans or turkey) before class. Colorful loncherías (luncheonettes) pack the south side of the market, their huge hand-drawn menus vying for diners' attention. Enterprising cooks fix inexpensive home-style Filipino and Indonesian favorites for the cruise-ship crews, along with Yucatecan specialties. For lunch, try the fresh shrimp with garlic or a whole fried fish—both are shockingly cheap. If you're staying awhile, stock up here on papayas, pineapples and the like.
DRIVE THE WILD SIDE
To see Cozumel at its natural best, hit the open road along the relatively undeveloped eastern shoreline. The 2-lane coastal route offers cliff views and beach access, including plenty of white sand and protected coves for sunbathers. When the winds die down the sea turns a glassy turquoise, but be careful: Even then the rogue currents here can make swimming dangerous.
Make sure to stop at a few of the stands on the eastern shore to pick up a hammock or some baskets woven from palm fronds. (Bring a pile of pesos or dollars, as credit cards aren't accepted.) If you get hungry, there are some great spots to stop, each with its own vibe. Keep your eyes peeled, there's only one road but no addresses. Coconuts, roughly midway along the windward road, gets as wacky as the name suggests—tipsy tourists gathered around the bar have been known to sing along with Jimmy Buffet or Bob Marley tunes. For a more peaceful experience, sit at the hill-top tables overlooking the ocean.
Local families take their lunch break—grilled fish with fresh tortillas—at Chen Rio, a simple café about halfway up the coast, with tables on the sand. Mexicalito's, at the north end of the coastal road, has legions of fans who wouldn't dream of visiting Cozumel without stopping here for a beer. The mood can be mellow or rowdy, depending on the clientele. Most cafés and bars close at sundown. If you're uncomfortable driving, sign up with Aventuras Naturales for a jeep tour of the island.
THE DEEP BLUE SEA
Considered one of the world's top diving and snorkeling destinations, the clear, warm waters off Cozumel are the site of the planet's second-longest barrier reef. But you needn't even get wet to witness the reef's incredible bounty.
The Atlantis Submarine plunges 100 feet below the sea's surface to glide past waving sea fans and coral heads teeming with life. Graceful angelfish swim right up to the sub's portholes as if posing for photos, while snappers and groupers ignore the silent, electric-powered invader. Even dedicated scuba divers admit to getting a charge out of exploring the reefs in air-conditioned comfort.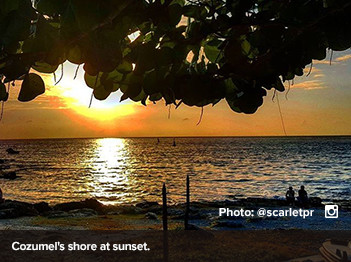 SWING IN A HAMMOCK
In 1980, Cozumel wisely set aside some 20 acres of gardens, ponds and coral reefs on the western coast to create Parque Chankanaab. After taking a hit from 2005's Hurricane Wilma, the lush gardens are once again home to butterflies and migrating birds. Brilliant green parrotfish and bug-eyed squirrelfish float with the currents; beach vendors offer snorkels and diving gear for rent. Hammocks sway beneath the palms—claim one early if a siesta is on your day's itinerary. The park also has a casual seafood restaurant, showers, lockers, a playground and a Dolphin Discovery.
PAY HOMAGE
For curious travelers or honeymooners looking to jump-start a family, Ixchel's temple still stands. Called Las Manitas (the little hands) after the centuries-old tiny red handprints that cover it, the temple is part of San Gervasio, the island's largest archeological site. Sapote trees shade Toltec and Mayan ruins that sit in the low jungle, 15 minutes northeast of San Miguel.
Though it's worth a visit, San Gervasio lacks even a portrait of Ixchel. For that you'll need to visit San Miguel's Plaza of the Two Cultures, on the malecón just north of downtown, where Ixchel's fanciful painted visage looks out from a carved pillar. By now you'll probably have figured out that this surprisingly tranquil island has more than enough to draw you back.
THE DETAILS
Aventuras Naturales: 1.858.366.4632; aventuras naturalascozumel.com
Atlantis Submarine: Carretera Chankanaab, km 4; 1.987.872.5671; atlantisadventures.com
Parque Chankanaab: 1.987.872.2940; cozumelparks.com
Dolphin Discovery program: 1.866.393.5158; dolphindiscovery.com
NOTE: Information may have changed since publication. Please confirm key details before planning your trip.