Massachusetts's Berkshires region, a New England landscape of rolling hills, quaint villages and stone walls, has long had an art scene that rivaled those of many American cities. Beginning in the mid-1800s, when natural attractions—like Mount Greylock, the state's highest peak—became more accessible to travelers, Henry David Thoreau, Herman Melville and Nathaniel Hawthorne made pilgrimages to the sites and sang their praises in essays and fiction. Melville, who could see Greylock from his home in Pittsfield, even dedicated his 1852 novel Pierre to what he called "the majestic mountain … his Imperial Purple Majesty."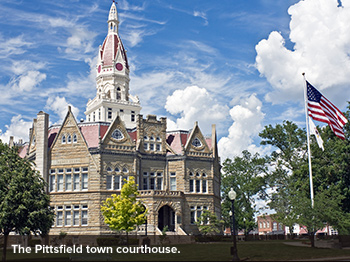 As they did with so many places of great natural beauty, artists cut the path and aristocrats followed. Wealthy industrialists and financiers built summer "cottage" estates in and around Lenox and Stockbridge, and many of the largest art organizations, from Tanglewood and Shakespeare & Company to the Norman Rockwell Museum, were established there.
Meanwhile, the towns to the north, nearer Mount Greylock—Pittsfield, Adams and North Adams—became industrial centers, far removed from the genteel pleasures of South County. And when industry departed, in the mid-1980s, so did much of the hope for the region.
But this is not the end of the story. Because the same art scene that put the Berkshires on the map has since spread north. And two north Berkshire County towns are betting their futures on a growing stable of museums, theaters, studios, galleries and festivals. For visitors that means a wider field to explore and plenty of creature comforts and off-the-beaten-path treasures to discover.
NORTH ADAMS
The north Berkshire County renaissance truly gained traction back in 1999, with the opening of the Massachusetts Museum of Contemporary Art, known as Mass MoCA. Located in a 13-acre complex of 19th-century factory buildings, the museum is a remarkable assemblage of vast and intimate galleries, a rare exhibition space for works that could never fit into conventional museums. It is home to one of the largest collections of wall drawings by Sol LeWit--more than 100 in all--and holds numerous film events and dance, theater and music performances.
In the wake of Mass MoCA's success, several other mill buildings have been converted into studio and gallery spaces. Eclipse Mill is a 4-story former textile mill containing live-work condominiums for artists, musicians and writers. It's also the site of a rambling bookshop, G.J. Askins, which specializes in art history, monographs on artists and photography books, but you'll also find fiction, cookbooks and children's books. Down the hall the Eclipse Mill Gallery features the work of resident artists and is open Thursday through Sunday in the summer and fall.
Every October on the weekend after Columbus Day, about 20 studios around North Adams welcome the public for the 2-day event called North Adams Open Studios (downstreetart.org). The weekend is sponsored by DownStreet Art, a program of the Massachusetts College of Liberal Arts, whose mission is to promote North Adams as a cultural haven (it's also responsible for the murals you'll notice as you walk around town).
Even with the success of Mass MoCA, North Adams struggles to diversify its economy; its charms are grittier than those of quaint Stockbridge. But signs of growth continue to appear in newer venues, like MCLA Gallery 51, which presents the work of established and up-and-coming contemporary artists, as well as its sister gallery, Press, which specializes in letterpress printing. There are also a few spiffy restaurants about town, including Public Eat + Drink, where you can have a great burger, beet salad and local brew, and Brewhaha, whose excellent coffee, muffins and breakfast sandwiches will fuel your morning explorations. Even the colorful inventory of Persnickety Toys, which sells baby gear, learning toys and snuggly stuffed animals, points to a new optimism in town.
PITTSFIELD
This hamlet once banked on the fortunes of General Electric for its future, but when the company left town, in the 1980s, Main Street faded into a strip of empty storefronts. Seeing that the cultural draws of their neighbors to the south brought money from tourism and second-home owners, city leaders gambled on the arts as a generator of growth. Lucky for them, they had a foundation to build on: Herman Melville's home, Arrowhead, is where the author wrote his masterwork Moby-Dick and is open for tours that delve into 19th-century life and Melville's work and its connection to the landscape. The Berkshire Museum, founded in 1903, is a multipurpose art and natural history museum with a dinosaur room, a small aquarium and a rotating collection of art and artifacts, including Calder mobiles, archeological finds and paintings by the Hudson River School. Just down the road, the renovated Colonial Theatre is another 1903 gem, presenting live theater, comedy and concerts. The newer Barrington Stage Company earned national acclaim in 2004 when it developed and premiered The 25th Annual Putnam County Spelling Bee; it continues to mount new works as well as classic plays and musicals.
You can walk to almost every cultural venue in Pittsfield's concentrated downtown area, and on the first Friday of every month, cafés and shops become temporary galleries for local artists for the city's ArtsWalk celebration. You'll also find local work at the Lichtenstein Center for the Arts and the Whitney Center for the Arts. Fans of modern design will want to stop by Circa, a shop that specializes in Danish modern, mid-century and vintage furniture and accessories.
If all this walking has you hungry, you can grab a cupcake or croissant at Madeleine's or soup and a sandwich at Dottie's Coffee Lounge. For dinner, consider Mission Bar + Tapas, where you can sample small plates of croquetas with aioli, shrimp with garlic and a great list of Spanish whites and reds by the glass or the bottle. There's live music on Monday, Tuesday and Thursday.
THE DETAILS
Mass MoCA: 1040 Mass MoCA Way; 413.662.2111; massmoca.org
Eclipse Mill: 243 Union St.; eclipsemill.com
G.J. Askins: Unit 108; 413.664.6493
Eclipse Mill Gallery: Unit 102; 413.664.9109; eclipsemill.com
MCLA Gallery 51: 51 Main St.; 413.664.8718; mcla.edu
Press: 49 Main St.; letterpressasapublicartproject.wordpress.com
Public Eat + Drink: 34 Holden St.; 413.664.4444; publiceatanddrink.com
Brewhaha: 20 Marshall St; 413.664.2020
Persnickety Toys: 13 Eagle St.; 413.662.299
Arrowhead: 780 Holmes Rd.; 413.442.1793; mobydick.org
The Berkshire Museum: 39 South St.; 413.443.7171; berkshiremuseum.org
Colonial Theatre: 111 South St.; 413.997.4444; theberkshiretheatregroup.org; tickets
Barrington Stage Company: 30 Union St.; 413.236.8888; barringtonstageco.org; tickets
Lichtenstein Center for the Arts: 28 Renne Ave.; 413.449.9348; discoverpittsfield.com
Whitney Center for the Arts: 42 Wendell Ave.; galleryw.org
Circa: 436 North St.; 413.445.7200; circaberkshires.com
Madeleine's: 48 North St.; 413.499.0900; thisispastry.com
Dottie's Coffee Lounge: 444 North St.; 413.443.1792; dottiescoffeelounge.com
Mission Bar + Tapas: 438 North St.; missionbarandtapas.com
Sterling and Francine Clark Art Institute: 225 South St.; 413.458.2303; clarkart.edu
NOTE: Information may have changed since publication. Please confirm key details before planning your trip.