Any time of year is the right time to head to the northern Berkshires—or, as locals like to call it, "North County"—for its arts scene, which arose out of the abandoned industrial towns of North Adams and Pittsfield through sheer force of will. City planners, museum directors, benefactors, artists and residents decided that if these towns were to have any future at all, it would require turning their empty factory buildings into galleries, studios and performance spaces. The boutiques and restaurants would follow. And they did, slowly and steadily. It's not just the world-class art that inspires here; it's the brave spirit of the place itself.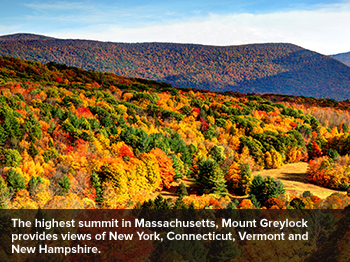 But, there's more to the Berkshires than its urban attractions. Glance up from that Main Street mural by Melissa Matsuki Lillie, in North Adams, and there's the 3,500-foot peak of Mount Greylock promising an even loftier view. So if you plan to visit during foliage season, be sure to make time for that most ephemeral sort of local color. Here are RCI's favorite spots for prime leaf-peeping.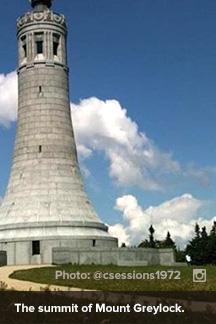 MOUNT GREYLOCK
Herman Melville called it, "the majestic mountain … his Imperial Purple Majesty." From its summit, the highest in the state, you can see New York, Connecticut, Vermont and New Hampshire. In autumn the valleys below stretch out like a multicolored carpet, alternately bright and shaded according to the clouds. Hike up one of the many trails (some steep and shorter, some gradual and slow), or drive up the Mount Greylock Scenic Byway. At the top, you'll find Bascom Lodge, a rustic stone-and-shingle inn, where you can eat breakfast, lunch or dinner, sip a cocktail at sunset or tuck in for the night.
ASHUWILLTICOOK RAIL TRAIL
The most stunning fall foliage is often seen up close. This 11-mile converted railroad corridor runs through a valley along the Hoosic River and past the Cheshire Reservoir, mountains rising on either side. It's flat and fully accessible, perfect for a run or a bike ride.
PINE COBBLE TRAIL
Williams College maintains this moderate 1.6-mile trail up East Mountain in Williamstown, which affords a big view in exchange for a relatively modest climb. Look out over the Hoosic River Valley from its 1,900-foot peak, and then, if you're feeling inspired, continue an additional half-mile to meet up with the Appalachian Trail.
THE DETAILS
Mount Greylock Visitor Center and Bascom Lodge: 30 Rockwell Rd., Lanesborough; 1.413.499.4262; 1.413.743.1591; bascomlodge.net
Ashuwillticook Trail: Starts at the entrance to the Berkshire Mall, Old State Rd. & Rte. 8., Lanesborough; 1.413.442.8928; mass.gov/eea/agencies/dcr/massparks/region-west/ashuwillticook-rail-trail.html
Pine Cobble Trail Trailhead: Pine Cobble Rd., Williamstown; 1.413.597.2317; woc.williams.edu/pine-cobble-trail-2
NOTE: Information may have changed since publication. Please confirm key details before planning your trip.