Being a tourist is a beautiful thing. It's a chance to give yourself permission to experience a locale as your playground and leave with new perspectives of local culture and flavors, memories of sights that stole your breath away, or even a trinket or two to cherish forever. In honor of National Tourist Appreciation Day on May 6, we've put together some travel tips for how to vacation like a seasoned pro. It's an art that lets you blend in like a local, but approach every moment with wonder, appreciation, and adventure.
1. Be The Tourist That Doesn't Look Like A Tourist
You know the saying, "When in Rome, do as the Romans do?" This not only applies to immersing yourself into your experience, but also looking the part, too. The major travel tip here is to avoid drawing attention to yourself to reduce your chances of being targeted by pickpockets. Leave flashy jewelry at home, and keep tablets and computers safely locked in your room. When in doubt, pack neutral colors, and, of course, layers to prepare for any rogue weather.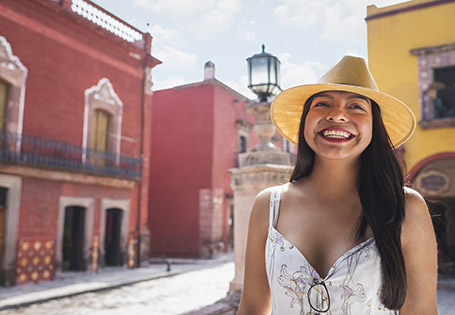 2. Orient Yourself With Your Destination Beforehand
Take your tourist skills a step further by familiarizing yourself with your vacation destination. You can do this in a few ways, such as looking up the hashtag on Instagram or finding a relevant pin on Pinterest. For example, if you're headed to Orlando, Florida, and search the hashtag #orlandofoodie on Instagram, you'll find posts of locals and other visitors highlighting some of the area's most delectable dining favorites, along with their tagged location. Likewise, if you search "fun family activities in Orlando'' on Pinterest, you'll find tons of related pins packed with ideas to fill your itinerary. And of course, you can always ask for recommendations and travel tips from friends, families, and coworkers!
3. Plan A Hybrid Itinerary
When it comes to vacationing, time is one of your most precious assets. Waiting until the last minute to plan can waste time better spent indulging in one of Las Vegas, Nevada's seriously delicious restaurants or Branson, Missouri's incredible live shows. On the other hand, planning your trip down to the minute can feel restricting, so this travel tip is about a hybrid itineraries. In a nutshell, create a wish list of must-see attractions, pick one or two that will serve as each day's anchoring activity, and see if you can purchase tickets ahead of time to avoid waiting in long lines. Planning for one or two of these a day allows you to take your time to simply enjoy being a tourist. Use the gaps in your itinerary to wander around the area you'll be in. You might stumble into a hole in the wall open-air market or pop-up event you never would have known of otherwise.
4. Awareness Is Key
In a new place, especially a big city like New York City or Chicago, it can be tempting and almost intuitive to gaze up at the skyscrapers and other landmarks in awe. This is a definite giveaway that you're a tourist, so instead, try to face forward as you make your way to your destination, and plan photo-op moments to stop along the way. It helps to know where you're going, too, so try to have a clear idea of your route instead of relying on your phone's maps. If you get lost, strike up a conversation with a local to point you in the right direction. You might also get some interesting recommendations for local hot spots!
Other Travel Safety Tips:
Carry cross-body bags instead of tote purses or backpacks with lots of zippers.
Don't keep valuables like your phone or passport in your back pocket.
When taking public transportation, lean your backpack against the wall or keep it in front of you.
When traveling outside the country to places like the Caribbean and Mexico, always make photocopies of your passports and other important documents, consider travel insurance, and know where to find the nearest U.S. embassy.
Plus, try these 10 travel safety tips for the whole family.