There are beaches and then there are beaches. These stretches of sand define what it means to get away from it all—water the color of blue curaçao liqueur, plenty of sugary sand and a location that takes a little effort to reach.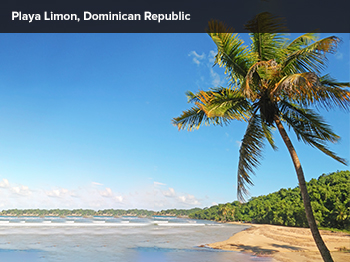 TURKS AND CAICOS: Little Water Cay
To access this protected nature reserve, you have to book a boat from the main island of Providenciales. The cliff-backed pink-sand beach is so idyllic you'll want to stay all afternoon. If you're lucky, you'll spot JoJo, the mascot dolphin of the Turks and Caicos who often hangs out here.
DOMINICAN REPUBLIC: Playa Limon
Just north of Punta Cana, this 2-mile-long beach is never crowded, thanks to the fact that most of the D.R.'s resorts are elsewhere. Crack open a beer and relax in the shade of the coconut trees that lean toward the ocean.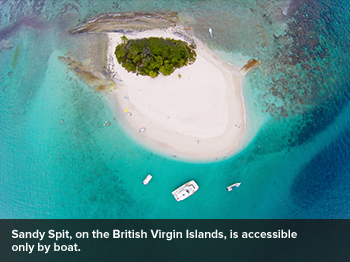 BRITISH VIRGIN ISLANDS: Sandy Spit
This island is exactly what the name implies—a tiny, sandy spot—and it can be reached only by boat from Tortola or Jost Van Dyke. Bring sunscreen, as shade is rare. For snorkelers, the coral reefs surrounding the spit are teeming with tropical fish. For everyone else, there's peace and quiet on your very own desert island.
ST. MARTIN: Pinel Beach
Most visitors head to St. Martin's famous (and crowded) Orient Beach, but a quick boat ride from French Cul-de-Sac takes you worlds away for the day. There are 3 beachside bar-restaurants on Pinel, and you can rent loungers for the day. For the ultimate seclusion, take the tiny trail behind the beach over the hill to an even more private strand.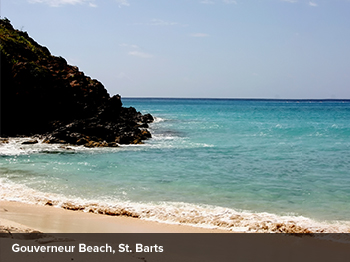 ST. BARTS: Gouverneur Beach
After driving down a steep, winding road on the southern side of St. Bart's, you'll be rewarded with a stretch of sand like no other. Gouverneur sits on a U-shaped bay surrounded by steep mountains. Bring snorkeling gear—there's great fish-spotting along the rocks on the eastern side of the cove.
MARTINIQUE: Anse Couleuvre
Blue Caribbean water meets black volcanic sand on this French island beach. It's one of the most hidden on this list: Getting there involves some daring maneuvers on rough roads (watch for wild-pig-crossing signs!), followed by a substantial hike through the rain forest. But come on—you'll have great pictures to post on Facebook!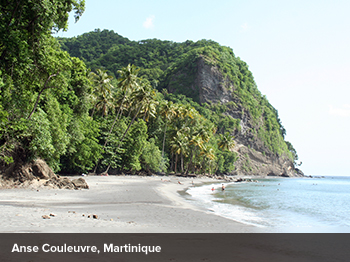 ST. LUCIA: Anse Chastanet
This spot is so Caribbean-cliché, it could be where the Swiss Family Robinson landed after their shipwreck. Quiet, cliff-lined beach? Check. Tall, perfect palm trees? Yep. Stellar snorkeling? Of course. And don't forget the fantastic views of the island's famous twin peaks, the Pitons.
BARBADOS: Bottom Bay
Uncrowded even in high season, this beach on the southern coast is semi-enclosed by high coral cliffs and dotted with lanky palm trees that sway in the gentle breezes. Bring a picnic and chairs—you'll want to stay for a while.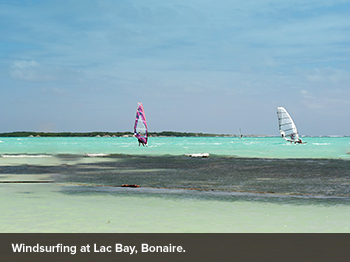 BONAIRE: Lac Bay
Though Bonaire is known more for diving than for beaches, it does have a hidden gem on the south coast. Driving from the capital, Kralendijk, you'll pass huge salt mountains and fields full of flamingos on the way to Lac Bay. There, steady winds and shallow water that goes out for hundreds of yards make for great windsurfing.
ARUBA: Dos Playa
This island is ringed with gorgeous beaches. Most people stay in the resort area on the western side of the island—but don't be like most people. Follow a rough road through Arikok National Wildlife Park to Dos Playa, so called because the beach is divided in two by a rocky outcrop. Go ahead, make the effort: A little adventure is what travel is all about!
NOTE: Information may have changed since publication. Please confirm key details before planning your trip.