We are in love with our traditions, mountains, our coast, our friendly people," says Erick Wiessel, owner of Tropical Paradise Tours, based in Liberia, Costa Rica. "In Guanacaste, we just may be the happiest Costa Ricans," he adds. Standing along the shore, whose soft sand forms a gently arcing beach dotted with nothing but white unicorn shells, it's easy to grasp why. Offering sugary beaches, steaming volcanoes and diverse wildlife, this province is a natural paradise. Happily, Guanacastans take real pride in their resources and protect them; Costa Rica even hopes to be the first country with a zero carbon footprint by 2021.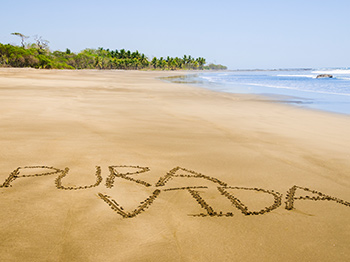 THE BASICS
Guanacaste is Costa Rica's northwesternmost province. Liberia, with its stretch of whitewashed adobe houses, anchors its northern zone. There are 3 national parks (Santa Rosa, Guanacaste and Rincón de la Vieja) a bit farther north, and many of the most spectacular beaches make up the province's western edge.
To get here you can fly into Liberia's Daniel Oduber Quirós International Airport. Getting around requires a car. If you plan to explore on your own, specify whether you want a stick or an automatic, and ask for a vehicle with four-wheel drive. You can rent one at the airport or arrange for a driver through Ecotrans in advance. In-depth guided tours through Tropical Paradise Tours are another option.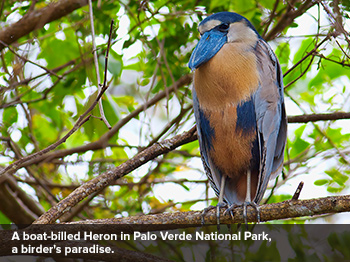 FUN IN THE SUN
Accessible from Liberia along the well-maintained Highway 21, many of the province's beaches (playas) extend south from Culebra Bay. Separated by lush headlands, the rainbow-shaped basins are drawing the attention of resort developers but are still home to local fishing communities. Scuba diving, sunbathing and surfing are popular, and the key is to know which beach is best for each activity.
First up is Playa Hermosa. Locals hang out here for the nightlife; swimmers are drawn by the calm waves. Right on the beach, casual Aqua Sport (second beach entrance) serves steamed mussels to diners seated in robin's-egg-blue Adirondack chairs in the sand while howler monkeys swing in the adjacent trees. Playa del Coco, 10 minutes south, has a similar vibe. En route, pull off at Punta Cacique for a bird's-eye view of Coco's dazzling harbor, filled with sailboats and mega-yachts. Set back from the tiny town's main strip, sprawling Cafe de Playa has gleaming white couches with peppermint-pink pillows. On the menu: garlicky scallops and mushroom tapas, plus a modest wine list.
Only a half hour away, the fishing hamlet of Playa Potrero is a real gem, especially at sunset. Dark sand gives way to tidal pools, just beyond which pelicans dive for sardines. Surfers gather at beachfront Las Brisas for cold Costa Rican Imperial beer. Two miles south it's all about sunbathing at the white-sand Playa Flamingo; you can order simple, fresh seafood for just a few dollars from Congo's, a little yellow food truck with a cluster of stumps that serve as chairs in the sand. Farther south, gorgeous Playa Grande is part of Las Baulas National Marine Park, which protects nearly 1,000 acres of Pacific shoreline and 54,000 more acres at sea. A long, smooth ribbon dotted with coral and unicorn shells and pounded by waves, Grande draws sunbathers and surfers alike.
Another popular surf spot, Playa Tamarindo, has lots of restaurants, outfitters and souvenir shops. For surfboard rentals as well as group lessons, head to Iguana Surf. For private lessons with more-attentive instruction, turn to Neptuno Surf Shop. Pink and yellow chairs nestle in the sand at family-owned Nogui's, where you can order a mango-and-vanilla milkshake or the Rotonda Tica, a platter of fried eggs, beans and avocado. A short walk away, vendors sell passion fruit and other treats at the farmers market.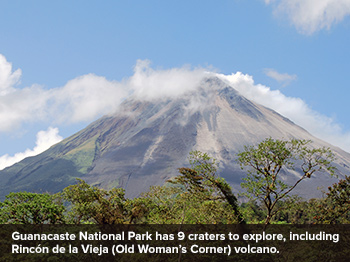 DOWNWARD-FACING DOG
The province's well-known yoga culture is centered farther along the Nicoya Peninsula. En route, stop at Playa Avellanas to eat at Lola's. Big pours of fresh piña coladas spill out of pineapples that double as glasses. And you can feast on ceviche and just-caught tuna at oversized wooden tables shaded by almond trees. The operation is named after Lola, a hefty, happy resident pig who sometimes wanders out of her pen and down to the ocean to cool off.
Playa Guiones is home to the Nosara Yoga Institute. Run by yoga practitioners Amba and Don Stapleton, it's the largest facility of its kind in Costa Rica and offers both professional training and classes that are open to the public. Set in the rain forest above the beaches, the 4 studios are raised teak platforms. Choose from vinyasa, meditation and Pranassage, a method that fuses yoga and massage.
When you're not practicing your warrior pose, consider exploring the nearby beaches. Playa Guiones draws surfers and shell collectors to its tidal pools. On your way there you'll pass the open-air Love Nosara boutique, filled with works by local artists. Also in Guiones is the open-air Harmony Hotel restaurant and bar. The delicious Costa Rican Casado consists of sea bass, organic rice, coleslaw, plantains and fried cheese; at the sprawling juice bar the friendly staff whips up concoctions made with mango, tamarind and ginger. Another great option: the whole red snapper with homemade hot sauce, from laid-back Pacifico Azul.
Sunsets are spectacular at Playa Junquillal, about 30 miles north. Park in the sandy clearing and walk up the short peninsula's hill. Waves crash over craggy rocks as light from the enormous, fast-moving equatorial sun pierces the clouds and kids surf in the distance.
GETTING WILD
East of Santa Cruz, the province's third-largest city, the 32,266-acre Palo Verde national park is a birder's wonderland. It can be explored mainly by boat. Tropical Paradise Tours operates half-day excursions to the Tempisque River. On a covered vessel you'll ply marshes teeming with life to spot snowy egrets, great blue herons, crocodiles and white-faced monkeys.
Only 15 minutes away, the village of Guaitil is a cultural detour. It's filled with family workshops that sell pottery made in a traditional manner: Clay from the mountains is smashed into fine powder and mixed with water and sand. The mixture is turned by hand on wheels, dried in the sun, fired in a kiln and painted with animal motifs. For some fine examples, stop by Willy's Pottery.
VOLCANIC VISTAS
Mighty Rincón de la Vieja (Old Woman's Corner) volcano, about 15 miles north of Liberia, looms over the Guanacastan landscape. The dramatic 34,800-acre national park has 9 craters, including the park's active namesake, which soars to 5,925 feet. After checking in at the Santa Maria ranger station, you can spend a day doing the challenging summit hike, which affords sweeping Pacific and Caribbean views. Otherwise, consider 2-mile Las Pailas Trail; you'll spot naturally occurring mud pots boiling away at 248 degrees and you may see all sorts of wildlife, from sloths to rows of leaf-carrying ants.
A handful of rustic lodges have cropped up around the park and offer zip lining, mineral-rich hot springs and horseback riding. Sprawling Hacienda Guachipelín, close to Las Pailas Trail, is a cattle ranch that specializes in all three; so does Borinquen Mountain Resort & Spa. Zipping through the canopy as howler monkeys bellow in the distance is much like Guanacaste itself—a thrill.
THE DETAILS
Ecotrans: 954-353-6737; ecotranscostarica.com
Tropical Paradise Tours: 011-506-8396-7896
Aqua Sport: 011-506-2672-0050
Cafe de Playa: 011-506-2670-1621; cafedeplaya.com
Las Brisas: 011-506-2654-4047
Iguana Surf: 011-506-2653-0613; iguanasurf.net
Neptuno Surf Shop: Sunrise Mall, Unit 11; 011-506-2653-2967; neptunosurfshop.com
Nogui's: south side of town; 011-506-2653-0029; noguistamarindo.com
Lola's: 011-506-2652-9097
Nosara Yoga Institute: 866-439-4704; nosarayoga.com
Harmony Hotel restaurant and bar: 011-506-2682-4114; harmonynosara.com
Pacifico Azul: 011-506-2682-0259; thegildediguana.com
Sprawling Hacienda Guachipelín: 888-730-3840; guachipelin.com
Borinquen Mountain Resort & Spa: 011-506-2690-1900; borinquenresort.com
NOTE: Information may have changed since publication. Please confirm key details before planning your trip.