Hawaii is a no-brainer when it comes to a tropical vacation. You can chat in English, pay for cocktails in dollars and drive on well-paved roads with familiar signage—though you may have to acquaint yourself with goose-friendly "Nene Crossing" signs.
The juxtaposition of the familiar with the exotic is especially pronounced on Maui, Hawaii's second-largest island. Cosmopolitan cities with top-notch restaurants share real estate with thick jungles, windy highlands and sleepy towns where daily life revolves around the ocean's tides.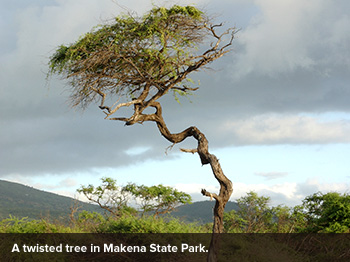 Here, RCI shares our highlights of the island, from locals' favorite restaurants to lesser-known hiking trails.
WAILEA'S COAST AND COOKING
Wailea, on Maui's southwestern shore, is the island at its most glamorous. Wide palm-tree-lined boulevards are flanked by glitzy hotels—the Fairmont Kea Lani, the Four Seasons, the Grand Wailea, a Waldorf Astoria, among others—as well as impressive private homes and manicured sidewalks. Sunbathers dot the beaches along the hotel corridor, though there are plenty of empty coastal stretches on the city's outskirts. One of the prettiest is Makena State Park, a shallow peninsula south of Wailea. Besides offering wide beaches, the coastline here overlooks uninhabited Kaho'olawe Island. If you prefer adventure to sunbathing, sign up for the Wailea Explorer Eco-Adventure with Maui Kayaks for a chance to paddle alongside green dolphins and sea turtles and snorkel in the vast Skylight Caves.
Wailea is also known for its chef-driven restaurants. For a picnic lunch, head to Kina'ole Grill Food Truck for the ahi tuna steak served with macaroni and coleslaw, classic Hawaiian sides. The truck is parked close to the water, so you can pack up your provisions and dine by the shore. You will need reservations for Koiso Sushi Bar, where chef Hiro-san carves into local bigeye tuna and uni, or sea urchin. To check out his impressive knife skills, request one of the 10 counter seats.
At Ka'ana Kitchen, in the Andaz Resort, the chefs source tropical fruits and vegetables from Maui's family-owned Ono Farms, among others. You'll find just-picked passion fruit in the heirloom-tomato salad and sugary pineapples paired with lobster and pork belly. The large dining room, which has a handsome wine wall and steel-gray booths, opens onto a large balcony, an ideal spot for watching the sunset.
ESCAPE TO HANA
The most scenic way to get to Hana, on Maui's northeast coast, is via the aptly named Hana Highway, one of the island's most iconic landmarks. The narrow byway has switchbacks punctuated by waterfalls, long curves that hug Pacific cliffs and scenic water overlooks. During the whale migration (October through May), keep an eye out for humpbacks jumping and flapping their tails.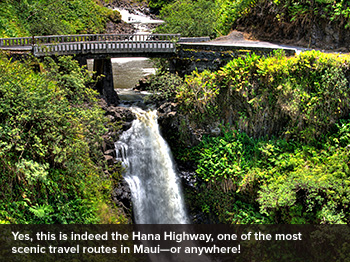 If you blink, you may miss Hana itself, a town where the concept of Old Hawaii—nature winning the battle against overdevelopment—is still treasured. Many locals, whose families have lived here for generations, have never resided elsewhere on Maui, let alone on the mainland United States, and they're fiercely protective of the region's slow-paced way of life. Bartering for fruit and eggs is common among neighbors, for example, and there's a paniolo, or cowboy, culture.
Travaasa, a makeover and rebranding of the Hotel Hana Maui, built in 1946, is the area's only resort. Along with serene pools, yoga studios and a putting green, the property has 23 suites and 47 revamped seaside cottages that slope toward a horse pasture and the Pacific. Even if you're not overnighting here, you can sip mai tais at the charming bar, where there's often live ukulele music, and dine in the open-air restaurant. If you make it in time for brunch, try the banana-macadamia-nut pancakes drizzled with coconut syrup. Otherwise, opt for mahimahi with a passion-fruit glaze.
Travaasa's spa is also open to day guests. The facility is perched on a green knoll dotted with plumeria trees spilling blooms like tropical snowflakes. Its hot tub overlooks the water, and locker rooms have warm and cold plunge pools. Try the hot stone massage, said to release muscle tension, or the lomilomi, a traditional Hawaiian treatment known for its rhythmic strokes.
Maui's Pipiwai Trail, 10 miles south of Hana, is one of the island's most scenic trails. Hikers can cross bridges over rushing rivers and trek through dense bamboo forests. Then there's Waimoku Falls, a 400-foot waterfall that cascades down a moss-covered cliff, shrouding visitors in a cool mist. On your return hike, follow the falls to Ohe'o Gulch, also known as the Seven Sacred Pools, where water plunges from one bright blue pond to the next before spilling into the Pacific.
Also save an afternoon for Red Sand Beach (trail begins at Uakea Rd.), within walking distance of Travaasa. The trail leading to the coast is wilder than Pipiwai, making the empty cove of dramatic red sand even more rewarding.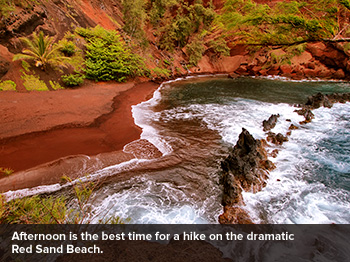 Head back into Hana for spicy drunken noodles or a mango salad at Thai Food by Pranee. For dessert stroll over to Shaka Pops, a stand selling fruit ice pops in flavors like pomegranate mojito and tangerine cream. The quirky Hasegawa General Store is one of the best spots for picking up a Hana souvenir.
EXPLORE THE UPCOUNTRY
Maui's interior contains some of its most beautiful and diverse terrain. This is primarily ranch country, though there are also state and national parks that lure travelers up winding mountain roads. One of the most striking sights is the crater at Haleakala National Park, the remains of a dormant volcano and the island's highest peak. Early birds may be rewarded not only with a blazing sunrise but also with a before-dawn star show. You can spend the morning hiking around the stark landscape, where steep hills of black and red rock and sand are peppered with silversword succulents and orange-berried pilo, a plant in the coffee family.
On your drive down the mountain, consider stopping by Ali'i Kula Lavender Farm, where you can stroll through acres of the fragrant purple flowers. Don't miss the Gallery gift shop: Lavender goods range from candles to jellies.
If you can squeeze in another hike, head to the Waihee Ridge Trail (off Kahekili Hwy.), in northwestern Maui. Here you'll walk along ridges that overlook the city of Kahului. In the afternoon a dense fog settles in, blanketing the green peaks and valleys. It is nature's way of encouraging you to head back to the beach, climb into a breezy hammock and take a well-deserved break.
THE DETAILS
Makena State Park: Kihei; 808-587-0300; hawaiistateparks.org
Maui Kayaks: Makena Landing; 808-874-4000; mauikayaks.com
Kina'ole Grill Food Truck: 73 Alanui Kealii Dr.; 808-280-9048
Koiso Sushi Bar: 2395 S. Kihei Rd., Kihei; 808-875-8258; dinner for two, Ka'ana Kitchen 3550 Wailea Alanui Dr.; 808-573-1234; maui.andaz.hyatt.com
Travaasa: 5031 Hana Hwy.; 888-820-1043; travaasa.com/hana; dinner for two, $100; spa treatments
Maui's Pipiwai Trail: Hana Hwy. mile marker 41, Haleakala National Park; 808-572-4400; nps.gov/hale
Thai Food by Pranee: 5050 Uakea Rd.; no phone; open Saturday–Monday; lunch for two, $ Shaka Pops 5170 Hana Hwy.; 808-442-2926; shakapopsmaui.com
Hasegawa General Store: 5165 Hana Hwy.; 808-248-8231
Haleakala National Park: State Hwy. 378; 808-572-4400; nps.gov/hale
Ali'i Kula Lavender Farm: 1100 Waipoli Rd., Kula; 808-878-3004; aliikulalavender.com
NOTE: Information may have changed since publication. Please confirm key details before planning your trip.