Mitzi Gaynor recently returned to Kauai, and the island was abuzz. It's as if royalty were paying a visit, and attention must be paid. Movie-location tours aren't unusual here, but the week I'm visiting it's almost impossible to escape the feeling of being on a private, spontaneous one. The ferociously sunny Gaynor, well preserved at age 78, is making public appearances all over the island: "talking story" at the Marriott, playing guest of honor at the opening gala of the St. Regis Princeville. She looks right at home on the terrace of the St. Regis, where the view takes in a half-dozen waterfalls and the dreamy, monolithic Makana Mountain, which stood in for South Pacific's mystical Bali Hai. Like Gaynor's, Kauai's star quality remains undimmed.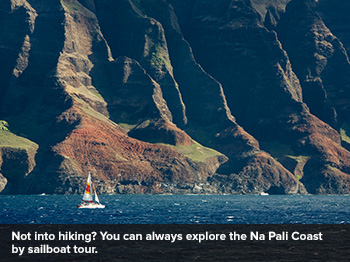 UNPLUGGED?
Kauai can be a rugged place. West of Poipu, the manicured resort area gives way to roads of red dirt; civilization thins out, then disappears. Adventurers from all over the world come here to shed society (and sometimes their clothes) on the Na Pali Coast's canyon trails. I myself take a somewhat choppy Na Pali boat trip, courtesy of Capt. Andy's Sailing Adventures, and complete a slippery but rewarding hour-long hike from the trailhead off Ke'e Beach.
Still, you can't spend a day on Kauai without being reminded of its very un-rugged Hollywood connection. Hawaii's oldest island, Kauai is incredibly lush, and thus had the primordial pedigree to host not only Mitzi Gaynor washing that man right outta her hair on gorgeous Hanalei Beach (yes, where Puff the Magic Dragon lived by the sea), but also the casts and crews of King Kong (1976), Jurassic Park (1993), George of the Jungle (1997), Mighty Joe Young (1998) and the dubious Six Days, Seven Nights (1998).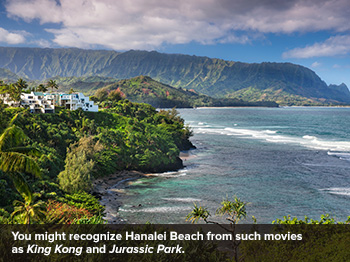 MANCATION
The movie history doesn't stop there. On the way to a great tubing excursion along irrigation ditches and tunnels with Kauai Backcountry Adventures, the guide regales us with the backstory to the comedy Tropic Thunder (2008). Ben Stiller owns a spread on Kauai, and it seems that he wanted to hang out on the island with his buddies Jack Black and Robert Downey, Jr. Stiller hit upon the notion (light bulb!) that a months-long film shoot would provide the perfect excuse—and the world is a funnier place for it.
THE DETAILS
St. Regis Princeville: 5520 Ka Haku Rd, Kauai, HI 96722; 808-826-9644
Capt. Andy's Sailing Adventures: 4353 Waialo Rd #1A-2A, Eleele, HI 96705; 808-335-6833
Kauai Backcountry Adventures: kauaibackcountry.com
NOTE: Information may have changed since publication. Please confirm key details before planning your trip.