Though it covers only 550 square miles, the Hawaiian island of Kauai holds an astonishing range of visitor attractions. On the civilized side, you have both the super posh (St. Regis Princeville) and the deliciously humble (Fish Express in Lihue). Among the island's natural wonders, the Na Pali Coast takes first place, with its sheer cliffs, plunging canyon and pristine beaches. But stunning beaches abound on the Garden Island, and like many beauty spots, they're free and easily accessible. So a killer Kauai vacation can be downright affordable—even with a few splurges. All you need is a rental car, your own two sandal-clad feet and some directions. We've got the last part covered.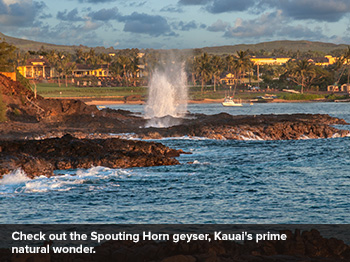 SOFT LANDING IN POIPU
The tried-and-true Kauai vacation plan is to start in the reliably sunny Poipu area, just south of the airport in Lihue. Family-friendly Poipu Beach offers great reef snorkeling and picnic tables. If you're looking for more privacy and a sandier bottom, head to the beach between the Sheraton and the Koa Kea, a stylish new boutique hotel. Then make the short drive west along the coast to see the area's prime natural wonder: Spouting Horn geyser, where ocean waves regularly send majestic plumes of water 30 feet into the air. Across the street you'll find the National Tropical Botanical Garden. Its manicured Allerton Gardens require a pricey guided tour, so opt for the wilder McBryde Gardens, where visitors can ramble at their leisure amid 252 acres of exotic tropical flora.
If shopping is more your thing, a three-mile drive inland will bring you to the former sugar mill town of Koloa. The main street's plantation-style buildings have been converted into gift shops, art galleries, inexpensive eateries, even a wine shop.
Continue west along the south shore, where the crowds thin out and the terrain turns crimson. Adjust your wardrobe accordingly by picking up a dirt-dyed T-shirt at the Original Red Dirt Shirt Factory in Port Allen. Then cool off with a swim at Salt Pond Beach, a protected pocket beach past Burns Airfield. An inland detour brings you to the Waimea Canyon Lookout, where you can drink in the views of this 3,600-foot-deep, 10-mile-long gash in Kauai's iron-rich earth.
SMART SPLURGE: In Poipu, it's easy to keep your budget in check, but if you've granted yourself one splurge, use it for a lomi-lomi massage at the Grand Hyatt's renowned Anara Spa. The treatment rooms surround a lap pool with a tempting array of cushy lounge chairs.
HEADING NORTH
Many visitors make a beeline for the enchanted north shore, home to Princeville, Hanalei and the trailhead for the Na Pali Coast. On the way, be sure to stop in Lihue and Kapaa. The big news in Lihue is the opening of the Koloa Rum Co., on the Kilohana Plantation. Owner Greg Schredder proudly hosts free tastings of his small-batch rums, made from local sugar cane. Before hitting the road, grab take-out at Fish Express, a superb fish market in a strip mall. The fabulously fresh poke (or raw-fish salad) is rightly famous and a bargain.
In the pedestrian-friendly town of Kapaa, you can rent a surfboard and hit a nearby beach. This is also the place for river kayaking. The family-run Kayak Wailua offers half-day Wailua River tours for half the price of competitors. If you're not feeling so energetic, just roam the streets after you grab a pastry and a coconut pierced by a straw at the Country Moon Rising Bakery and Café. Afterward, watch artisans blowing glass pendants at the Glass Shack, whose motto is "We kick glass". Don't linger too long: the north shore sunsets are not to be missed.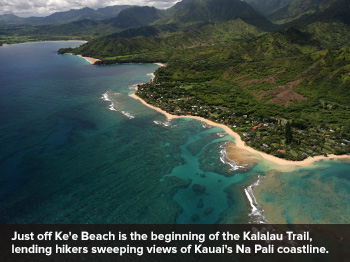 NORTH SHORE
Kauai's north is wetter than the south, and awash in tropical foliage. But showers are usually brief, and often followed by rainbows, so it's worth the trade-off. In Princeville, the renovated Princeville Hotel reopened last fall as the Princeville St. Regis Resort. Though the room rates aren't anyone's idea of value, consider ponying up for a drink just to sit on the terrace and gaze at the row of mountains dripping with waterfalls. In the distance you'll see Makana Mountain rising from the ocean. If it looks oddly familiar, you might be a fan of the 1958 movie South Pacific, in which Makana played the role of Bali Ha'i.
A few minutes' drive from Princeville is the public beach at Anini. Parking is plentiful and the shallow waters are generally calm. Stop for a swim, but leave time for exploring Hanalei and points west. The town where "Puff the Magic Dragon" lived by the sea is pretty terrific, loaded with shops and cafés. The Backdoor sells sundresses, board shorts and wetsuits. Then refuel with a macadamia nut shake at Shave Ice Paradise in Hanalei Center.
The crescent beach at Hanalei, placid in summer, surf-ready in winter, is lined with discreet residences, and worth a lazy afternoon. From here, a charming drive takes you through a string of north-coast beaches. At the frequent one-lane bridges, drivers wait their turn: The etiquette is to allow seven cars to pass before making your move. Of the north beaches, Lumahai is stunning but has treacherous waters. Haena Beach, also a beauty, is safer for swimming, and Ke'e, at the end of the line, is protected by a reef and has great snorkeling. This sandy spot, with its dramatic wall of cliffs, looks like a postcard from Southeast Asia.
The starting point for the Na Pali Coast's 11-mile Kalalau Trail is just off Ke'e Beach. Hikers can easily spend a week in the wilds, but even an hour-long hike lets you view the magnificent sweep of coast from on high. Is that Bali Ha'i calling?
THE DETAILS
St. Regis Princeville: 5520 Ka Haku Rd, Kauai, HI 96722; 808-826-9644
Fish Express in Lihue: 3343 Kuhio Hwy, Lihue, HI 96766; 808-245-9918
National Tropical Botanical Garden: 4425 Lawai Rd, Koloa, HI 96756; 808-742-2623
McBryde Gardens: 808-742-2623; ntbg.org
Original Red Dirt Shirt Factory: 4350 Waialo Rd.; 800-717-3478
Anara Spa: 1571 Poipu Rd.; 808-742-1234
Koloa Rum Co.: 3-2087 Hwy. 50; 808-246-8900
Fish Express: 3343 Kuhio Hwy.; 808-245-9918
Tamba Surf Co.: 4-1543 Kuhio Hwy.
Kayak Wailua: 808-822-3388; kayakwailua.com
Country Moon Rising Bakery and Café: 4-1345 Kuhio Hwy.; 808-822-0345
Glass Shack: 4-1345 Kuhio Hwy.; 808-822-2236
Princeville St. Regis Resort: 5520 Ka Haku Rd.; 808-826-9644
Shave Ice Paradise in Hanalei Center: 5-5183 Kuhio Hwy, Hanalei, HI 96714; 808-826-6659
NOTE: Information may have changed since publication. Please confirm key details before planning your trip.