The oldest of the Hawaiian Islands, Kauai is often called the Garden Isle, for obvious reasons. It is incredibly fertile thanks to its volcanic origins and has abundant lush foliage, cascading waterfalls, mountainous terrain, and thousands of wild chickens—the latter left over from the original Polynesian settlers. The fruits of this isle can be found at many of the "sunshine markets," or farmers markets—there's at least one every day, so go early and grab some sustenance for the day's activities.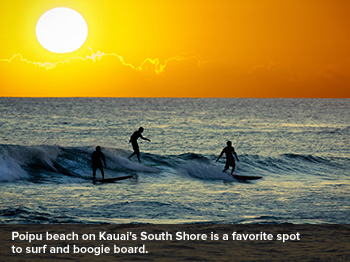 CATCH A WAVE
There's no shortage of them here, for a range of sports and levels of ability, from boogie boarding to surfing (including body. and kiteboarding) and stand.up paddling. Favorite surf spots include Poipu beach, on the south shore; Nawiliwili Harbor, in Lihue; as well as Makua Beach ("Tunnels") and Hanalei Bay, on the North Shore. Big.wave fans, take note: Serious swells hit the North Shore from November through February.
GRAB A PLATE
Plate lunch, that is. It's a Hawaiian specialty that includes a main protein (pork, chicken, mahimahi, etc.) and sticky rice, macaroni or potato salad, and sometimes kimchi. Hanalei Taro & Juice Co. has several options, served from its truck, all of which should be accompanied by Hanalei's incredible mocha cake. Another local specialty is poke, or marinated raw fish (commonly tuna). It's available at many restaurants and even in supermarkets like Ishihara, in Waimea, where on any given day several varieties are available.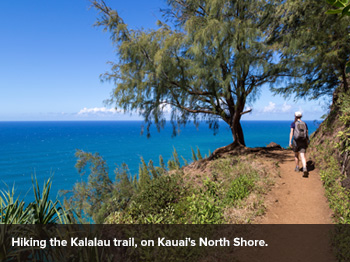 GET A BIRD'S-EYE VIEW
The only way to see all the glorious nooks, crannies and hidden waterfalls of this magnificent island is from the air. Blue Hawaiian offers an hour-long journey in Eco.Star American Eurocopters (with business-class-style seats) that covers all the major sights, including Manawaiopuna (aka the Jurassic Park Falls); Waimea Canyon; the Na Pali coast, with its famous Bali Hai cliffs; and also right into the crater of Mount Waialeale, an ancient volcano.
GO TAKE A HIKE
Only 10% of Kauai is accessible by road, so hiking is a great way to see the island's beauty up close. The 11.mile Kalalau trail, on the North Shore, is one of the most challenging but also incredibly beautiful, as it takes hikers along the 4,000-foot cliffs of the Na Pali coast. Many opt to hike the first 2 miles, to Hanakapiai Beach; others go all the way in and camp overnight. Waimea Canyon and Kokee State Park, on the west side, also have numerous trails.
STAR GAZE
The island has long been a favorite of filmmakers: South Pacific, Fantasy Island, Jurassic Park, Raiders of the Lost Ark, and most recently The Descendants all featured scenes shot around Kauai. Roberts Hawaii offers a 6-hour narrated tour of these sites in a minibus that shows film clips while on the road. It's a great way for first.timers to familiarize themselves with the island.
THE DETAILS
Kauai Farmers Markets: realkauai.com/FarmersMarkets
Hanalei Taro & Juice Co.: 5.5070A Kuhio Hwy., Hanalei; 1.808.826.1059; hanaleitaro.com
Ishihara Market: 9890 Kahakai Rd., Waimea; 1.808.838.1751
Blue Hawaiian: 3501 Rice St., Lihue; 1.800.745.2583; bluehawaiian.com
Kauai Hiking Trails: kauai.com/hikes
Roberts Hawaii: 1.800.831.5541, robertshawaii.com
NOTE: Information may have changed since publication. Please confirm key details before planning your trip.