In ancient Hawaiian lore, Maui was a demi-god whose father was the god of the sea and whose mother was a mortal woman. Maui was also a trickster, never without a scheme up his sleeve. According to legend, he climbed the 10,000-foot volcano Haleakala and lassoed the sun, thus slowing its passage through the sky and making the days longer. It's a good thing he did. The island with which Maui shares his name is loaded with adventures—and to experience them all, you'll need every hour of daylight you can get. Though there are many outfitters who can show you a good time, we've picked 5 of the best so you can skip the research and start the fun as soon as you're ready to roll.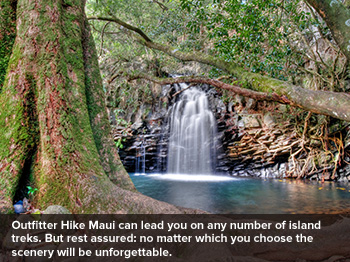 SEIZE THE DAY
Attention early birds: There's no better time to see Haleakala than sunrise. When the clock strikes 3 a.m., head over to Maui Sunriders in the town of Paia to grab a bike and catch a shuttle bus to the top of Maui's signature volcano. The summit of Haleakala (which translates as "House of the Sun") is said to be rich in mana, or spiritual power, and at dawn you'll see it swathed in pinks, reds, oranges and purples. Once the sun is fully up, the real wake-up call begins: a 28-mile descent. On your mountain bike you'll roll past towering rainbow eucalyptus and jacarandas and through sleeping cowboy towns—even the occasional cloud. The entire ride is on paved roads, but you share them with cars, so use caution and take your time. (The bike is yours until 4:30 p.m.) The exact route is up to you. You might pop into Kula Lodge, in Kula, for a snack, or pedal over to Makawao, where wooden storefronts house boutiques and galleries. Back in Paia, select a picnic at Mana Foods, or relax at an outdoor table at Café des Amis over Greek salad made from local greens.
ZIP IT!
The butterflies begin the moment the Mercedes-Benz Unimog you're riding in leaves the Kapalua Resort (near Lahaina) on its lurching 1,400-foot ascent into the West Maui Mountains. Your destination is Mountain Outpost, a launching point for Kapalua Adventures zipline tours, and your guides are now rattling off historical factoids in a merry attempt to distract you. But you know what's coming. Kapalua Adventures claims to have Hawaii's fastest ziplines. The routes stretch for more than 10,000 linear feet across valleys of koa and ohia lehua trees. Zipsters can choose from a variety of courses. The 2½-hour, four-line Lower Mountain Loop is great for beginners; the Upper Mountain Loop appeals to the intrepid set with 5 lines (the longest is 2,300 feet) and a heart-pounding 360-foot walk across a 200-foot-high suspension bridge. Night owls can book a sunset zip followed by drinks and pupus (appetizers). On every course, the rush is the same: a soaring leap over a chasm of green. Scary? A little. Worth it? No question.
HIKE TO PARADISE
If soaring across valleys and hurtling down mountainsides sound a bit too fast-paced, consider an outing with Hike Maui. This outfitter offers 5 different treks plus customized tours that let you add, say, a spelunking trip or even a helicopter ride. The knowledgeable guides (who undergo a 3-month training program) can teach you anything from ancient Hawaiian lore to the prospects of Maui's sugarcane industry. Of course, they know the best sites, too.
The 5-hour East Maui Waterfalls & Rainforest trek follows a fairly easy but uneven trail. You'll pass (and sample) scads of edible plants—satin leaf tree berries, guavas, mangos, even a blossom that tastes like a mushroom—and picnic in a fragrant eucalyptus grove. But the stars of the day are five waterfalls, each billowing into an inviting pool. Several have outcroppings that double as diving platforms; one has a rope swing. The guides can steer you to the one waterfall that tends to escape the crowds. Your photos of that cascade alone will be worth the price of admission.
SAIL AWAY
You can't head to the middle of the Pacific without a little high-seas adventure. Hop aboard the Trilogy, a 50-passenger catamaran that runs snorkeling and diving excursions out of Ma'alaea Harbor, for a day sail to the bird sanctuary islet of Molokini. It's off-limits to humans, but visitors can still ogle its resident 'iwa, or frigate birds, as they ride the winds overhead.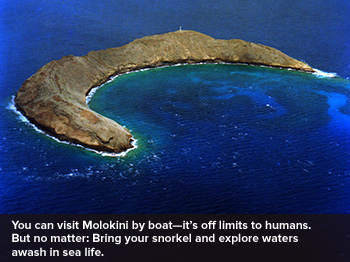 The underwater show is even better. Don your snorkel mask and kick past pink, blue and turquoise parrotfish; yellow tangs; black and yellow moorish idols; and practically every stripe of butterfly fish: threadfin, milletseed, ornate, fourspot. Then comes the grand finale: Turtle Town, just off the coast of Makena. True to its name, it's a magnet for Hawaiian green sea turtles, which bob, dive and swim right up to snorkelers. But don't touch! It's illegal to get too close to these endangered creatures. Back on board, Trilogy's crew keeps you sated with a steady stream of snacks, from hot cinnamon rolls in the morning to an afternoon meal of teriyaki chicken and rice.
RIDE HIGH
Unbeknownst to many, Hawaii has a cowboy tradition that dates back to the 1830s, when King Kamehameha III invited Mexican vaqueros to visit the islands and teach locals how to work cattle. Today you can experience that tradition first-hand with a paniolo (cowboy) named Rocky Rodrigues at Makena Ranch, on the southwestern slopes of Haleakala.
You'll saddle up and follow Rodrigues along the volcano's flanks, crossing a landscape of dry, rocky soil and thorny kiawe trees. The higher you get, the better the views, until all you can see is wide, silver sea and sky. Meanwhile, Rodrigues, who has been riding since the age of five, regales clients with stories of moonlit beach forays and other mischievous pursuits from his youth. He also offers aphorisms in a soft pidgin accent: "It's not one lie if you tell da truth right aftah." If you're lucky, you might persuade him to break out the ukulele for a private performance of his original Hawaiian spirituals.
NOTE: Information may have changed since publication. Please confirm key details before planning your trip.