Toronto is an intriguing mix of old and new. Stroll through the downtown core of Canada's largest city and you'll discover Georgian and Victorian buildings alongside cutting-edge modern design such as the recent Frank Gehry renovation to the Art Gallery of Ontario. The shopping scene reflects this duality: It's a favorite hunting ground for collectors of antiques and vintage clothes, and it also offers the best of contemporary international and local talent. Here are three great neighborhoods for browsing and buying. Just don't be surprised if you return with something old and something new.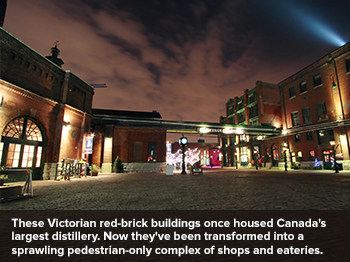 YORKVILLE
Neil Young sang in Yorkville coffee shops; today, there's an elegant hotel (the Hazelton) with a "Neil Young Room." Toronto's answer to Haight-Ashbury long ago morphed into the epitome of consumer chic, with romantic alleys, outdoor art and charming bistros.
Your first stop should be Teatro Verde, in a renovated Georgian mansion. "They have everything from garden accents to perfect hostess gifts to serious furniture pieces," says Michael Penney, style editor at Canadian House & Home magazine. Besides stationery, wrapping paper and bath products, there's even a section for pets. "They also do the city's best floral arrangements," says Penney.
Another gem is William Ashley, which specializes in fine china. Across the street sits Holt Renfrew, selling men's and women's clothing by Canadian and international designers. The second-floor spa has some of the best masseurs in the city.
Smaller must-see boutiques include Augustina for a mix of designer handbags, shoes, lingerie and shiny trinkets. Visit Divine Decadence Originals for vintage gowns with labels like Lanvin and Chanel, all in mint condition. Kumari's stocks vibrant pashminas, scarves, jackets and jewelry from Nepal, India and China.
Yorkville also has budget-minded shops. Jeanne Lottie sells stylishly beaded and embroidered bags; Winners offers designer clothing at deep discounts.
THE DISTILLERY DISTRICT
The Victorian red-brick buildings of this sprawling pedestrian-only complex just east of downtown once housed Canada's largest distillery. Later, it made a dramatic setting for movies such as Chicago and X-Men. Then, later on in the years, the area was reinvented as a destination for fine food and one-of-a-kind boutiques.
Chief among the current attractions is the Corkin Gallery, which showcases photographs and paintings by contemporary artists from around the world, including Irving Penn, William Christenberry and Wang Qingsong. For works by emerging international artists, check out the Gibsone Jessop Gallery. Thanks to its curatorial offices in Beijing and Chongqing, it offers works by young artists you won't find elsewhere. The comparatively tiny RedEye Studio Gallery fills its 300-square-foot space with paintings and sculptures by Toronto artists.
In fact, every shop in the Distillery District has its own artistic sensibility. Take Corktown Designs, a jewelry store where every piece, be it silver, brass or plastic, is handcrafted. Bergo Designs celebrates high-style housewares­—think quirky Alessi egg-timers and Luca Trazzi's famous espresso machine—as well as watches designed by Frank Gehry. Taste the amazing fleur du sel caramels at Soma Chocolatemaker, where large interior windows let you watch the truffles being made.
Part of the charm of the Distillery District is that there's an ever-changing list of things to see and do. On warm days, count on outdoor music: perhaps jazz horns one day, fiddlers from the Maritimes the next.
WEST QUEEN WEST
As the march of downtown gentrification continues west on Queen Street, this prime strip of real estate has sprouted a growing list of intriguing boutiques. Take a taxi to Queen West and Roncesvalles Avenue, on the area's western edge, to check out the antiques stores where Toronto's designers and stylists shop. Arcadia Antiques has "everything from Mid-Century Modern to things your grandparents would love," says Michael Penney. "Check out the basement for well-priced finds; I've bought chairs, chandeliers and candlesticks there."
Two more of Penney's hunting grounds: Queen West Antique Centre for Mid-Century and industrial pieces, old leather sofas and quirky maps; and tiny Era for refined, feminine pieces.
Head a few blocks east for fashion finds. Thieves Boutique is a loft-like space filled with Canadian-designed suits and casual wear for women and men. A veteran Canadian designer sells his femme fatale evening wear at Brian Bailey. Gorgeous vintage clothing, mostly for women, can be had at Cabaret. Preloved is known for its environmentally conscious fashion: Vintage fabrics are reclaimed, restyled and reinvented into special pieces (Anne Hathaway and Kate Hudson have been spotted here).
A long walk (or short cab ride) east is John Fluevog, famous for designing footwear for Madonna. His stylish shoes are surprisingly comfortable—so you might make this your first stop on your Toronto shopping spree.
THE DETAILS
Teatro Verde: 98 Yorkville Ave.; 416.966.2227; teatroverde.com
William Ashley: 55 Bloor St. W.; 416.964.2900; williamashley.com
Holt Renfrew: 50 Bloor St. W.; 416.922.2333; holtrenfrew.com
Augustina: 5 Old York Lane; 416.922.4248; augustinaboutiques.com
Divine Decadence Originals: 128 Cumberland St.; 416.324.9759
Kumari's: 94 Cumberland St.; 416.324.9830; kumaris.ca
Jeanne Lottie: 32 Scollard St.; 416.975.5115; jeannelottie.com
Winners: 110 Bloor St. W.; 416.920.0193
Distillery District: 55 Mill St.; thedistillerydistrict.com
Corkin Gallery: 416.979.1980; corkingallery.com
Gibsone Jessop Gallery: 416.360.6800; gibsonejessop.com
RedEye Studio Gallery: 416.366.3393; redeyestudiogallery.com
Take Corktown Designs: 416.861.3020; corktowndesigns.com
Bergo Designs: 416.861.1821; bergo.ca
Soma Chocolatemaker: 416.815.7662; somachocolate.com
Arcadia Antiques: 1702 Queen St. W.; 416.534.0348; arcadiaantiques.ca
Queen West Antique Centre: 1605 Queen St. W.; 416.588.2212
Era: 1629 Queen St. W.; 416.535.3305
Thieves Boutique: 1156 Queen St. W.; 647.435.4880; thieves.ca
Brian Bailey: 875 Queen St. W.; 416.516.7188; brianbaileydesign.com
Cabaret: 672 Queen St. W.; 416.504.7126; cabaretvintage.com
Preloved: 881 Queen St. W.; 416.504.8704; preloved.ca
John Fluevog: 242 Queen St. W.; 416.581.1420; fluevog.com
NOTE: Information may have changed since publication. Please confirm key details before planning your trip.