A decade ago travelers often overlooked Toronto in favor of Canada's more popular cities—Montreal, with its Paris-style bistros; Vancouver, with its Pacific Coast oysters and lush mountain backdrop. The Great Lakes tides have turned, though, and today Toronto is flourishing. Not only does the city have a thriving financial center, it is also incredibly diverse—more than 130 languages and dialects are spoken here—and home to a thriving cultural scene. Explore Toronto with our jam-packed weekend guide.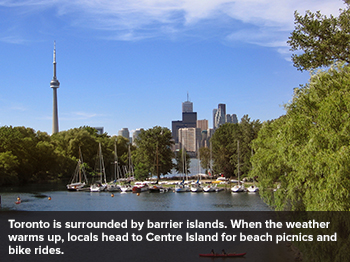 THE QUEEN REIGNS
Funky and cool, the Queen Street West neighborhood, in central Toronto, is a breeding ground for independent boutiques, galleries and restaurants. Businesses often have ultra-local concepts—say, a chef who sources honey from a rooftop hive or a brewer who grows hops in his own backyard.
Artists in search of showrooms and cheap rent were Queen West's early adopters, and the neighborhood now has the gallery scene to prove it. The grande dame is the Museum of Contemporary Canadian Art. The museum will move later this year, so check out the last exhibition at this site (running through August 16, 2015), The Aluminum Jubilee, by artist Dean Baldwin. Next door, make your way through the wisteria-framed entrance of the Edward Day Gallery to see pieces by Canadian artists for purchase. Down the street the Stephen Bulger Gallery focuses on historical and contemporary photographs by Sarah Anne Johnson, Ruth Orkin and others. And the Cooper Cole gallery has works by emerging artists, such as Vancouver-born Andrea Pinheiro and Owen Kydd, who hails from Calgary, Alberta.
You may catch an author reading at the independent Type Books or browse among its collection of food and art books. Five blocks west BYOB stocks beautiful cocktail accoutrements, including gold-washed bar spoons and blown-glass highballers made in Japan. Also keep an eye out for Dillon's Bitters, made outside Toronto in Niagara wine country. Rest your bags and sip espresso at the White Squirrel Coffee Shop, or stop in next door for a snack: Clafouti serves fresh-baked croissants and chocolate éclairs.
At Annie Aime you'll find boldly cut dresses, sleek travel bags and high-tops made from vintage French silk scarves. For hip menswear ranging from herringbone button-downs to varsity jackets, check out Lost & Found.
You can start the evening off at Bellwoods Brewery, one of many microbreweries that opened recently. Catherine Wheel, a Belgian IPA, and Lost River, a Baltic porter, are two of the most ordered brews. One block south, Union restaurant, owned by unofficial Queen Street West ambassador Teo Paul, is a popular spot for dinner. The eatery serves duck à l'orange with turnips—or whatever vegetables show up at the farmers market in nearby Trinity Bellwoods Park. If you'd prefer to eat on the go, stop by butcher and sandwich shop Côte de Bœuf.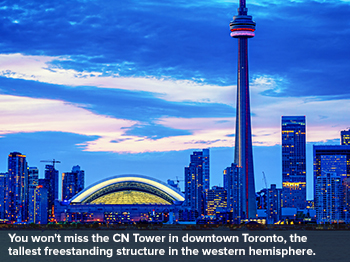 Chinatown is filled with bargain shops and lively markets. Cooks stuffing pork and shrimp dumplings in the storefront window may lure you into Dumpling House Restaurant. Or stroll along King Street, where fashionable restaurants vie for attention. Cibo Wine Bar has a lengthy list of wines by the glass and a refreshing Niçoise salad. You'll need reservations for Lee restaurant, named for the capital's star chef, Susur Lee, a finalist on Top Chef Masters. Among other dishes, the Singapore-style slaw and the cod in a miso-mustard broth are standouts. Luckee, another Lee outpost, in the Soho Metropolitan Hotel, turns out equally delicious fare. End the night with a cocktail, like a barrel-aged Negroni, at the America Restaurant, on the 31st floor of the Trump Hotel.
ISLAND TIME
Toronto is surrounded by barrier islands—570 acres of green space dotted with summer cottages and accessible by ferries. On pleasant weekends residents flock to the largest, Centre Island, for its placid Lake Ontario beaches and picnic-worthy parks in bloom. Rent wheels at Toronto Island Bicycle Rental and ride along the waterfront pathway to the island's northeastern tip, home to Ward's Island Beach. On the way you'll pass the Rectory Café, which has a wooden gate and a leafy patio. Stop in for a cheddar-brisket burger on a potato-scallion bun. If you're traveling with kids, make a beeline for the Centreville Amusement Park for its petting zoo, twirling-teacups ride and mini roller coaster.
On the boat ride back to the mainland, head to the front of the vessel to take in Toronto's epic skyline, dazzling in its reflection of the sunset.
THE DETAILS
Cibo Wine Bar: 522 King St. W.; 416-504-3939; cibowinebar.com
Clafouti: 915 Queen St. W.; 416-603-1935; clafouti.ca
Côte de Bœuf: 130 Ossington Ave.; 416-532-2333; cdbossington.com
Dumpling House Restaurant: 328 Spadina Ave.; 416-596-8898
Lee: 601 King St. W.; 416-504-7867; susur.com/lee
Luckee: 328 Wellington St. W.; 416-935-0400; luckeerestaurant.com
Rectory Café: 102 Lakeshore Ave., Ward's Island; 416-203-2152; therectorycafe.com
Union: 72 Ossington Ave.; 416-850-0093; union72.ca
America Restaurant: Trump Hotel, 325 Bay St.; 416-637-5550; americarestaurant.ca
Bellwoods Brewery: 124 Ossington Ave.; 416-535-4586; bellwoodsbrewery.com
White Squirrel Coffee Shop: 907 Queen St. W.; 647-428-4478; whitesquirrelcoffee.com
Annie Aime: 42 Ossington Ave.; 416-840-5227; annieaime.com
BYOB Cocktail Emporium: 972 Queen St. W.; 416-858-2932; byobto.com
Lost & Found: 44 Ossington Ave.; 647-348-2810; shoplostfound.com
Centreville Amusement Park: Avenue of the Island, Centre Island; 416-203-0405; centreisland.ca
CN Tower: 301 Front St.; 416-868-6937; cntower.ca
Cooper Cole: 1161 Dundas St. W.; 647-347-3316; coopercolegallery.com
Edward Day Gallery: 952 Queen St. W.; 416-921-6540; edwarddaygallery.com
Museum of Contemporary Canadian Art: 952 Queen St. W.; 416-395-0067; mocca.ca
Ripley's Aquarium of Canada: 288 Bremner Blvd.; 647-351-3474; ripleyaquariums.com
Stephen Bulger Gallery: 1026 Queen St. W.; 416-504-0575; bulgergallery.com
Toronto Island Bicycle Rental: Centre Island; 416-203-0009; torontoislandbicyclerental.com
NOTE: Information may have changed since publication. Please confirm key details before planning your trip.