Are you dreaming of your next trip but feel like you can't leave behind work and life for very long? No need to spend a week out of town. There are plenty of fun travel ideas for where to go on your next long weekend trip. Take advantage of Extra VacationsSM getaways and visit RCI.com/deals to book a three-, four-, or five-night stay in one of these welcoming vacation destinations.
1. Sedona, Arizona
Sedona has so much to fill each gorgeous day of your stay, from hiking and fine dining to art galleries and personal enrichment. Get some red earth on your hiking boots at any of the countless trails, or be inspired by the artwork housed in Sedona's art galleries. Try something new, such as walking through a labyrinth, getting your aura photographed, or indulging in a massage that will get every kink out of your body. It's no wonder that Sedona is considered one of the most beautiful places on Earth.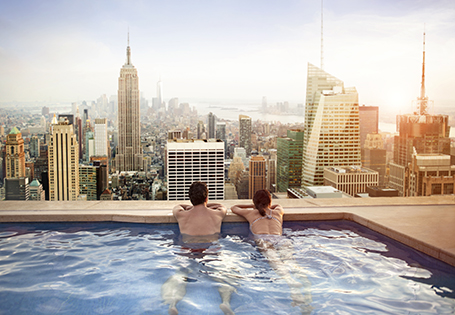 2. Phoenix, Arizona
Known for its year-round sun, desert beauty, and world-class resorts and golf, Phoenix also offers sophisticated urbanscapes, Southwest culture, and plenty of outdoor adventure. If you're looking for a destination that is anything but ordinary, Phoenix is an ideal setting for family trips, girlfriend getaways, and weekend adventures.
3. Myrtle Beach, South Carolina
Myrtle Beach is the quintessential beach escape, with 60 miles of beautiful sandy beaches, exciting attractions, and celebrity-designed golf courses. Head to the boardwalk for views of the Atlantic Ocean, or explore attractions, restaurants, and shopping at Broadway at the Beach.
4. Outer Banks, North Carolina
The Outer Banks of North Carolina are a welcome relief from crowded cities and tourist spots. In fact, you won't find any cities on the Outer Banks — just 100+ miles of wide-open shoreline, charming seaside villages, and a mix of towns brimming with personality and history.
5. San Diego, California
Hang 10 on the shining waves of San Diego and experience where the R&R of beach life meets the bustle of the city. Enjoy refreshing weather, mountaintop views, and laid-back days. Soak in some culture at the museums and theaters of Balboa Park, grab a bite of delectable, Mexican-inspired cuisine, and take in everything this beach town has to offer.
6. Palm Springs, California
Surrounded by four picturesque mountain ranges and sought-after by travelers for its inspiring scenery and sense of adventure, Palm Springs is one of Southern California's most desired destinations. A popular resort city for many years, Palm Springs is known for its natural hot springs, hotels, restaurants, golf courses, and sunny weather. See the outdoors in a whole new way.
7. New York City, New York
There's a reason why New York City is a top destination for travelers. It's the hub for delicious cuisine, colorful culture, and endless shopping. Enjoy the bright lights of Times Square, peanuts and Cracker Jacks at Yankee Stadium, the famous pizza of Brooklyn, the water views of Queens, and the natural beauty of Central Park. In NYC, there's an adventure in every borough.
8. Daytona Beach, Florida
Daytona Beach is renowned for its Speedway, colorful history, world-class cultural amenities, and a calendar crowded with great events and festivals. Its 23 miles of beaches are a must-see, the historic down-town is filled with great shops and restaurants, and the famous Boardwalk lights up with colorful amusements, shops, and eateries.
9. Naples, Florida
A natural and cultural gem tucked away in Southwest Florida, Naples is where the Gulf of Mexico's turquoise water meets white-sand beaches. It's filled with artful treasures, culinary delights, and countless other discoveries. Famous for its high-end shopping, world-class culture, and sophisticated dining, there is truly something for everyone.
10. Florida Keys, Florida
Booming with activities for visitors of all ages and interests, the Florida Keys islands make for a classic family getaway. Your time in the Florida Keys and Key West can be as action-packed or as relaxed as you desire. Get up close and personal with tropical fish on a snorkel trip, soak in the history with a visit to an art gallery or museum, feast on fresh seafood at local restaurants, hang with the locals on a hammock, or simply unwind and let go with the outgoing tide.