While it's only about 50 miles southeast of Houston, Galveston feels more Florida than Texas. Which explains why so many Houstonians keep weekend homes in this coastal city, named for the toothpick of an island it's located on. Five years after Hurricane Ike, the summer hoards have returned, and this Southern beach escape is back to its former splendor.
HIT THE BEACH
Many come here for the beaches—especially the 7-mile stretch along the Seawall, on the Gulf side of the island. Listed on the National Register of Historic Places, the 10-mile long wall was built after the Great Storm of 1900, which wiped out much of the city. The public beach is lined with hotels and condominiums, so it's an easily accessible spot for sun-seekers.
Thanks to shallow waters, lounge chair and umbrella rentals, outdoor showers and a seaside snow-cone vendor, Stewart Beach Park is a favorite with families. When the crowds swell to untenable levels, head to the 26-acre Schlitterbahn Galveston Island Waterpark, just off the main drag. The indoor-outdoor waterslide mecca has all the typical trappings (lazy river, wave pool) and a quarter-mile-long zipline that reaches 30 miles an hour.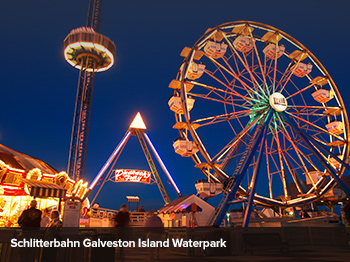 ARCHITECTURE AND CULTURE
Not a beach bum? Galveston has an under-the-radar architecture scene with a trove of Victorian and Greek revival mansions that are on the National Register of Historic Places. Nineteeth- and early-20th-century properties, many of which have been converted into shops and cafés, are scattered over downtown's Strand District. Hop on a guided shuttle tour with Galveston Historical Foundation for an in-depth look.
Once a popular port of entry for immigrants arriving in the United States, the Texas Seaport Museum has an extensive database for tracking your family's lineage. Climb aboard the Elissa, an 1877 tall ship that hauled cargo all over the world, docked right outside in the harbor.
SEASIDE EATS
La King's Confectionery, a 1920s-style ice-cream parlor—is a whimsical time machine with old-school soda fountains, chocolate malts and homemade candies (peanut brittle, saltwater taffy). For something savory, join locals at the turquoise-colored Shrimp n Stuff for its signature fried-oyster po'boys and buckets of Lone Star lagers. Of course, no trip to Texas would be complete without sampling the famous barbecue. In Galveston that means Leon's, helmed by the self-styled Dr. Bar-B-Q. On the menu: hearty slabs of prime beef brisket and chin-drippingly juicy racks of spare ribs.
THE DETAILS
Stewart Beach Park: 201 Seawall Blvd.; 1.409.797.5182; galveston.com/stewartbeach
Schlitterbahn Galveston Island Waterpark: 2026 Lockheed St.; 1.409.770.9283; schlitterbahn.com
Galveston Historical Foundation: 502 20th St.; 1.409.765.7834; galvestonhistory.org; tours
Texas Seaport Museum: Pier 21, No. 8; 1.409.763.1877; galvestonhistory.org
La King's Confectionery: 2323 The Strand; 1.409.762.6100; lakingsconfectionery.com
Shrimp n Stuff: 39th Blvd. and Ave. O; 1.409.763.2805; shrimpnstuff.com
Leon's: 55th and Broadway St.; 1.409.744.0070; leonsbbq.com
NOTE: Information may have changed since publication. Please confirm key details before planning your trip.