Visitors arriving at the Orlando airport might think that the entire state is a tropical paradise akin to Maui. But as soon as you exit past the animal-shaped topiary, landscaped monorail and hibiscus-adorned fountains, the real-life, scrubby Florida takes over. While most of the Sunshine State's visitors make a beeline for the sandy beaches and crowded amusement parks, swaths of central and north Florida go overlooked. A glimpse beyond the interstates, exurbs and strip malls reveals an otherwise bygone Old Florida that encompasses both Spanish and Anglo cultures.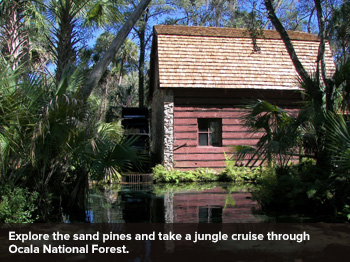 DRIVE 1: ORLANDO TO ST. PETE BEACH
107 miles – 2 hours
Leaving Orlando on Highway 192, you'll pass Kissimmee's big theme parks and the singular Eli's Orange World, the largest man-made orange in the world, created from fiberglass. The shop inside sells edible souvenirs, like chewy citrus candy, tangerine honey, fresh tangelos and coconut toast spread.
From the Lake Wales Ridge, this drive traverses rolling hills, passing horse ranches, crystal-clear lakes, hidden towns and citrus groves. You'll see 312-foot Sugarloaf Mountain, the highest point in peninsular Florida. At Winter Garden, get on the Green Mountain Scenic Byway, which begins near the moss-draped avenue known as Sadler Oaks in historic Tildenville on Route 50. Switch to County Road 455 around Lake Apopka to reach the westbound Florida Turnpike.
Homosassa Springs is just one of more than a dozen parks in the Crystal River area. Its well-kept grounds offer an opportunity to see native species in captivity, like the Florida panther, Florida black bear, red wolf and Key deer. There are also several outfitters that offer snorkeling and diving with manatees.
Head 20 miles south on Route 19 to experience Weeki Wachee Springs, whose underwater mermaid show has been drawing visitors since 1947 (Elvis and Esther Williams among them). Then get on Route 589 and drive 78 miles south to St. Petersburg. In recent years St. Pete has transformed itself from a sleepy city into a youthful destination with cool hotel upgrades, a Dalí Museum and the Chihuly Collection. Browse for used books and antiques along Central Avenue (Janet's Antiques always has some funky finds). New restaurants emphasize Old Florida flavors, while old ones stick to time-honored recipes.
DRIVE 2: ORLANDO TO FANNING SPRINGS
186 miles – 3.5 hours
Unlikely as it sounds, Orlando has several historic neighborhoods. Among them are Thornton Park, a leafy grid of 1920s bungalows; the more residential Lake Eola Heights; and tidy Eatonville, one of America's first all-black settlements and former home of the writer Zora Neale Hurston. These make excellent stopping off points before heading to Mount Dora, 30 miles north on Route 429. Known for its pastel Victorian architecture, Mount Dora is a quaint slice of Florida. Stop in at Renninger's Antiques Center & Farmers & Flea Market to score a vintage citrus press or pick up a collectible Florida Highwaymen painting by one of the 26 African-American outsider artists who made up this 20th-century movement.
Continue north on Route 19, through the sand pines of Ocala National Forest. Veer west onto Route 40 toward the retro amusement park Silver Springs, famous for its glass-bottomed boats, lighthouse carousel and jungle cruises—a good opportunity to see a gator up close and personal. Keep going north on Route 301 for 35 minutes until you reach Cross Creek, home of Marjorie Kinnan Rawlings Historic State Park. This is where the writer penned the Pulitzer-winning The Yearling and the lesser-known Cross Creek Cookery, with recipes for such Florida Cracker locavore dishes as turtle stew, corn pone and orange icebox cake.
As you progress north, the mood becomes markedly Southern. Drive north on I-75 and then west on Highway 26 to reach the Suwannee River at Fanning Springs, a town on the edge of Dixie County. Once the location of a thriving turpentine business, it's now known for its tree-lined springs, slow pace of life and Gulf crab and scallops.
DRIVE 3: ORLANDO TO ST. AUGUSTINE
145 miles - 3 hours
Follow I-4 about 30 miles north of Orlando to Blue Spring State Park. Botanist John Bartram came here in 1766 in search of new orchids and bromeliads on the banks of the St. John's River, at a time when Florida was briefly a British colony. Today the crystal-clear spring is the winter home of endangered manatees, which come to warm themselves in the 72-degree water. Stroll along the cypress-shaded boardwalks to catch glimpses of gators, wood storks and 156 species of dragonfly and damselfly. Swimming is permitted after March 1, so bring goggles to check out the Florida gar and other more colorful fish below. Just 17 miles north on U.S. 17 is De Leon Springs State Park, where you can rent tubes, kayaks, canoes and paddleboats. This pleasant stop on the Great Florida Birding Trail also has dense nature trails.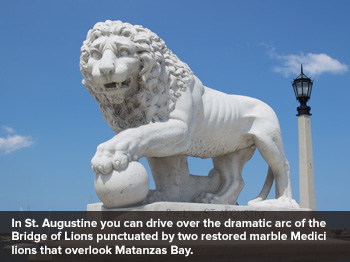 Head 25 miles east on 17-92, then drive 15 minutes south on A1A to the Ponce de Leon Inlet Light Station, the state's tallest lighthouse, set on the tip of a barrier island. Built in 1887, it doubles as a museum with interactive displays of its fascinating history, including a role in rescuing writer Stephen Crane (The Red Badge of Courage) and his crew after an offshore shipwreck in 1897. The 203-step climb to the top affords views over the Intracoastal Waterway and New Smyrna Beach.
Go north 20 miles on U.S. 1 until it turns into the Old Dixie Highway at Tomoka State Park in Ormond. Stop to admire the 400-year-old Fairchild Oak in Bulow Creek State Park; its moss-covered limbs are so heavy, they've drooped to the ground and re-rooted. Cross the Halifax River (part of the Intracoastal) on Highbridge Road and continue north on scenic ocean-side A1A to St. Augustine. The 40-minute drive brings you right to the Bridge of Lions—marked by a pair of marble Medici lions and restored in 2011—and its dramatic arc over Matanzas Bay. The Castillo de San Marcos looms over a bank of the bay where a Timucua Indian village once existed. Walk across the tidal moat to explore the various chambers and prison cells that held Spanish-American War prisoners, British pirates, Union soldiers and several Native Americans, including the Timucua and Seminole warrior Osceola. Then pop across to touristy St. George Street, where you can sip a glass of cool sangria under the trees at Mi Casa Cafe. Or duck into a side street to pick up some Florida treasure maps at the Historic Print & Map Company to help you get started on your next treasure hunt.
NOTE: Information may have changed since publication. Please confirm key details before planning your trip.