By Peggy Sijswerda
Washington D.C. is a special city, and a D.C. trip is a great way to spend some quality time as a family. It's the perfect vacation opportunity for kids of all ages to learn some history, see cool attractions, and explore the nation's capital. But with so much to see and do, it can be difficult and even stressful for kids if you aren't prepared. Here are a few family travel tips for making your family's D.C. trip a successful one.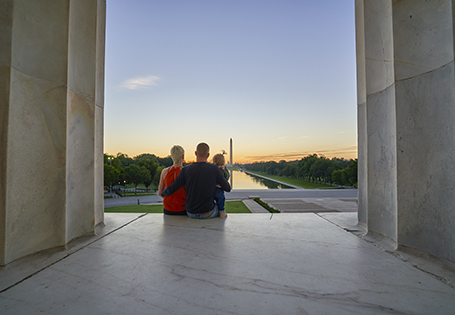 Make A Plan
With all of the choices of things to see in the nation's capital, make a game plan before you go. Check out museum websites and let the kids help pick which ones to visit. You may be tempted to fit in as much as you can during your visit, but planning fewer activities will help to avoid burn-out. Choose two or three attractions each day, and build in food breaks and downtime at a park or playground. Be flexible, and let your kids have time to be kids.
Choose Your Must-See Attractions
There's so much to see and do in D.C., but here are seven of the most popular kid-friendly spots:
1. National Museum of the American Indian: This impressive museum incorporates Native themes into its architecture and features the largest collection of American Indian art and cultural objects in the world. Free admission.
Tip: Check the museum's website for hands-on family programs and storytimes for kids.
Eat: Dine at Mitsitam Native Foods Café, and try the tasty campfire buffalo burger.
2. National Gallery of Art: This elegant museum with its vast collection of world art will help your child connect with their inner artist. Free admission.
Tip: Download the children's audio tour for ages 7-12, which gives the inside scoop on paintings by the masters.
Eat: The Espresso and Gelato Bar on the concourse between the East and West Buildings is a serene place to grab a quick bite.
3. National Children's Museum: This recently updated museum offers a variety of STEAM-inspired interactive exhibits that will keep your kids entertained for hours. They'll meet Nickelodeon characters, climb, slide, dance, and tinker — all while engaging their imagination. Paid admission.
Tip: Check out the STEAMwork videos on the museum's website for creative projects your family can do at home.
Eat: Try the banana toast or the peanut butter & berry toast or a flavor-packed smoothie at the adjacent Blue Lane Café.
4. National Museum of Natural History: If your kids like dinosaur bones, they'll love the 40-foot T. rex on display. With surprises around every corner, this museum will thrill dinosaur lovers in your family. Free admission.
Tip: Check out the Live Butterfly Pavilion right next to the Live Insect Zoo. The purchase of a timed-entry pass is required.
Eat: Your kids will love the comfort food at the Atrium Café, offering everything from barbecue to burgers, plus tasty grown-up fare for Mom and Dad — think Maryland she-crab soup!
5. National Air and Space Museum: Embark on a journey from the early days of balloon flight to modern exploration on Mars. Free admission.
Tip: Plan ahead to visit this popular museum and reserve timed-entry passes.
Eat: Select something tasty from a street vendor or food truck. You'll find lots of choices just a short stroll from the museum.
6. International Spy Museum: Explore the world's largest collection of international espionage artifacts ever publicly displayed. Your family will learn about code breaking, test your spy skills, and discover stories of real-life spies from past to present. Paid admission. 
Tip: Take the self-guided Family Highlights Tour. Download the handout with a detailed map and start your undercover odyssey.
Eat: Nearby L'Enfant Food Plaza offers plenty of choices for hungry families, or bring a picnic and relax in the outdoor space adjacent to the building.
7. The National Zoo: Visit Sumatran tigers, giant pandas, cheetahs, and more than 2,500 other animals at the nation's premier zoo. Free admission.
Tip: Learn about zoo animals with the Animal Adventure Guide, available on the zoo's website. Your kids can discover the animals' names, typical behaviors, and habitats, and soon they'll be on their way to becoming budding zoologists.
Eat: Burgers, pizza, ice cream, and food trucks are on hand to feed your hungry family.
Take A Break
Most children can only handle so much art, history, and culture. Do yourself a favor and take a breather at one or more of these four picturesque spots during your Washington D.C. travel.
1. Mount Vernon Bike Trail: Rent bikes in Alexandria at Mount Vernon Bike Rentals, and ride along the Potomac.
2. Rock Creek Park: An oasis in the middle of D.C., this park is perfect for picnics, Frisbee, a hike, or a snooze on a summer afternoon.
3. Great Falls Park: Fourteen miles upriver from D.C, this Virginia park is known for its magnificent scenery.
4. U.S. National Arboretum: One of Washington's best-kept secrets, this living museum features bonsai trees, shrubs, and flowers.
There are many things to love about Washington D.C., and many more reasons to bring the family back and visit again and again. Sharing such a special city with children can make it feel even more special. It may be tough to find the time to sneak away as a family, especially when life is so busy with school, sports, music lessons, and commitments. But the daily grind will never mean as much as enjoying a big-city adventure with your kids.
NOTE: Information may have changed since publication. Please confirm key details before planning your trip.