Millions of vacationers head to Virginia Beach every year to swim in the Atlantic surf or sunbathe on the city's broad sandy beaches. But autumn, when the humidity drops, the crowds head home and temperatures linger in the 70s into November, is an especially enchanting time to explore the town. Providing a host of new attractions and a burgeoning food scene, the area has evolved beyond the beach to become a year-round destination.
"Everybody wants to come here in the summer," says Virginia Beach native John Streit, an avid surfer and paddling guide who has been with local outfitter Surf & Adventure Co. since 2008. "But the shoulder seasons, in the early fall and late spring, are some of the best times to visit." As Streit says, these times of year are hidden gems for vacationers: "It's the secret season."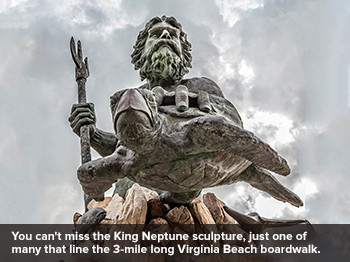 ON THE BOARDWALK
Get your bearings with a stroll along Virginia Beach's famed boardwalk, a 3-mile oceanfront promenade offering hotels, shops and restaurants. Nautical sculptures dot the boardwalk (you can't miss King Neptune), as do throwback favorites, like Forbes Candies, which has peddled saltwater taffy here since 1930. Anglers can cast their lines at the Virginia Beach Fishing Pier, where fall means plenty of trout, croaker and redfish.
Fuel up at Doc Taylor's, a diner in a doctor's former home office that serves hearty dishes named after regulars. Breakfast, along with Doc's renowned $2.50 Bloody Mary, is served all day. Save room for a treat: Dough Joe's, a recently opened hole-in-the-wall doughnut shop, is right across the street. It has quickly developed a cult following for delectable flavors, like the "Samoa," based on the chocolate-coconut-caramel Girl Scout Cookies®.
Farther east, Village Lane takes you into the heart of 19th-century Orient Village, a quaint, New-England-by-way-of-Norman-Rockwell neighborhood. The "business district" is comprised of an ice cream parlor, post office and a general store where a red-checker-clothed table is permanently reserved for "Earl." The town is one of the highlights on the drive to Orient Point, which ends rather anticlimactically at the ferry terminal for Connecticut. For years, this boat was the main reason travelers drove to, or through, the North Fork. Now, there are many more enticements to stay, from nearly a dozen golf courses to the upscale shops at Tanger Outlets in Riverhead. But the most popular activity by far is wine tasting.
FEEL THE RUSH
Although lazy vacations at the shore can be great, Virginia Beach has a new adrenaline-pumping attraction that is anything but a day at the beach. The Adventure Park at Virginia Aquarium, is an "aerial forest park" set on 5 acres of maritime forest, with ropes, platforms, high wires, ladders and zip lines strung through a pine grove. "It's like the ultimate tree fort your dad couldn't build you," the park's general manager, Kema Geroux, says. Opened in 2014, the park offers 13 self-guided trails of increasing difficulty, from the purple beginner trails to the Commando, a grueling double-black-diamond trail that Geroux calls the ultra-mega-super-ninja course.
Toast your day with a local brew: Virginia Beach's craft-beer scene has exploded, half a dozen microbreweries having opened in just the past few years. At Back Bay Brewing Co. , the vibe is beachy and rustic; the tasting room is paneled with wood salvaged from area barns. The Oyster Stout is brewed with local oysters that infuse it with a subtle salty-sweet flavor.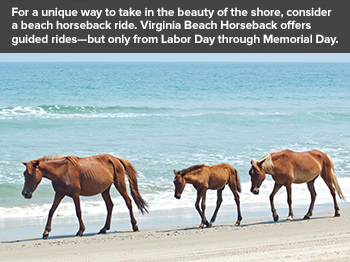 BACK TO NATURE
Because Virginia Beach has such a vibrant beach-resort scene, it can be easy to forget that its rivers and bays are teeming with wildlife. The Virginia Aquarium. operates dolphin- and whale-watching boat tours so visitors can observe coastal creatures in their natural habitat. Autumn is an especially good time to go, says Alexis Rabon, the boat-program coordinator for the aquarium. "Dolphins are more interactive with the boat. They've taken care of mating and nursing for the year, so they're a bit more curious and playful," she says. In December and January visitors can spot whales, including humpbacks, minkes and even endangered North Atlantic whites, making their migration down the coast. (The aquarium itself is worth a visit, having fish and other animals from around the world, plus the largest collection anywhere of Chesapeake Bay aquatic life).
South of town the hotels give way to the Back Bay National Wildlife Refuge, a 9,200-acre preserve of marshes and woodlands. One of the best ways to explore it is in a kayak: Surf & Adventure Co. offers rentals as well as 2-hour guided tours through the marsh tributaries and into the open bay. As the health of the bay has improved over the years, ospreys and bald eagles have returned to the region, along with river otters, mink, white-tailed deer—even wild peacocks. "What I'm really charmed by," says Streit, who leads tours through November, "is how every time I come out here—and I've probably been out here 200 times now—I see something new."
And for an experience that's available only in the off-season, consider a beach horseback ride. From Labor Day through Memorial Day, Virginia Beach Horseback offers guided rides through the surf. It's a tranquil trot through the sand and spray—and a unique way to take in the beauty of the shore.
RIVER-TO-TABLE DINING
Oysters from Virginia Beach's Lynnhaven River have been prized ever since Captain John Smith and his crew feasted on them after landing here in 1607. (Captain George Percy declared them "large and delicate in taste.") Throughout the 18th and 19th centuries, these "Lynnhaven fancies" were served everywhere, from fine New York restaurants to the dining rooms of European royals. But overharvesting and pollution closed the river to oyster fishing in the 1970s.
Today, after a major river cleanup and restoration effort, the Lynnhavens are back. For the past few years, oyster farmer Chris Ludford has been taking folks on "tasting tours" of his 3-acre spread, in the heart of the inlet. Pleasure House Oysters tours are an up-close-and-personal way to learn about oyster farming while sampling the distinctive flavor of the Lynnhavens. "They're not as salty as oysters near the ocean, but you also don't get hit over the head with the oyster umami, like with river oysters," says Ludford, who now offers tours year-round. "It's the perfect balance."
Ludford's "chef's table tours" let you strap on waders and explore the farm while he sets up a makeshift table in the river shallows. Enjoy a fully catered lunch (drinks are BYOB) while standing in the knee-deep river as Ludford plucks and shucks oysters straight out of it. "It's so great to be able to eat these right from the source," he says. "And standing out here on the water, where it's so peaceful—it's really magical."
THE DETAILS
Back Bay Brewing Co.: 614 Norfolk Ave.; 757-531-7750; backbaybrewingco.com
Doc Taylor's: 207 23rd St.; 757-425-1960; doctaylors.com; breakfast for two, $14*
Dough Joe's: 208 23rd St.; 757-383-2814; no website; half-dozen doughnuts, $7
Forbes Candies: 2800 Atlantic Ave.; 757-428-9037; forbescandies.com
The Adventure Park at Virginia Aquarium: 801 General Booth Blvd.; 757-385-4947; virginiabeachadventurepark.com
Pleasure House Oysters Tours: 3211 Lynnhaven Dr.; 757-663-6970; pleasurehouseoysters.com
Surf & Adventure Co.: 577 Sandbridge Rd.; 800-695-4212; surfandadventure.com
Virginia Aquarium: 717 General Booth Blvd.; 757-385-3474; virginiaaquarium.com
Virginia Beach Fishing Pier: 15th St.; 757-428-2333; vabeachfishingpier.com
Virginia Beach Horseback: 31st St. and the oceanfront; 757-289-5470; virginiabeachhorseback.com
NOTE: Information may have changed since publication. Please confirm key details before planning your trip.