Planning a national park vacation? Join the crowd. Our suggestion: Go where others usually don't. Each of the following 5 parks offers a great summer getaway, generally with a fraction of the crowds.
Michigan: Isle Royale
This wilderness island on Lake Superior gets fewer visitors in a year than Yellowstone sees in a single day. If you do take the ferry ride required to get there (somewhere between two and six hours, depending on your departure point), you're in for a treat: pristine North Woods hiking, glorious Lake Superior views and room to spare in local campgrounds.
nps.gov/isro
Washington: North Cascades National Park
It takes less than three hours to drive from Seattle to the dramatic glaciated peaks of the North Cascades, aka the American Alps. Yet for some reason this national park consistently ranks among the country's least visited. All the more wide-open spaces for you to ogle: emerald rivers, turquoise lakes and that magnificent saw-toothed skyline.
nps.gov/noca
Colorado: Black Canyon of the Gunnison
Just as the Colorado River carved the Grand Canyon, so the Gunnison River, a feisty tributary of the Colorado, carved the Black Canyon. It's not as deep as the Grand, but its sheer dark walls are so close together—just 40 feet apart at the narrowest point—that you'll still find vertigo-inducing views. And one-twentieth the visitors.
nps.gov/blca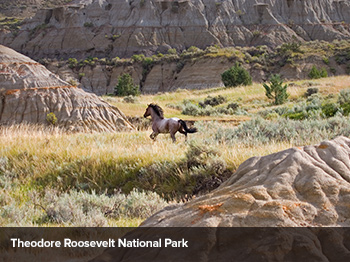 North Dakota: Theodore Roosevelt
Camp out here and you may wake to the sound of feral horses thundering past your tent. The animals, the descendants of mustangs that escaped from early Spanish settlers, are one of the many vestiges of the park's Wild West past. Bison, elk, pronghorn antelope and bighorn sheep also roam here, and the North Dakota badlands are just as desolate and beautiful as when Teddy Roosevelt first saw them, in 1883.
nps.gov/thro
Nevada: Great Basin
The closest major town is Ely (pop. 4,300), some 70 miles of empty two-lane highway away. But the park's bristlecone pines alone are worth the road trip. Follow the Wheeler Peak Scenic Drive to the top, then hike 1.4 miles and thousands of years back in time to a grove of bristlecones nearly 5,000 years old.
nps.gov/grba
NOTE: Information may have changed since publication. Please confirm key details before planning your trip.