When you're out exploring the world (or even your own community), your schedule might dictate hitting a drive-thru restaurant to fuel up. But eating a greasy burger and overly salted fries doesn't cut it when you're trying to eat healthy food.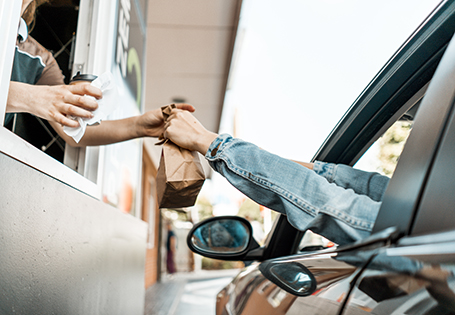 One great option? Look for restaurants that are vegetarian or plant-based. For inspiration, try these surprisingly healthy drive-thru restaurants and cafés on your next trip.
1. GROWN
Miami, Florida
At this South Miami quick-serve restaurant, you'll find a health-centric menu offering nutrient-dense, farm-to-fork healthy food. Grown taps its extensive farm network to craft delish bowls, salads, sandwiches, wraps, and small-batch soups.
Try the beautifully prepared açai bowl, filled with açai puree, almonds, flaxseed, cacao nibs, shredded coconut, and fresh fruit topped with a drizzle of local honey. Note: Upon request, Grown can make anything on the menu vegetarian or vegan.
Find out where to stay in Miami.
2. SANTANA'S VEGAN GRILL
Colorado Springs, Colorado
Vegan doughnuts? Yes, please! Locals make Santana's their go-to spot when looking for plant-based versions of classic American fare like hot dogs, burgers, bratwurst, chicken strips, sliders, and fries. From gluten-free buns to plant-based meat alternatives, Santana's menu serves up healthy comfort food without the guilt.
Bonus: Santana's serves breakfast, too. As one Yelp reviewer declared, "Even if you aren't vegan, it will transform you!"
Find out where to stay in Colorado.
3. SALAD AND GO
Arizona & Texas
Salad and Go aims to revolutionize the drive-thru experience with great-tasting, nutrient-packed food that's both convenient and affordable for guests.
Established in Phoenix in 2013, Salad and Go enlisted Michelin-rated chef Daniel Patino to curate a menu of hearty salads and wraps, breakfast burritos, soups, and house-made lemonades.
Stop by one of over 50 locations across Arizona and Texas, and keep an eye out for more locations in the works in 2022.
Find out where to stay in Scottsdale and Phoenix, Sedona, Austin, and Texas Hill Country.
4. AMY'S DRIVE THRU
California
This sustainability-focused vegan café, which opened in 2015, serves "fast food made with slow ingredients." By crafting a veggie-powered menu, Amy's dishes out a fresh take on to-go classics such as burgers, burritos, mac and cheese, pizza, and soups.
Featuring non-GMO organic vegetables, beans, grains, and dairy, each Amy's location carries a planet-friendly philosophy throughout its restaurant by using sustainable packaging, thoughtfully sourced ingredients, and solar-powered fryers.
Tip: If you want to go carb-less, ditch the bun and get your favorite burger in a lettuce wrap.
Find out where to stay in San Francisco, Palm Springs, San Diego, and the Southern California Coast.
5. URBAN COOKHOUSE
Alabama, Tennessee, & South Carolina
No need to leave your car to get a healthy spin on fast food. Urban Cookhouse uses locally sourced ingredients to handcraft sandwiches, salads, wraps, sides, fork-and-knife entrées, and even sweets.
The owner grew up on a family farm, which set the stage for using the freshest ingredients from nearby farmers, all served up in a feel-right-at-home setting.
Meat eaters will love that Urban Cookhouse uses the Big Green Egg with local hickory wood and lump charcoal to pack in flavor without the fat.
Find out where to stay in Nashville, Hilton Head, Myrtle Beach, and Tennessee.
6. WICKED BREW
Moab, Utah
Need a caffeine boost to keep you alert on the road? Swing by Wicked Brew. Serving Moab since 2004, this roadside coffee stand marks the perfect stop for organic, fair-trade, and shade-grown espressos, coffees, and teas.
Insiders know to ask for the "mocha cinnamon banana," which doesn't appear on the menu, but "almond joy" (chocolate, almond, and coconut) sounds equally delicious.
Not a caffeine fan? Order one of the 100% crushed-fruit smoothies for a nutritious thirst-quencher.
Find out where to stay in Utah.