Atlanta is a creative arts haven, full of art museums, galleries, and studios. You don't have to head indoors to see amazing art, though — some of Atlanta's best and most unique art can be found outside. Known for its bold and funky street art in a variety of mediums, Atlanta is home to Tiny Doors ATL, a city-wide art project that has gone explosively viral.
Tiny Doors ATL began with a single diminutive door in 2014, and quickly skyrocketed to local and then national fame, spurring the creation of more art installations equating to more tiny doors throughout the city.
Today Atlanta currently has 29 tiny doors (plus one giant door), all created and maintained by artist Karen Anderson Singer, founder of Tiny Doors ATL. Karen has painstakingly designed and built each tiny door to reflect the spirit, architecture, and other unique elements of the surrounding neighborhood or building on which it is placed.
Standing at only 7" tall, Atlanta's tiny doors are incredibly detailed, and each one is designed to promote a sense of wonder and imagination in its audience. If you're in the mood for a unique Atlanta vacation experience, look no further than Tiny Doors ATL.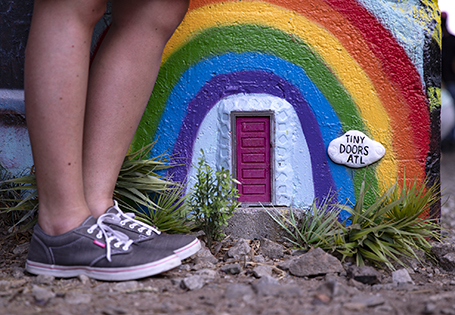 Meet The Tiny Doors
Every tiny door is a point of interest in an already interesting part of town, and the unique characteristics of each site makes it well-worth visiting. Most of the doors are in locations that are accessible to all and free of cost, making them easy to find and easy on the pocketbook (although there are three in locations which require entrance fees). Some of the doors include an augmented-reality feature — you download an app and point it at the door, then wait for the magic to happen.
The Krog Street Tunnel door was the original conversation starter, installed in an area that is well-known for its vibrant Atlanta street art. Surrounded by graffiti-style art, Door #1 was originally a doorway into "Tiny's," a convenience store with a red door and a yellow bench outside, but has since been revamped into a green doorway into a pink building.
Six tiny doors are located on Atlanta's well-known BeltLine, a 22-mile corridor around the city that is home to the city's largest public art exhibition, Art on the Atlanta BeltLine. The BeltLine is home to a myriad of art, both commissioned and spontaneous, and includes a tiny door in a rainbow, one in an acorn, and one in a dogwood tree.
Little Five Points is an Atlanta neighborhood known for its alternative culture, and is one of the best neighborhoods for viewing Atlanta street art. It is also home to Door #7 at the Stages Theatre — a set of silver and black French doors, reminiscent of a vintage theater entry, complete with a functional marquee!
Many doors are positioned in outdoor locations that are home to planned art installations. Door #17, a green door surrounded by plants, is in Woodruff Park, which is also home to numerous sculptures, fountains, and an art-inspired playground.
Centennial Olympic Park is home to three tiny doors, all built into a massive mural designed in collaboration with other local artists. The mural is a colorful and whimsical portrayal of Atlanta with spaceships and aliens happily invading the city, which includes three tiny doorways (one in outer space!). 
Find additional must-see attractions around the city with this list of 10 Spots You Should Experience  in history-rich Atlanta.
Take A Tiny Tour
While you can always experience the joy of visiting each tiny door by car, you may prefer an alternate way of exploring the city (downtown's one-way streets, pay-to-park garages, and traffic are all a bit of a deterrent).
Bicycle Tours of Atlanta offers two different Tiny Doors ATL bike tours, and you don't even need to bring your own bike! The two-hour package includes stops at six of Tiny Doors ATL's famous entryways, and the three and a half-hour joy-ride hits 11 doors, and a bunch of other cool Atlanta sights to boot. Tours include bike rental, and electric bicycles are available upon request (for an added charge).  
Where To Stay
Atlanta travelers who stay at Club Wyndham Atlanta #DY02 or Margaritaville Vacation Club by Wyndham Atlanta #DY04 will find themselves within walking distance of six tiny doors, and a host of other downtown Atlanta attractions.
The Georgian Terrace Hotel #RR93 is located on the same block as the Fox Theatre, making it an easy one-minute walk to tiny door #15, and Crowne Plaza/Stay Bridge Suites Atlanta Midtown #RV18 is just a seven-minute walk to the same diminutive door.
Whether you take the time to find just a few doors or all 28, each tiny door is a gateway to an unknown world of infinite possibilities, and each has a million tiny stories just waiting to be told. Check out this interactive map to help you plan your Tiny Doors ATL adventure.
Door #1 Krog Street Tunnel Door — Labeled "The Krog," Door #1 was revamped in 2022 and now features a green doorway into a pink home with a tiny mural of the original red doorway painted on it.
Door #2 Old Fourth Ward Skatepark — A red doorway surrounded by mirrors, with a rainbow surrounding it, created in honor of Atlanta PRIDE.
Door #3 Inman Park Pet Works — A green doorway into "Inman Bark," complete with doggie door and the back half of a dog.
Door #4 Little Shop of Stories — This bookstore features two tiny installations — a white doorway with marble columns inside the store, and a tiny library that is only viewable through the store's front window.
Door #5 Stumpery Garden — A burnt-orange doorway into a hand-sculpted acorn perched on a mossy log in the greenspace.
Door #6 Eastside Trail — A red door built into a very colorful custom-designed park bench on the trail.
Door #7 Stages Theatre — A set of silver and black French doors, reminiscent of a theater entry with a functional marquee!
Door #8 Milltown Arms Tavern — A green doorway surrounded by a brick wall that features over 200 tiny messages engraved on the miniature bricks!
Door #9 King of Pops — An orange doorway into a tiny cafe with monarch butterflies on the wall, plus a sandwich board menu in front and a welcome mat.
Door #10E Grant Park East — A green treehouse door with an oval window and orange walls, nestled into the bottom of a tree. Bonus — this is the only tiny door that actually opens so you can see what's inside!
Door #10W Grant Park West — A light green door with a tiny transom built into the concrete entryway to the park.
Door #11 Center for Puppetry Arts — A bright pink set of French doors with a green geometric backdrop and an accessibility ramp, signifying that artist Karen Anderson Singer wants her tiny doors to be accessible to all.
Door #12 Westside Trail — A neon pink door set into an oversize neon orange boombox with pink, blue, and green buttons.
Door #13 Piedmont Plaza — A pink door perched several feet off the ground, on the branch of a blooming dogwood tree.
Door #14 EAV Farmers Market — A vibrant yellow door surrounded by a balloon arch with a garden walkway and pink flamingos in front.
Door #15 Fox Theatre — Red French doors reminiscent of a theater entry, with marble columns and gold embellishments.
Door #16 State Farm Arena — A red door with a circle window set into silver cross beams in the shape of an A-T-L.
Door #17 Woodruff Park — Green French doors designed to reflect the angles of the skyline, with tiny ferns on the stoop.
Door #18 Atlanta Symphony Orchestra — A 40-square-foot mural of spiral piano keys with a bright blue door in the center.
Door #19 is being reconstructed after significant damage, so stay tuned for its updated design and new location.
Door #20 Kirkwood — A teal door with purple train tracks and white trim, and a faux stone stoop.
Door #21 Atlantic Station 1 — A red door built into a large mural of the Atlanta skyline, with a bright blue sky above.
Door #22 Atlantic Station 2 — A red door set into an ivy-covered concrete wall.
Door #658 The "Not So Tiny" Door — This giant door is 658 times larger than a tiny door, and is a bright teal door with a person hanging from the door knob (because the giant door is WAY too big for her).
Aquarium Door* — Located inside the Georgia Aquarium, this round blue nautical door is surrounded by colorful coral.
Swan House Door* — Located at the Atlanta History Center, this tiny door is a white doorway with wraparound stairs built into a tree on the grounds.
Centennial Olympic Park* — This location has three tiny doors built into a massive mural on the wall at the park's Visitor Center.
Atlanta Botanical Garden* — Light pink French doors with hand-sculpted floral embellishments, and faux stones in front. 
*Doors are only assigned numbers if they are free to access at any hour of the day and accessible to all. Non-numbered doors are generally inside attractions that require a ticket or entrance fee to access.