Looking to check a few incredible destinations off your bucket list? Look no further than the American Southwest. Thanks to natural wonders and vibrant terrain, the stunning region is teeming with worthy destinations, from canyons and caves to glowing white landscapes. Here the magic of mother nature is all around you, just waiting to be explored.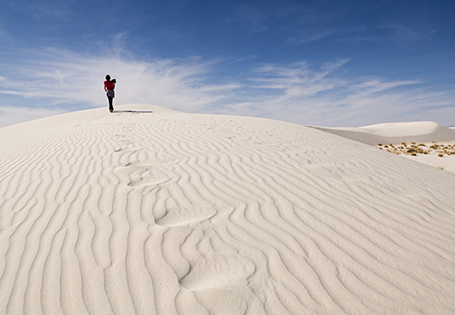 Antelope Canyon, Arizona
When it comes to natural wonders of the world, few can hold a candle to Antelope Canyon. The clay-like attraction is comprised of five separate slot canyon sections and is one of the most famous, and photographed, slot canyon sites in the world.
As Antelope Canyon is a sacred part of the Navajo Nation, the site is protected by Navajo Parks and Recreation and is therefore only accessible by authorized guided tours — be sure to book one well in advance. One image search of this place will have you packing your bags!
Bonneville Salt Flats, Utah
Picture yourself strolling across a glass-like plain while gazing at the reflection of the Silver Island Mountains beneath your feet. Sound like a dream? Nope, it's just another day at Utah's Bonneville Salt Flats. This truly captivating natural phenomenon takes the term "scenic" to a whole new level.
The 12-by-5-mile stretch of salt flats is one of many natural wonders in the American Southwest, and it's among the largest salt flats in the world, containing a whopping 147 million tons of salt. The site is so flat that if you look closely, some believe you can actually see the curvature of the Earth. All that salt makes the barren region inhospitable for virtually any life form, and most humans can't even seem to make it out without a few grains lingering somewhere on their bodies or belongings. But hey, that's the price of beauty.
Sedona, Arizona
If you're looking for a destination that's truly like no other, then add Sedona to the list. Nestled in the American Southwest between Phoenix and Flagstaff, this striking town looks more like a painting than a real place — or like a scene from a different planet altogether.
Bold red mountains and rich green pine trees contrast to make Sedona's signature backdrop, which thousands of visitors each year come to enjoy while hiking scenic trails, browsing whimsical shops, and exploring the town's seven famous energy vortices — another of the many natural wonders in the area. Simply put, they don't call Sedona "the most beautiful place on Earth" for nothing.
White Sands National Park, New Mexico
Sprawling bright-white sand dunes composed of rare gypsum crystals makes up one of the most angelic landscapes on Earth: White Sands National Park. The largest dunefield of its kind, White Sands is a true vision whose spot at the top of many travelers' bucket lists is well-deserved.
Take a day trip from Santa Fe and don't forget to bring your sled, because this sparkling sand doesn't just look like snow — it acts like it, too. In the American Southwest, natural wonders abound and heaven really is a place on Earth.