Being rewarded with an immaculate view is one of those unforgettable — not to mention most Instagrammable — moments of your vacation. These views are the must-sees from top vacation destinations, and each of them should be on your itinerary next time you visit. How many of the best views in the U.S. can you cross off your bucket list?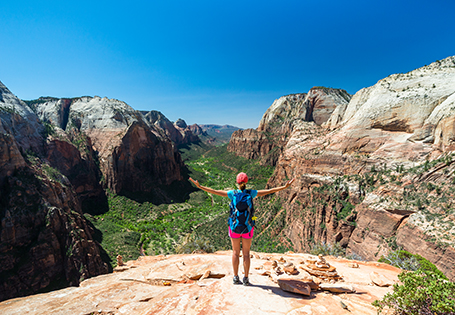 Best Hybrid City/Nature View
Runyon Canyon — Los Angeles
With so many things to see and do in Southern California, it can be difficult to pick just one. But if you're looking to combine incredible views with some light activity near a city that caters to foodies, shoppers, and thrill-seekers, then hiking Runyon Canyon won't disappoint. It offers moderate hiking with great views of the city, not to mention it's a hot spot for celebrity sightings!
Best Lake View
Emerald Bay — Lake Tahoe, California
Lake Tahoe is considered the Caribbean of the Mountains, with its crystal-clear water and leisurely lakeside atmosphere that transforms from a ski wonderland in winter to outdoorsy playground in the summer. The spellbinding views of Emerald Bay are just the icing on the cake — you'll see some of the best views in the U.S.! Take a scenic drive to the Emerald Bay State Park lookout or take an adventurous hike through the Bayview Trailhead.
Best Jaw-Dropping View
Angels Landing — Zion National Park, Utah
Zion National Park is renowned for its picturesque views and expansive canyons. People come from all over the world to experience its sprawling vistas and Angels Landing is no exception. The hike itself is 5.4 miles roundtrip and can take between two and four hours to complete.
Best City View
One World Observatory — New York City
If you're seeking the perfect skyline photos, why not go all the way to the top of the tallest building in the United States — One World Observatory in New York City. It stretches to the clouds at 1,776 feet spread over 104 stories. The elevator ride alone is an immersive experience, and you'll enjoy unparalleled 360-degree views of the city. No doubt this spot has one of the best views in the U.S.
Best Ocean View
Honeymoon Island State Park — Clearwater, Florida
It's hard to go wrong with any of the sparkling beaches surrounding Florida's sun-drenched peninsula, but there's a reason that Clearwater is consistently ranked as being among the country's most beautiful shorelines. Enjoy powder-soft sugar sand and warm, inviting emerald waters at Honeymoon Island State Park, with four miles of coastline to sunbathe, splash, and explore.
Best Canyon View
Antelope Canyon — Page, Arizona
Looking as though it was hand-carved by Mother Nature herself, Antelope Canyon offers breathtaking views with a kaleidoscope of color that radiates when the sunlight catches each rolling sandstone edge. Warm hues of red and orange appear striking in contrast to the sky, making the entire leisurely adventure feel as though you're wandering within a living painting.
Best Waterfall View
Multnomah Falls — Portland, Oregon
You'll discover Multnomah Falls about 30 miles east of Portland, and it truly earns its title as one of the most visited natural recreation spots in the country with one of the best views in the U.S. It's the state's tallest waterfall, towering at 620 feet and is stunning to visit year-round. What gives these falls a mystical, almost storybook appearance is Benson Bridge, which hovers 105 feet above the lower waterfall and is accessible by walking up a paved trail.