On the Atlantic coast of Massachusetts you'll find the city of Boston, one of the oldest and most historic cities in the U.S. Founded in 1630 by Puritan settlers from England, Boston grew to become the state capital of Massachusetts and its largest city. It is now one of the most popular tourist destinations in New England, welcoming more than 20 million visitors each year.
Once the home of revolutionaries like Benjamin Franklin, John Adams, Samuel Adams, John Hancock, and Paul Revere, Boston played a key role in the American revolution, from the infamous Boston Tea Party and Boston Massacre to Paul Revere's midnight ride. Throughout American history, Boston has been home to numerous literary giants, among them Edgar Allen Poe, Louisa May Alcott, and Robert Frost. Boston has nearly 300 historic sites within the city limits, including 57 National Historic Landmarks. Many of these historic sites are now some of Boston's most popular attractions that draw visitors from all over the world each year. 
Today Boston is a city of the arts, higher education, and culture. Nicknamed Beantown (more on that later), Boston is home to 35 colleges and universities, among them Harvard and MIT, and roughly 150,000 students call Boston home at any given time. People come from miles around to experience Boston baked beans, a fresh lobster roll, or New England clam chowder. From the Boston Marathon to the Boston Red Sox, it's a city of history, of culture, and perhaps most importantly, of Americana. Boston will never disappoint — it's a true American classic.
What are the must do things in Boston? Read on and find out.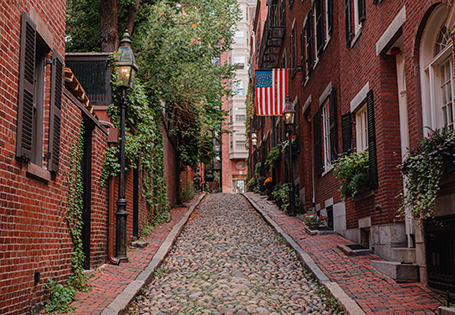 Must Do In Boston: Historic Sites
Lovers of American history will find Boston fascinating. It's a city of historic firsts — home to America's first park (Boston Common, c. 1634), first school (Boston Latin School, c. 1635), first free municipal public library (Boston Public Library, c. 1848), and first subway (Tremont Street, c. 1897). As a city of so much history, it can be overwhelming to try and navigate through all of the amazing historic sites Boston has to offer.
The simplest way to start is with the Freedom Trail. The Freedom Trail stretches 2.5 miles through Boston's most historic areas, and is a collection of 16 historic sites connected by a red line on the ground (made of red paint in some areas and red brick in others). Starting in Boston Common, follow the red line from one site to the next and you'll see a varying collection of museums, churches, cemeteries, homes, and even a ship (the USS Constitution, aka Old Ironsides c. 1797). Highlights include the site of the Boston Massacre, the Old North Church, and Paul Revere's house.
The National Parks Service offers seasonal guided tours of portions of the trail, and there are many private tour operators to choose from as well. Whether you walk the trail on your own or with a guide, you're bound to learn a thing or two from the Freedom Trail — it's one of the top things you simply must do in Boston. Bonus: 13 of the 16 stops on the trail are free, so this is a budget-friendly activity.
In a similar way, the city's Black Heritage Trail connects pre-Civil War historic sites that are significant to the history of Boston's 19th-century African American community, notably relating to the abolitionist movement, Underground Railroad, and the struggle for civil rights. The Black Heritage Trail is 1.5 miles long and connects 15 sites of historical significance, most notably the African Meeting House (c. 1806), which is the oldest surviving black church in the country, and the Abiel Smith School (c. 1834), which now operates as the Museum of African American History.
Just like the Freedom Trail, the National Parks Service offers seasonal guided tours of the Black Heritage Trail, and there are many private tour operators as well. Be advised that many of the sites on this tour are now private homes that are closed to the public; all have exterior signage and placards detailing their unique story and historical significance.
For a completely different historical perspective, Boston's Literary District is home to numerous historic residences and sites of significance that are well worth visiting if you're a bibliophile with a bit of literary wanderlust (read more on that here). You'll find historic homes where writers of the classics were born, lived, and in some cases wrote their most famous works. There are many to choose from — novelists Louisa May Alcott, Nathaniel Hawthorne, and Henry James, as well as poets Henry David Thoreau and Robert Frost all had homes in Boston's Literary District.
Make sure to stop by the Susan Paul Residence, the home of a well-known abolitionist and educator who taught children at the Abiel Smith School in the 1830s, which was the first public school dedicated to the education of free black children. Paul was the author of "A Memoir of James Jackson," the story of one of her young pupils, and the first African American biography published in the U.S. Although not widely known today, it was an important chronicle of the lives of free African American school children living in the antebellum North.
The main branch of the Boston Public Library is worth a visit — it's a magnificent beaux-arts building built in 1895 and designated a national historic landmark in 1986. Stop by the famed Brattle Book Shop and browse through their collection of more than 250,000 used books, many of them rare antiques. The Brattle Book Shop has been in business since 1825, and its current owner and proprietor is a regular on the PBS hit "Antiques Roadshow."
Must Do In Boston: Family-Friendly Fun
If you're bringing the whole family with you on your Boston visit, there are plenty of family-friendly must-dos that kids of all ages will enjoy (and parents and grandparents will like too). Most kids are natural animal lovers, and thankfully Boston has several attractions that kids from toddlers to teens will find interesting. Visit Boston's waterfront and make your way to the New England Aquarium, home to thousands of aquatic species and one of the top tourist attractions for families. Check out the Giant Ocean Tank Encounter, a four-story Caribbean coral reef that is home to hundreds of Caribbean sea animals — the most famous is Myrtle the turtle, who is the aquarium's longest resident (Myrtle has lived at the aquarium since 1970) and at more than 90 years of age, she is also its oldest.
The New England Aquarium is also home to penguins, seals and sea lions, sharks, stingrays, and two giant Pacific octopuses. For a foray into land animals, head to Franklin Park Zoo, a 72-acre attraction in Boston's largest park, Franklin Park. Check out the Outback Trail and see kangaroos and emus, the Kalahari Kingdom and get to know a pair of lion brothers, the Serengeti Crossing to see zebras and wildebeests, and the Tropical Rainforest to meet gorillas and a friendly pygmy hippopotamus. Make sure to stop by the Giddy-Up Grill for lunch and take the kids to explore the zoo's animal-themed playground.     
If your family enjoys being on the water, there are multiple "must do in Boston" options to help you get your sea legs a little wet. A Boston Duck Tour is a fun and unique way to see the city on land and by sea, and it's "conDUCKtors" will educate and entertain you along the way. Exploring the Charles River and Boston Harbor by sea, and on land more than 40 city sites including Boston Common, Faneuil Hall, the Old State House, and more, you'll cruise around in a WWII-era amphibious vehicle that transitions from road to river as seamlessly as its namesake avian.
Another aquatic must-do is the iconic swan boats on the pond in Boston's Public Garden. The swan boats have been an icon of the city and a tourist hot spot since 1877, and in their nearly 150-year history not much has changed. The boats were designed and created by Robert Paget, and have been in continuous operation since the 1870s and are now owned and operated by the fourth generation of the Paget family. Swan boat rides last around 15 minutes and operate in good weather from April to September.
For a truly quintessential Boston experience, take the family to Fenway Park. Baseball is often referred to as "America's game," and for good reason — more than 60 million people attend major league baseball games each year (and millions more watch from home). The Boston Red Sox are one of the oldest teams in the MLB (and arguably one of the most popular), and their home field has been Fenway Park since 1912.
Now on the National Register of Historic Places, Fenway is the oldest major league stadium still in use, and its famous "Green Monster" (the 37-foot left field wall) has been embedded as a cultural icon well known by baseball fans the world over. Baseball season runs April through September, and if the Sox have a home game, Fenway is the place to be. Tell the kids to bring their baseball gloves for a day at the park, and make sure to snag a famous Fenway Frank for the crew while you're there (and find more cool baseball stadiums here). When you're done, load up the family and head to the Mary Baker Eddy Library's Mapparium for a completely inimitable experience. The Mapparium is an enormous inside-out stained-glass globe that was built in 1935.
Standing three stories tall and accessed via glass walkway in the center, the globe was originally lit by hundreds of lamps that have now been replaced by LED lighting. Its unusual acoustics offer entertainment, but it's the map's borders that will make you take a second look — since it was created in the 1930s it still reflects now out-of-date borders and nations (like Siam and the USSR), making the whole thing a very educational experience. Bar none, there is no place else like it in the world.   
Must Do In Boston: Fabulous Food
One of the main things that draws people to Boston is its food — Boston is a city with its own menu of well-known dishes that just don't taste as good anywhere else. Boston's nickname reflects its culinary reputation. The city is colloquially known as "Beantown" because of how synonymous Boston is with beans baked with molasses and salt pork — a tradition that dates back to the area's indigenous people, who baked locally grown beans with maple syrup.
They passed the custom onto the Puritans, who began substituting molasses for the syrup due to its widespread availability. Thus Boston baked beans were born, and the city ended up with a long-standing nickname. To sample some of Boston's classic-recipe beans, you can't go wrong with the Beantown Pub — bonus, they're right on the Freedom Trail so you can easily stop in while you're walking the red line. The historic Green Dragon Tavern and Mr. Dooley's Irish pub also serve up the good stuff.
It's also highly recommended that you order a cold one to go with your beans — and speaking of a cold one, you can't go wrong with a locally brewed Samuel Adams Boston Lager. Named after the founding father who was himself a brewer, all Samuel Adams beers are produced in their downtown Boston brewery, which offers brewery tours, a taproom, and a beer garden. Sampling a Sam Adams is a must do in Boston for 21 and older visitors. 
Now, let's move onto seafood. Commercial fishing is a major industry along the Massachusetts coastline, and fresh catch is a staple of any New England diet. Lobster is a local favorite, and while you can eat it steamed with butter or put it in mac 'n' cheese, the lobster roll is the quintessential New England favorite. Lobster rolls can be served hot or cold, and the lobster is usually mixed with either butter or mayonnaise and served in a hot dog bun. As simple as that sounds, it's one of Boston's most popular menu items and you can find it served all over the city, with slight variations.
For some of the best lobster rolls in Boston, Row 34 serves them up warm or cold just blocks from the fishing pier, and Pauli's on the north end offers "lobsta rolls" in 7-, 14-, and 28-ounce sizes, and their rolls have been featured on "Good Morning, America" and Food Network's "Diners, Drive-Ins and Dives." If New England clam chowder is more your thing, you know you'll find it fresh in Boston. At the Barking Crab, you'll have some of the most delicious clam chowder in the city and a stunning view of the Boston Harbor; the Yankee Lobster Co. has been serving their top-rated version since 1950 (alongside their creamy lobster bisque and seafood stew), and the Union Oyster House serves a classic clam chowder that has been a mainstay on the menu for more than a century.
Speaking of the Union Oyster House (America's oldest restaurant and a national historic landmark), they are also one of the top places to go for oysters in Boston, offering a uniquely historic dining experience. For a more modern flair, Neptune Oyster specializes in East Coast oysters and has been named one of America's best oyster bars by "Food and Wine" magazine.
And now, let's talk dessert. No trip to Boston would be complete without sampling its namesake dessert — Boston cream pie. This dessert, first created and served at Boston's Parker House in 1856 (now known as the Omni Parker House), is so popular that it has been named the official dessert of the state of Massachusetts. In spite of its name it is not actually a pie, it's a golden sponge cake filled with velvety pastry cream and topped with decadent chocolate icing.
You'll find Boston cream pie on just about every dessert menu throughout the city, but your best bet is to go straight to the original source. Parker's Restaurant at the Omni Parker House hotel still bakes their Boston cream pie fresh daily, and it's widely touted as the best in the city. Bonus: they also ship fresh pies to anywhere in the contiguous 48 states. For an alternate take on the classic dessert, visit Union Square Donuts at the Boston Public Market and try their Boston cream pie donut — it's rated New England's number one donut by Zagat.
Another of Boston's most popular desserts is cannoli. Consisting of tube-shaped fried pastry dough filled with a sweet creamy filling, cannoli comes in many varieties and is served fresh in local bakeries throughout Boston. Mike's Pastry has been serving up traditional Sicilian cannoli since 1946 in the historic north end, and you'll often see tourists holding Mike's typical white box with blue string as they stroll around the city. Mike's espresso, limoncello, and amaretto cannoli are local favorites.
Bova's Bakery has a full-scale menu of cakes, cookies, pies, and breads, but their cannoli are a mainstay in the area. Family-owned and operated since 1926, Bova's cappuccino and crème brulee cannoli are to die for. Cannoli is one of the tastiest must do things in Boston. 
Must Do In Boston: The Arts
Boston is a city full of artistic influence, and lovers of the arts will find much to awe and inspire. Head to Boston's Symphony Hall and take in a live performance of the world-renowned Boston Symphony Orchestra, or their offshoot, the Boston Pops Orchestra. From performing staple classical compositions to producing movie soundtracks like "Schindler's List," the Boston Symphony Orchestra has been delighting audiences since 1881.
Art enthusiasts won't want to miss the Isabella Stewart Gardner Museum, which is home to a private collection of more than 20,000 rare items, including paintings, sculptures, tapestries, books, and letters of historic importance. Founded in 1903 by Gardner, a wealthy Bostonian socialite and philanthropist, the museum was built to house her extensive private collection and was designed to look like a 15th-century Venetian palace. The museum was also the scene of the most infamous art heist in history.
In 1990 two men disguised as police officers stole 13 works of art valued at more than $500 million — a crime which has never been solved. Today there are empty frames hanging where paintings by Rembrandt, Vermeer, Degas, and others once hung, as a reminder of the mysterious crime and in hopes that the missing paintings will one day be recovered. The Gardner Museum is a real must see in Boston.
The Institute of Contemporary Art offers visitors a chance to see visual and performing arts in the same location, championing a wide variety of mediums and a broad spectrum of artists. Founded in 1936 and housed in several locations throughout the city over the years, the ICA found its permanent home in a 65,000-square-foot purpose-built building on the Boston waterfront in 2006. The ICA features art of all kinds, from paintings and sculptures to video and electronic art, and even solo and group performance art exhibitions. It also features large-scale light, moving-image, and industrial art installations. Their main focus is on highlighting the work of leading contemporary artists as well as emerging up-and-comers.
A major highlight of the ICA's permanent collection is the "Barbara Lee Collection of Art by Women," which includes 68 major works of art by female artists of the 20th and 21st century. For a more traditional art museum experience, pay the Boston Museum of Fine Arts a visit. Founded in 1870, the Museum of Fine Arts is home to a permanent collection of more than 450,000 items, including ancient Egyptian artifacts, Dutch Golden Age paintings, French impressionist and post-impressionist paintings, an extensive collection of Chinese and Japanese art, a collection of more than 1,100 historic musical instruments, and more.
See works by van Gogh, Renoir, Cézanne, Monet, and Rembrandt, and then stroll through the museum's contemplative Japanese garden Tenshin-en, which means "garden of the heart of heaven." The garden is designed to evoke profound symbolism of Japanese culture, and is meant to be a place of quiet reflection and introspection.    
Must Do In Boston: Explore The Outdoors
New England is an all-seasons vacation destination, and Boston fits that mold to a tee. Warm to hot in the summer and cold in the winter, Boston blooms in the spring and changes colors in the fall. There is never a bad time of year to visit Boston, and the city has a range of outdoor activities that will delight fresh-air fans who are seeking terrestrial beauty. For a true taste of the Massachusetts terrain, head 10 miles south of downtown to the Blue Hills Reservation, a 7,000-acre state park that is a popular hiking spot for Boston visitors. Walk or bike the trails and look for white-tailed deer, wild turkey, red fox, and coyotes, or visit the Trailside Museum and learn about the native animals. Blue Hills Reservation also offers skiing and snowshoeing in the winter, and has two swimmable ponds in the summer.
For a more urban outdoor experience, check out the Esplanade — a 3-mile downtown riverwalk along the Charles River. The Esplanade features walking and biking trails, waterfront gardens, historical monuments, three children's playgrounds, and multiple boat launches. It is also home to the iconic Hatch Shell — a performance stage and event space that hosts free public concerts, special events, movies, and festivals throughout the year.
To experience a bit of academia, head to Harvard University's Arnold Arboretum, a 281-acre preserve in the heart of Boston. The Arboretum is home to more than 15,000 plants, and is one of the world's most comprehensive collections of trees and other woody plants. First established in 1872 as part of an endowment from a local merchant, the Arboretum offers docent-led tours and self-guided tours (via a customized app), as well as story walks for families with young children. Take a walk around the grounds, admire the plants, look for wildlife, and connect with nature. Bonus: Arnold Arboretum is open 365 days a year and is always free of charge.
Next head over to Castle Island, which is home to Fort Independence, a national historic park and a real must see in Boston. Originally reachable only by boat, Castle Island is accessible by car today thanks to 20th-century land reclamation. The island is now used for mostly outdoor recreation, but its main highlight is Fort Independence, a Colonial-era fort originally constructed in the 1630s. After seeing action in the Revolutionary War and War of 1812, the fort has been rebuilt eight times over the years, and has been used for a variety of purposes, including a prison.
Tours of the fort are available seasonally, but it's a cool place to explore on your own as well. Pack a picnic, fly a kite on the green, go for a stroll around the grounds or on the beach, and enjoy being at the site of nearly 400 years of American history. For information on another national park in Boston accessible by ferry, read this.
When your Beantown visit is complete and you've done all the must do things in Boston, no doubt you'll walk away with a greater knowledge of American history than you had when you arrived. Rest easy and enjoy sweet dreams of historic tea parties, pies that are really cakes, literary giants, and the timeless pursuit of liberty. If you're a first-timer exploring other parts of New England, check out this article.
With RCI, you have access to over 4,000 resorts in more than 110 countries — including
Boston and throughout New England! And, with Exchange+ you can use your timeshare to unlock big discounts on additional high-demand destinations. Book your stay today.