DAY 1
Upon waking up in Melbourne, Mornington Peninsula is a good place to start—just an easy drive away. Take in the gorgeous coastal scenery on your way, check into your hotel, then hit the beaches. Hungry? Nothing better than some piping hot fish and chips, doused with salt and vinegar, to beat the hunger pangs.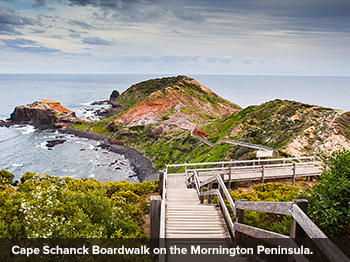 DAY 2
Check out one of the peninsula's many attractions—be it Arthur's Seat, Fort Nepean or Mornington Peninsula National Park. Scuba diving is also an option if you prefer to be underwater rather than on top of it. The waters off Mornington Peninsula offer a remarkable variety of diving environments including wrecks, reefs, drift dives, scallop dives, seal dives and more. Diving tours depart from Portsea regularly.
DAY 3
Head back to Melbourne and take the short flight to Mildura, the center of Sunraysia. There, you can start by taking the Chaffey Trail, a self-guided walking tour, to discover the town. Afterwards, head to Mildura Brewery, one of the town's most famous landmarks and a perfect place to sample award-winning beers as the sun goes down.
DAY 4
Mildura is home to many attractions, so you are spoiled for choice. Today, you can choose to take a ride down the Murray River on an old-timey paddleboat, explore some vineyards, take a hot air balloon ride over the area or simply rediscover nature at one of the many scenic attractions nearby.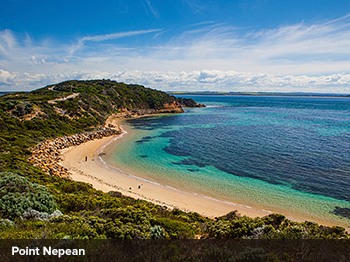 DAY 5
Time to head to Kyneton. Don't forget to save space for a meal at the town's famous Annie Smithers Bistrot where the menu changes almost daily depending on what fruit or produce had been harvested that day from the kitchen's garden. Chef and owner Annie Smithers also hosts culinary masterclasses for aspiring restaurateurs.
DAY 6
Hire a car and discover the many wineries in the area. You might also want to stop by Lauriston Reservoir, a beautiful picnic spot set within a cool pine forest just miles away from Kyneton. Closer to town is Turpin Falls, the perfect place for a quick dip on a hot summer day.
DAY 7
If you have planned this vacation well, then you clearly meant to include a trip to Kyneton Farmer's Market. Held every second Saturday of the month, the market kicks off at around 8:30 a.m. and strolls on through the day till lunchtime. Check out the great selection of meat, beer, pasta, wine, fruit and vegetables as well as a knockout array of olive oils, preserves, plants, farm fresh eggs and jams.
NOTE: Information may have changed since publication. Please confirm key details before planning your trip.