The Aussie zest for life is infectious. And when you think vacation, there are few places on the planet with as many treasures to offer. From jet-boating to windsurfing to 100-million-year-old rainforests to glitzy concrete jungles, the spirit is always high here. The choice is yours--boogie by the beach or tango in the Technicolor ecstasy of the sea.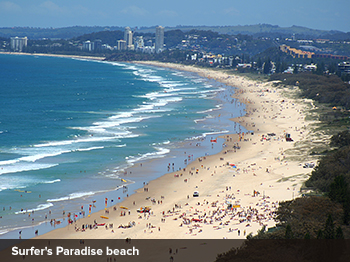 RIDING THE WAVE
Australia's Gold Coast is the birthplace of the bikini, and these golden sands are never quiet. For beach-ballers, water sport enthusiasts and surfers of all skills, Surfers' Paradise is exactly what it promises. Catch the high waves by the beach or scuba dive into the exciting world of coral gardens and shipwrecks and dodge around turtles, sharks and manta rays. And if you think you are astride a rainbow, maybe you are! Purple sea urchins, green clams, crimson starfish, pink sponges, curious fish in bright blue and shocking yellow … every conceivable color of the spectrum darts right around you. And once you've had your fill of the sun and sand, get yourself a koala cuddle, with hopping kangaroos for company, at Currumbin Wildlife Sanctuary.
NATURE'S CORNUCOPIA
As inspiring as their aboriginal heritage of stone art are, the Australian Gondwanan forests of the Gold Coast Hinterland are a pre-historic legend full of native surprises that have retained their primitive charms. Ancient, magnificent and blessed with Earth's abundance, the rainforest's towering canopy overhead and the busyness of the reef barrier below abound in fantastic stories longing to be told. Take a dreamy walk in heritage national parks within and enjoy the spectacular sights of deep gorges, crystalline waterfalls and glittering waterholes.
Cut to an entirely different scene en route to Mount Tambourine with its quaint highland trails and end the day in the comfort of a wine boutique, with a soothing Australian classic.
SUNNY SIDE UP
The good life knows no bounds on these shores that transform into the Sunshine Coast further North. Glamorous in its blend of swank city culture and subtropical natural bliss are the laid-back and relaxing luxuries of Noosa, where sophisticated spas, boutiques and fine dining strike a happy contrast with tropical rainforests, indigenous flora and fauna and a surprising reef system just beyond Noosa Heads.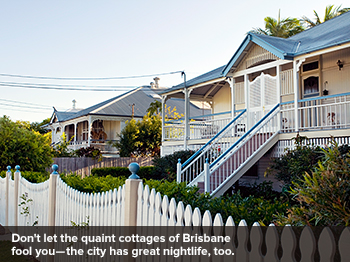 BRIMMING BRIZZY
Make the most of it with a stop-over at Brisbane, distinct in its 'Queenslanders'–cottages on stumps−that add a peculiar charm to an otherwise high-gloss setting. Bubbling with nightlife and cultural fervor side-by-side, Queensland's capital city nestles between Sunshine Coast and Gold Coast. Leisurely, stroll through Brizzy's markets, theaters and art galleries or hop onto a river cruise and meander through its many twists. And climb! The skyline view from Story Bridge is a dream and so is the rush of abseiling off Kangaroo Point cliffs. If you'd rather ogle from above, hitch a helicopter ride or tandem skydive into the fabulous cityscape.
NOTE: Information may have changed since publication. Please confirm key details before planning your trip.