In 1933, the sleepy Australian village of Elston decided to change its name to Surfers Paradise, kick-starting the Cinderella-like transformation of the Gold Coast, a 25-mile-long stretch of idyllic surf beaches and rainforest-covered mountains in southern Queensland. By the 1960s, the coastline between Coombabah and Coolangatta had become an Aussie Rio, with high-rise hotels towering above the sands and the sidewalks cruised by comely girls in silver bikinis, known as Meter Maids, who slipped coins into the parking meters so tourists wouldn't get ticketed. The boom never stopped. Today, Gold Coast City (the official government name for the region) is Australia's sixth-largest urban center, and yet it is still surrounded by pristine beaches, spectacular sand islands, native wildlife preserves and UNESCO-listed rainforests. First-time visitors to this giddy landscape of theme parks, marinas and more can find it daunting. Here are our suggestions for filling your seven days.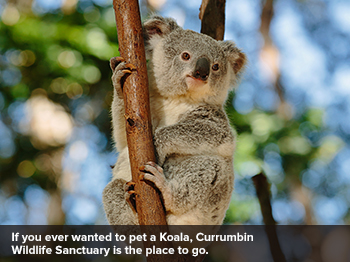 DAY 1: THE "SURFERS" EXPERIENCE
It may be brash, but Surfers Paradise's own beach is not to be missed. After watching the parade of bronzed bodybuilders, surfers and bikini-clad models, head to Surfers Paradise Marina in Appel Park and sign up for a jetboat. A V-8 powerboat takes you slowly up the mansion-lined Nerang River and into the calm blue expanse of Broadwater, an enormous natural estuary north of town. Suddenly, the driver goes into a heart-stopping series of high-speed turns around the islands and sand bars, often in only inches of water. The faint-hearted can rent a kayak to glide among Broadwater's isolated nooks. Of course, "Surfers" (as Aussies call it) isn't just about the great outdoors. In the evening, savor world-class sushi at You Japanese restaurant. Afterward, head to Conrad Jupiters Casino on Broadbeach Island to see a Moulin Rouge-style dance performance.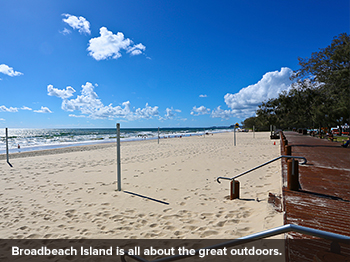 DAY 2: BEACH PATROL
Surfers is entertaining, but a road trip south on the Gold Coast Highway leads to more unspoiled stretches of sand. It's only 6 miles to Burleigh Heads Beach, a gently curving arc whose southern headland is within a national park. A short walk leads up the cliffs through rare native flora to Tumgun Lookout, where you can glimpse migrating whales from May to November. Seven miles farther south you'll find Rainbow Bay, at the Gold Coast's southern edge. Have a strong cappuccino at a beach café, then follow the boardwalk up to Point Danger, named by Captain Cook in 1770 when he was forced to change course due to offshore reefs. Today, a lookout platform offers sweeping views up and down the surf-battered coast. Finally, stop in at Currumbin Wildlife Sanctuary, where you can pet kangaroos, cuddle koalas and admire a saltwater crocodile from afar. Don't leave before dark. Three-quarters of Australia's native wildlife are nocturnal, and if you take the 2-hour "Wildnight Adventure" evening tour, you'll have intimate encounters with wombats, sugar gliders, ringtail possums and Tasmanian Devils. The tour ends with an aboriginal corroboree, where you can learn to play the didgeridoo.
DAY 3: JURASSIC PARKS
Even Aussies forget to explore the Gold Coast's lush and rugged hinterland. Only an hour's drive southwest of Surfers lies the MacPherson Range, where the World Heritage-listed Gondwana Rainforests contain the planet's largest remaining expanses of subtropical rainforest, with more than 100 species of birds and bizarre flora directly linked to plants that existed 100 million years ago. Springbrook National Park offers the easiest access for a day trip. The 2.5-mile-long Purlingbrook Falls Trail leads through the heart of the prehistoric rainforest. The aptly named Best of All Lookout offers stunning views down the escarpments of the Tweed Valley to Mount Warning, an extinct volcano. After a beef-pie lunch at the English-style Springbrook Mountain Manor, continue driving to the Natural Bridge, a dramatic arch carved by water falling through the roof of a basalt cave. At night, glowworms illuminate the cave, making for an unforgettably eerie sight.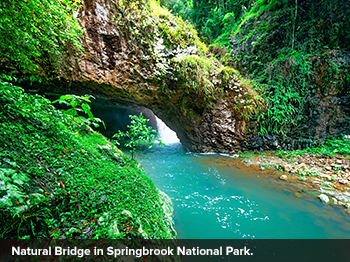 DAY 4: THE FORGOTTEN LANDS
Though visible from the Gold Coast's glittering towers, the untouched islands of Moreton Bay are a world apart. The easiest one to visit is South Stradbroke, where the eco-resort Couran Cove offers a Get-Away-For-the-Day package from Surfers. The trip includes a ferry ride, lunch and access to the resort's lagoon-like pool, where wallabies graze the surrounding lawn. This 15-mile-long island is carless, so the best way to explore is by bicycle. Follow the tranquil forest trails to the wild eastern side of the island. The unpatrolled beach is treacherous for swimming, but the Oceanman Surf Club, perched above the dunes, may be Queensland's most spectacular spot for an iced Fourex (or XXXX) beer, with endless views of the ruler-straight expanse of sand.
DAY 5: FRUIT OF THE AUSSIE VINE
The Gold Coast's best-kept secret may be its wineries, many of them run from colonial homesteads amid majestic mountains. A moderate day's drive can take in the highlights. Head out first through the lush green dairy and cattle country to O'Reilly's Canungra Valley Vineyards. The ornate veranda of its 1850s farmhouse is an idyllic spot to taste, say, an unwooded chardonnay from its Platypus Play range. Continue north to Albert River Wines, perhaps stopping for a lunch of roast duck with Granite Belt plums in its historic mansion, Auchenflower House. Work off the meal by exploring the rainforest trails at Cedar Creek Estate. Finally, you'll reach Heritage Wines at the top of Mount Tamborine. The unbeatable views of the coast are best enjoyed at sunset from its fine dining room.
DAY 6: HISTORIC STREETS
Brisbane is the capital of Queensland, but despite modern upgrades it retains the atmosphere of a grand old country town. Only an hour's drive north of Surfers, it still has relics that evoke its colorful 19th-century history, progressing from a brutal penal colony to a sleepy, Maugham-esque outpost of the British Empire. The observation deck of City Hall's Clock Tower gives a bird's-eye view of the colonial grid pattern, where every street was named for a British monarch. (Helpfully, kings run east/west and queens north/south.) Among the heritage sites are the Old Treasury Building (now a casino), the Old Parliament House and the fine Botanical Gardens. But the most compelling place to visit is the convict-built Commissariat Store, whose small museum contains grisly artifacts from the early 1800s, when Brisbane was the Devil's Island of the southern hemisphere. Look for the jar that holds convicts' fingertips.
DAY 7: SKIMMING THE REEF
Having come all the way to Queensland, you can't miss the Great Barrier Reef—and thanks to seaplane tours by Seair Pacific, it's now almost as easy to visit from the Gold Coast as it is from more familiar Great Barrier gateways like Cairns, to the north. A 95-minute flight by light aircraft whisks you from Coolangatta Airport to the southern end of the 1,200-mile-long Great Barrier Reef Marine Park, where Lady Elliot Island sits in one of the Reef's richest marine systems. Cruising low over the waves, you can already spot rays, dolphins and sea turtles. Soon enough, you're snorkeling with them—the island is one of the few that sit directly on the coral, so you can walk into the reef directly from the beach. Guides take guests out for fish feeding and, if they're lucky, swims with giant manta rays; the less adventurous can ride in a glass-bottom boat and take a nature walk around the 100-acre island. A buffet lunch and glass of chilled Sauvignon Blanc make the classic end to any Queensland visit.
THE DETAILS
You Japanese restaurant: 9 Beach Rd.
Currumbin Wildlife Sanctuary: 28 Tomewin St.; cws.org.au
O'Reilly's Canungra Valley Vineyards: oreillys.com.au/cvv
Cedar Creek Estate: cedarcreekestate.com.au
Heritage Wines: heritagewines.com.au
Seair Pacific: seairpacific.com.au
NOTE: Information may have changed since publication. Please confirm key details before planning your trip.