Not all beaches are created equal. The next time you daydream about sunning yourself near the ocean, imagine digging your toes into these truly stunning shores of many colors.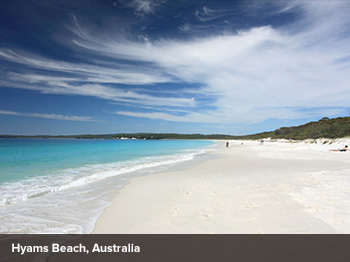 Hyams Beach 
Hyams Beach, Australia
Hyams Beach is said to have the whitest sand in the world. The sand is also fine and soft, ideal for sunbathing. If your vacation style is more active, the clear waters and colorful marine life provide first-rate snorkeling. The beach faces east, offering a spectacular tableau if you can get there in time for sunrise.
Muriwai Beach 
Auckland, New Zealand
Pitch-black volcanic sand defines Muriwai Beach, only a 40-minute drive from Auckland. It's a favorite among white seabirds called gannets, whose cliff-top colony polka-dots the landscape. Muriwai's rolling waves make it just as popular among surfers. To join them, you can rent equipment or schedule a lesson at the nearby Muriwai Surf School.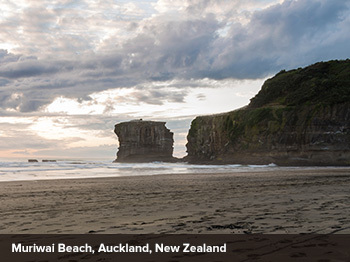 Pink Beach 
Komodo, Indonesia One of the few pink beaches in the world is found on the island of Komodo. Green hills and turquoise water border the rosy shore. In some areas the ocean is so clear, you can make out the coral reef below. While you're there, keep an eye out for oversize Komodo dragons, lizards that take their name from the island.
Pink Sands Beach 
Harbour Island, Bahamas
For a blush-tinted beach closer to home, head to the Bahamas. Although smaller, Harbour Island is much more laid-back than the casino-laden Nassau, Paradise Island or Cable Beach. Winter, when the temperature settles at about 75 degrees, is an ideal time to visit. Spend your days swimming in the gentle waters and your nights feasting on conch, the local specialty.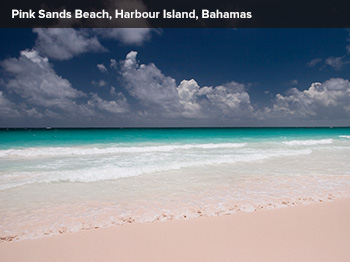 Red Beach 
Santorini, Greece
Santorini may be known for whitewashed cliff-top towns, like Fira and Oia, but its red sand beach is truly breathtaking. This natural wonder is located minutes from a man-made one, the Minoan ruins of Akrotiri. Admire the red shore from above, or walk down to experience it up close.
Ramla Bay 
Gozo, Malta
Legend has it that Calypso's cave in Homer's Odyssey is one that overlooks the orange shore of Ramla Bay, on the Maltese island of Gozo. Although the cave itself isn't much to look at, the climb up to it is worth it for the panoramic view of the curved coastline it offers. The orange sand stretches long and wide, so you can find plenty of space on which to lay out on this popular beach.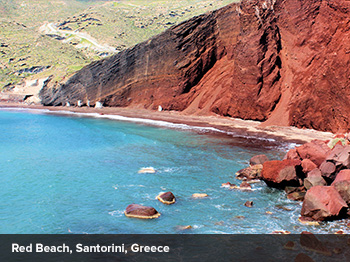 Papakolea Beach 
Naalehu, Hawaii
Olivine lava crystals give this beach its distinctive hue. Getting there's a bit of a hike, but at the end you're rewarded with one of four green shores in the world (the others are in the Galápagos Islands, Guam and Norway). The surrounding cliffs that help isolate and protect this beach are the remains of a cinder cone that is thought to have formed 50,000 years ago.
Pfeiffer Beach 
Big Sur, California
Most people head to the central California region of Big Sur for stunning views of the Santa Lucia Mountains rising from the Pacific Ocean. Pfeiffer Beach doesn't make as many travel lists, but its psychedelic purple-streaked shore is just as photo-worthy. Winter storms erode the garnet cliffs that line the cove, causing the rare color and making the cold season a preferable time to go for the full effect.
NOTE: Information may have changed since publication. Please confirm key details before planning your trip.