With seafood paella, cured jamón and tapas bars on every corner, there's a rich food culture throughout Spain. But many would argue that its culinary capital is the Basque Country beach resort of San Sebastián. The town's stately avenues and grand buildings front two crescent-moon beaches on the Bay of Biscay. It's also home to more Michelin-star restaurants per square mile than anywhere else in Europe.
North of the Caribbean, in a subtropical zone of its own, the 21-mile-long archipelago of Bermuda has more golf greens per square mile than anyplace in the world, plus pink sand beaches and water so gin-clear you'll want to give it a lime twist. Hurricane Gonzalo made a direct hit here in October 201, but the island suffered no fatalities or lasting damage to its beautiful scenery. Winter's mild temperatures might not tempt you to linger for long in the ocean, but that's all the more reason to explore the lesser-known delights of this sophisticated little British overseas territory.
HIDDEN GEMS TOUR
One of the best ways to see the island may be on a Hidden Gems tour with fourth-generation Bermudian Rebekah Cabrall, a former school teacher who was raised with a passion for the island's native plant life thanks to her horticulturist father. "I left the school room behind for the outdoor classroom," says Cabrall of the decision to start her eco-tour company, where full and half-day tours showcase a side of Bermuda most tourists miss. "Everyone gravitates to our pink sands," says Cabrall, "but the most natural aspects of this island aren't getting the credibility they deserve." Her all-inclusive tours include forays to spots like Ferry Reach Park, where you'll stand on limestone cliffs and watch giant parrot fish swirling in the waters below, or a visit to Southlands park, where you can swing Tarzan-style from the vines of ancient Banyan trees.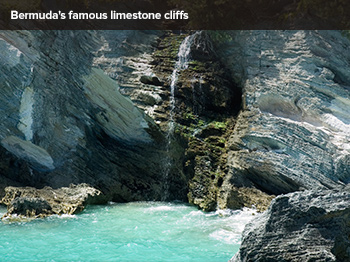 INLAND WONDERS
There's a fun story behind the discovery of Crystal Caves, one of more than 150 limestone caves found primarily on Bermuda's eastern end. Back in 1907, two island boys playing a game of cricket stumbled upon the caves while searching for their missing ball. Now you can follow stone stairs down the mouth of the cave to stroll along a floating walkway and pose with the illuminated turquoise-hued water and chandelier-like formations surrounding you. Your ticket is good for a guided tour at nearby Fantasy Caves too, where a floating walkway traverses a narrow cave and some of the stalactites are as thin as straws. It's just a 15-minute walk from the caves to Walsingham Nature Reserve, more commonly called Tom Moore's Jungle in honor of the famed Irish poet who lived on Bermuda in the early 19th century. The 12 acres of preserved private land here are atwitter with bird song and lush with Surinam cherry trees and Bermuda palmettos.
BIKING A HISTORICAL TRAIL
The cooler winter months make for relatively pleasant walks or cycling excursions along the historic Bermuda Railway Trail, an 18-mile island-wide path that follows the route once chugged by Bermuda's train system in the 1930s and 1940s. You can rent bikes from Smatt's Cycle Livery at the Fairmont Southampton and cycle west from the hotel toward Somerset and Dockyard. Among the highlights are sparkling ocean views and a fun stop at Scaur Hill Fort Park to pose on the high ramparts of a fort built by the British in the 1870s to protect the Royal Navy Dockyard from a potential U.S. attack. Just remember to bike on the left side of the trail!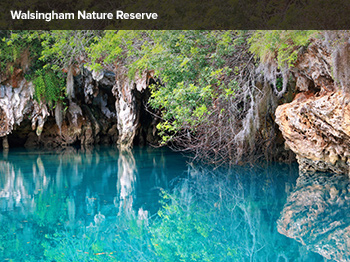 The Details
Bermuda Railway Trail: Island-wide; no phone; bermudarailway.net; free access
Crystal Caves: 8 Crystal Cave Rd; 011-441-293-0640; caves.bm
Fairmont Southampton: 101 South Shore Rd.; 866-540-4497; fairmont.com
Fantasy Caves: 8 Crystal Cave Rd; 011-441-293-0640; caves.bm
Hidden Gems: Royal Naval Dockyard, Sandys, Bermuda; bermudahiddengems.com; 011-441-236-1300;
Scaur Hill Park: Somerset Village; 011-441-236-5902
Smatt's Cycle: Livery Fairmont Southampton; 011-441-238-7800; smattscyclelivery.com
Walsingham Nature Reserve: Hamilton Parish; no phone; no website
NOTE: Information may have changed since publication. Please confirm key details before planning your trip.