Welcome to a primeval land of gushing waterfalls, lush rain forests, abandoned beaches and rugged mountains—and it's still growing, thanks to Kilauea, one of the world's most active volcanoes. The Big Island of Hawaii is an ecological marvel that houses 11 of the 13 world climates across a varied 4,038-square-mile landscape that includes sweeping coffee plantations and cattle ranches. And just offshore, the lustrous Pacific Ocean teems with marine life.
HANG TEN 
The stretch of black sand at Honolii Beach Park, in Hilo, lures experienced surfers who come for the large offshore waves, while beginners are better served at the tamer Pine Trees Beach, just north of the Kona airport, or at Keauhou's Kahaluu Beach. Hawaii Lifeguard Surf Instructors offers private surfing and standup paddleboarding lessons for all levels of experience.
EXPLORE THE DEEP BLUE 
The best way to see the medley of tropical fish, spinner dolphins and giant manta rays populating the island's coastal waters? Jack's Diving Locker, which leads scuba and snorkeling excursions to famous dive sites, such as Golden Arches and Kaiwi Point.
SEE THE VOLCANOES
Otherworldly Hawaii Volcanoes National Park is an active reminder of the Big Island's explosive past. Explore the 11-mile Crater Rim Drive by car, and stop to check out the numerous craters and petroglyphs along the way as well as the summit of Kilauea, and Thurston Lava Tube, a 500-year-old basalt cave formed by an ancient river of magma. For a bird's-eye view of spouting lava fountains and streams throughout the park, Blue Hawaiian charters helicopters for 2-hour tours.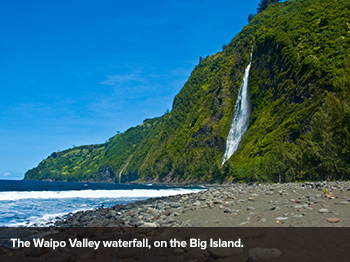 TAKE A HIKE, GRAB A BITE
Thanks to a vast network of trails, this island is a hiker's playground. Drive north along the scenic Hamakua Coast past sugar plantations until you reach Akaka Falls State Park, where a paved footpath wends through bamboo groves and wild orchids to the massive 442-foot namesake waterfall. Verdant cliffs plunge onto lava-rock-studded beaches along the mile-long Pololu Valley Awini Trail, on the east side of the island. Just don't swim—the sea is rough and occasionally inhabited by Portuguese man-of-war jellyfish. It's a great spot for a picnic, though; grab a falafel wrap at Pico's Bistro, in Kapaau, on the way over and enjoy it from the Pololu Valley Lookout, which boasts panoramic vistas of the Pacific Ocean. When the sun takes its leave, join Hawi Town denizens at nearby Sushi Rock restaurant, a hidden gem that serves some of the island's best rolls, made with off-the-boat fish and hyper-local ingredients such as roasted macadamia nuts and Hawaiian papaya.
The Details
Hawaii Lifeguard Surf Instructors; 75-5909 Ali'i Dr., Kailua-Kona; 1.808.324.0442; surflessonshawaii.com
Jack's Diving Locker: 75-5813 Ali'i Dr., Kailua-Kona; 1.808.329.7585; jacksdivinglocker.com
Thurston Lava Tube: 1 Crater Rim Dr.; 1.808.985.6000; nps.gov/havo/index.htm
Blue Hawaiian: 1.800.745.2583; bluehawaiian.com
Akaka Falls State Park: Honomu; 1.808.961.9540; hawaiistateparks.org
Pico's Bistro: 54-3866 Akoni Pule Hwy.; 1.808.884.5555; picosbistro.angelfire.com
Sushi Rock: 55-3435 Akoni Pule Hwy., Hawi Town; 1.808.889.5900; sushirockrestaurant.net
NOTE: Information may have changed since publication. Please confirm key details before planning your trip.