There's something sacred about writers' spaces – the study, the desk, the typewriter, the view out the window. It's as if, by occupying them, we might glimpse the mind behind the great works. Four of the best-preserved and most compelling homes of history's greatest scribes are located in London; three more are nearby in East Sussex, a two-hour drive from the city.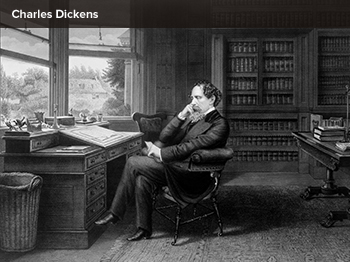 IN LONDON
John Keats's house
Keats Grove, NW3
On the edge of Hampstead Heath in northwest London is the tranquil house where Keats lived from 1818 to 1820—two intense years during which he wrote "Ode to a Nightingale," among other poems, and fell in love with Fanny, whose family rented half the house. Keats's moving letters to her represent one of the great love stories, which ended when Keats died of tuberculosis in Italy at age 25. From the sitting room, visitors can see the lawn where he and a friend once fought battles with celery sticks. 011-44-20-7435-2062; cityoflondon.gov.uk
Samuel Johnson's house
17 Gough Square, EC4
Dr. Johnson's house is hidden down a maze of medieval, winding passages in the middle of the financial district. In the top-floor garret, Johnson and his six assistants compiled his famous dictionary—the first in the English language. A statue of Johnson's cat Hodge stands in the adjacent cobbled square. 011-44-20-7353-3745; drjohnsonshouse.org
Charles Dickens's house
48 Doughty Street, Holburn, WC1
Dickens wrote "Oliver Twist" and "Nicholas Nickleby" in this house, which remains full of his memorabilia—quill, snuff box, walking stick, even a tiny china monkey that he kept on his desk while writing. A huge grille from Marshalsea jail recalls the time Dickens's father was imprisoned for debt, and you can stand in the bedroom where his wife's sister, Mary, died unexpectedly at age 17—an event that scarred Dickens for life. 011-44-20-7405-2127; dickensmuseum.com
Thomas Carlyle's house
24 Cheyne Row, Chelsea, SW3
The home of this 19th-century heavyweight is London's most intact literary shrine. The intimate space is full of photographs and paintings of influential friends: Tennyson, Dickens, Darwin and George Eliot were all guests; Chopin once played the piano here. The curmudgeonly Carlyle tried, unsuccessfully, to soundproof his writing room from the neighbor's chickens. 011-44-20-7352-7087; nationaltrust.org.uk
IN EAST SUSSEX
Virginia Woolf's house
Rodmell, Lewes
For bohemian artistry and inspiration, the houses of the Bloomsbury set are hard to beat. Woolf and her husband, Leonard, bought this weekend retreat called Monk's House to find some peace for writing. They decorated it with paintings, tiles and hand-painted furniture made by Virginia's sister and her husband. Woolf wrote in a lodge in the garden, but each morning she would read the previous day's sentences out loud in the bath to test their rhythm. 011-44-1323-870001; nationaltrust.org.uk
Henry James's house
Rye
There's a serene, intelligent atmosphere at Lamb House, the townhouse where James went to escape the London social whirl and wrote "The Wings of the Dove." In letters stored here he admits he didn't fully escape. Drawings of his many guests hang in the halls, including G.K. Chesterton, Joseph Conrad and Ford Maddox Ford. 011-44-1580-762334; nationaltrust.org.uk
Rudyard Kipling's house
Near Burwash
Kipling wrote "Puck of Pook's Hill" in this beautiful 17th-century house, where he and his wife lived for 30 years. You can see the original illustrations for "The Jungle Book" (they're much darker than the Disney version) and other oddities: wooden blocks under two dining room chairs—both Kiplings were rather short—and a writing desk spattered with ink. 011-44-1435-882302; nationaltrust.org.uk
NOTE: Information may have changed since publication. Please confirm key details before planning your trip.