Somewhere between Jeff Spicoli and Point Break, surfers got a bad rap. Sure, talking "gnarly waves" doesn't exactly resurrect Shakespeare, but surfing has been part of the cultural landscape in California since the 1950s. Everyone should get the opportunity to paddle past the sunrise on a longboard, toss a wet suit in the back of a truck and cruise down Highway 101 toward a breakfast burrito­—all before 9 a.m. 
If you want to give the beach life a whirl for a few days, we have just the spot. Historic Carlsbad is a village by the sea between San Diego and Los Angeles. Like much of Southern California, the city has sprawled east with golf courses, shopping malls and even the Legoland California Resort. Whether it's a family getaway or a quiet weekend for two, the trick is finding the hidden sweet spots amid it all.
FUN IN THE SUN
Carlsbad is an outdoor playground. Pro athletes Tony Hawk and Shaun White grew up honing their skills at the skate parks, Callaway and TaylorMade built their headquarters near the 4 golf courses, and water sports await at the beaches and lagoons.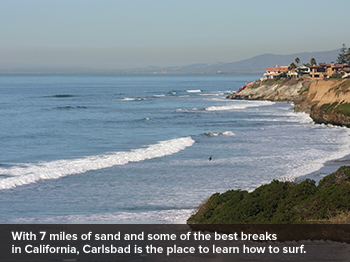 With 7 miles of sand and some of the best breaks in Southern California, you can get vertical with SoCal Surf Lessons. Instructor Rusty Friesen will provide all the equipment and show you how to surf, paddleboard or bodyboard. California Watersports rents everything from kayaks to power boats for driver-instructed wakeboarding and water-skiing.
For those who prefer land over water, Omni La Costa has hosted 40 PGA events on its recently renovated courses. Consider signing up for a lesson with a flexibility expert before hitting 18 holes. Nongolfers will enjoy the 43,000-square-foot Spa at La Costa, which includes a private pool, waterfall showers and treatments endorsed by holistic physician Deepak Chopra.
Just one block from the beach in downtown Carlsbad, pull up a chair for vino tasting at Witch Creek Winery. Sourcing grapes from San Luis Obispo, Sacramento and Mexico's Guadalupe Valley (an up-and-coming wine and culinary region), Witch Creek is the perfect stop before walking to a live production at the New Village Arts Theatre or a film at the Carlsbad Village Theatre. Nearby, the Carlsbad Chocolate Bar offers its signature "monster turtles"—chocolate melted over caramel and pecans.
SURFER CHIC
For shopping, check out the deals at the Carlsbad Premium Outlets, which offers discounts on labels like Barneys New York, Lacoste and Michael Kors. But don't leave town without taking a spin down Highway 101, where you'll find colorful beach shacks and one-of-a-kind retailers.
For all your surfing needs (or to buy a cool T-shirt), check out Surfy Surfy, a store that specializes in locally crafted surfboards. Pro surfer Kahana Kalama launched the Aloha Sunday fashion line to celebrate his love of the ocean, travel and all things Hawaii. His shop, Aloha Sunday Supply Company, is a mix of his tailored warm-weather looks and West Coast clothing and accessories that share his aesthetic (sustainable wooden sunglasses and wave-inspired striped leather belts).
Cardiff-raised Zoe Mohler has gotten national attention for her hand-stamped accessories at Three Sisters Jewelry Design. Tag a gold, silver or bronze chain with a favorite name or date at prices that start at $19. 
Custom and classic motorcycles, lightly used surfboards, vintage clothing, funky tees and California-centric bangles make Seaweed & Gravel a fun shop to visit.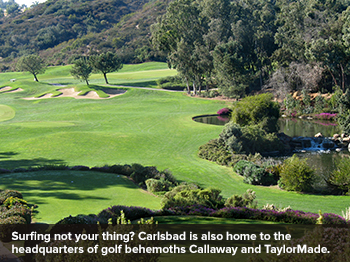 At the Flower Hill Promenade, in Del Mar, Lone Flag carries exquisitely crafted denim, button-downs and leather goods for the well-tailored man. Julie Ellis at Rais Case specializes in handmade wool-and-leather bags that have a bright Southwestern look. She shares a workshop with Mr. B's Luminaries, which stocks all-natural soy candles with essential oils. Across the way, Van de Vort brings in small-batch designs, like crocheted dresses and fringed kimonos from San Diego, Los Angeles and Australia.
BEACH CUISINE
If San Diego has an official food, it's the fish taco. Chef James "Haggo" Haggard left a cushy resort job to pursue his dream of making everyone's favorite Baja street food. Go early for a lunch-only service of Cousteau tacos (spice-rubbed catch of the day) or the Ron Burgundy burrito (grass-fed steak with caramelized onions) at Haggo's Organic Taco. If you're looking for a full-service Mexican experience (margaritas, anyone?), try Norte, just off the beach in downtown Carlsbad.
California meets Japan at Sake House Yu Me Ya, an izakaya run by two sisters from Osaka. Reggae is always playing, the beer comes in frosty mugs, and the shared plates (like steamed shrimp dumplings and kurobuta pork sausage with mustard) add to the come-as-you-are atmosphere. The Hula roll alone—shrimp tempura, spicy tuna, avocado, macadamia nuts—may be worth a stop at Nozomi Sushi & Japanese Fusion.
The San Diego area has become a national player on the craft beer scene, and Pizza Port, where ales with names like Shark Attack and Wipeout are brewed on-site, is a great place to try local suds. Luckily, they have plenty of pizza to keep you thirsty.
If you prefer linen napkins to paper ones, book a table at the popular Paon, in downtown Carlsbad. Chef Gallardo insists on organic produce and all-natural meat and seafood for French-influenced dishes, like Provençal rack of lamb with porcini mushrooms and Maine diver scallops with lobster in a corn-and-leek ragout.
NOTE: Information may have changed since publication. Please confirm key details before planning your trip.