When people talk about Southern California, they're usually referring to the idyllic, 130-mile strip of coast between Los Angeles and San Diego. The "California Riviera," as it's often called, is as much a lifestyle as a location. People here live outdoors—even, it seems, when they're indoors. (With year-round sun and mild temperatures, the weather is just as laid-back as the residents.) 
To see California beach culture at its best, start your drive 40 miles south of L.A., among the surfers and volleyball gods of Orange County's Newport Beach. Then cruise down toward San Diego, about 90 miles farther. You'll get to experience this health-minded environment of gentle breezes and flowering clifftop parks, where people rise early, eat well (occasionally indulging in world-class sweets) and sometimes end their evenings with a glass of Cabernet beside a firepit, say, at Sapphire restaurant in Laguna Beach. You may come to California's Riviera to vacation in one of the world's most accessible beautiful places, but you'll leave with a little of that lifestyle under your skin.
NEWPORT BEACH
Stop in Newport Beach for a bike ride along the three-mile-long Balboa Peninsula. The flat cycling path cuts between the sand and a row of whimsical beach houses—a simple sea cottage is next to a palazzo, which is next to a tiki hut. Rent beach cruisers from Easy Ride Bicycle Rentals. The beach is improbably wide and full of dunes; at its south end is the Wedge, a scenic inlet where sailboats and Duffy electric touring boats glide by. 
Then find a space for you and your bike on the ferry to Balboa Island—the ride takes only a few minutes. (The ferry also has room for three cars.) The island's main drag, Marine Avenue, is lined with restaurants and shops like Olive Oil and Beyond, selling selections from Italy, Greece, Spain—even Tunisia and Australia. Enjoy homespun delights at either of the island's rival chocolate-dipped-banana joints: Sugar 'n Spice and Dad's Donut Shop and Bakery. Locals hotly debate the confectionary merits of each. 
The nearby oceanfront neighborhood of Corona del Mar holds its own in the sweets department: Gelato Paradiso is right next door to Sprinkles Cupcakes, where the red velvet and peanut butter chocolate cupcakes are nothing short of addictive. If you prefer lunch before dessert, try nearby Gulfstream, the cream of the area's crop of festive seafood joints. 
Move slightly inland to sample Newport's upscale diversions. Key among them is the nearly 400-acre Pelican Hill Golf Club. The Tom Fazio–designed 36-hole course is open to the public. A longtime Newport Coast institution, the club is now surrounded by the palatial, Mediterranean-style Resort at Pelican Hill. Soak up the ambience over an early dinner at Andrea, one of Pelican Hill's dining rooms. It's easily one of the state's finest Northern Italian restaurants. Pastas—tagliatelle, ravioli with ricotta and spinach—are prepared in a temperature-controlled pasta room; the burrata salad with tomato and arugula is a must. 
Leaving Newport Beach, Highway 1 dips and winds along cliffs and past sandy coves. Rather than blasting by all this beauty, set aside an afternoon for Crystal Cove State Park, a protected three-mile sandy strand backed by 2,400 acres of seaside cliffs and forests of eucalyptus, pine and Canary Island palms. Before you head out on the 17 miles of hiking trails, fuel up at the three-year-old Beachcomber Café, reportedly the first restaurant in 40 years to open right on the SoCal sand. Its beignets and banana pancakes have folks lining up on weekend mornings.
LAGUNA BEACH
The affluent and arty city of Laguna Beach is home to fewer than 25,000 people. With its curving bay and bungalow- and mansion-dotted hillside, it's like an American version of Italy's Positano—but with surfers. And it's a lot easier to reach, since three major airports (LAX, John Wayne and Long Beach) are within an hour's drive. At Laguna's center is Main Beach, with its tidal pools and boardwalk; across from the beach are the galleries of Forest Avenue. The town's Heisler Park, which was recently relandscaped, has walking paths that drop down to golden sands where you can swim, surf, dive or just explore the tide pools. It's a great vantage point for views of the rugged coast, human-scaled town and palm-silhouetted sunsets. 
Laguna Beach has lured artists for more than a century, even before there were good roads into town. Visitors flock to year-round events associated with the Sawdust Art Festival; the town operates a trolley out to the exhibit and entertainment grounds, where locals show and sell their work. Laguna's arty atmosphere led Bette Davis to buy a cottage here as a getaway. Her Tudor-style house sits high above Wood's Cove, one of Laguna's perfect pocket beaches; you'll recognize it by the big D on the chimney. Film buffs should know that the South American port Davis explores in the film Now, Voyager is actually Laguna Beach, and her lunch with Paul Henreid was filmed on the site of today's Las Brisas, a fabulous Mexican restaurant with a patio framed by a rose garden and seaside views.
Treasure Island Park also has Pacific views to spare. Here, locals work their way through morning yoga routines on the lawns while bunnies can be heard hopping about in the underbrush. After your visit, stop at the adjacent Montage, a Craftsman-style resort that has been wowing travelers and celeb weekenders from L.A. since it opened. If you book a treatment you can spend some time at the spa, with its open-air relaxation areas, pool deck and oceanfront gym. Or just relax over drinks by the fire in the plush lobby. Views of the Pacific included, naturally.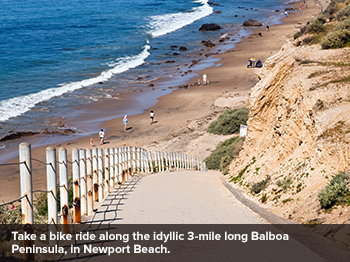 When in SoCal, you must sample at least one fish taco, and in Laguna Beach that means Taco Loco. There are other taco joints in town, but none of them has fresher lobster tacos or Chilean sea bass salads—and Taco Loco has the lines to prove it.
NORTH COUNTY, SAN DIEGO
The next stop is North San Diego County—known as North County. An easy coastal drive south on Interstate 5 leads to the pretty community of Del Mar, anchored by the Auberge Del Mar resort. The lobby lounge and the tiered decks that hold the Waterfall Terrace and Bleu Bar are social magnets, and the restaurant, Kitchen 1540, is well worth a visit.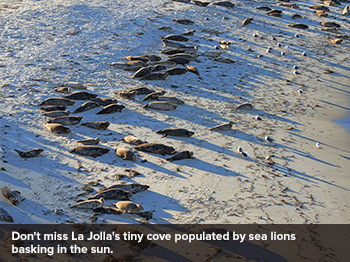 End your SoCal road trip in La Jolla, a walkable, Mediterranean-style village with a strong sense of community. The town's ocean swimmers like to drop their towels on the emerald green lawn above La Jolla Cove and swim out—beyond snorkelers ogling Garibaldi fish—to the half-mile buoy in the bay. Paddlers can rent kayaks and tour the coast's seven sea caves, while the more daring might sign up at Torrey Pines Gliderport for a 20-minute tandem flight above the sands of Black's Beach.
When you're in La Jolla's oceanfront park, wander south along the coastal path to a tiny cove populated by sea lions basking in the sun. Humans must stay behind the rope: There's no touching allowed. But from here you can admire (and photograph) the sea lions enjoying their version of the SoCal lifestyle.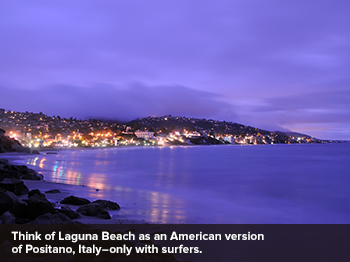 THE DETAILS
Sapphire: 1200 S Coast Hwy #101; 949.715.9888; sapphirellc.com
Easy Ride Bicycle Rentals: 101 Palm St.; 949.566.9850; easyridebikes.com
Olive Oil and Beyond: oliveoilandbeyond.com
Sugar 'n Spice: 310 Marine Ave; 949.673.8907
Dad's Donut Shop and Bakery: 318 Marine Ave; 949.673.8686
Gelato Paradiso: 952 Avocado Ave.
Sprinkles Cupcakes: 944 Avocado Ave; 949.760.0003; sprinkles.com
Gulfstream: 850 Avocado Ave; 949.718.0188 
Pelican Hill Golf Club: 22701 Pelican Hill Rd. S.; 877.735.4226; pelicanhill.com

Crystal Cove State Park: crystalcovestatepark.com

Sawdust Art Festival: sawdustartfestival.org
Las Brisas: 361 Cliff Dr.; 949.497.5434; lasbrisaslagunabeach.com

Montage: 30801 S Coast Hwy; 949.715.6000; montagelagunabeach.com
Taco Loco: 640 S Coast Hwy; 949.497.1635; tacoloco.net
Waterfall Terrace: 1540 Camino Del Mar; 858.259.1515; LAubergeDelMar.com/WaterfallTerrace
Kitchen 1540: 858.793.6460
La Jolla Kayak: 2199 Ave. de la Playa; 858.459.1114; lajollakayak.com
Torrey Pines Gliderport: 2800 Torrey Pines Scenic Dr.; 858.452.9858; flytorrey.com
NOTE: Information may have changed since publication. Please confirm key details before planning your trip.