In late spring, lilacs and apple blossoms throw their scents in the New Hampshire air. And along a 20-mile stretch of rural road, the antiquing season is just kicking in. Collectors of everything from wooden cannonball beds to sap buckets scour the dozens of shops that line Route 4 between the cities of Portsmouth and Concord. Good news: If you find that treasure, New Hampshire has no sales tax.
THE DRIVE
Route 4 in southern New Hampshire is an antiques lover's dream. Scenic and short, it links 4 towns—Lee, Northwood, Epsom and Chichester—that are filled with mom-and-pop antiques shops, cavernous dealer showcases and a few appointment-only galleries. The eastern end of Antiques Alley starts with a buffet. Multiple dealers at Lee Circle Antiques combine to offer a hodge-podge of pottery, old clocks, green glass bottles, chests and baskets.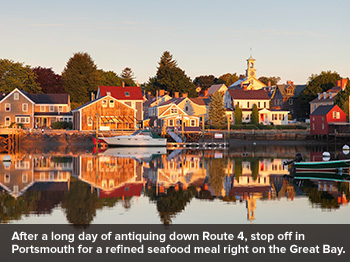 Leaving Lee, the two-lane road cuts through 10 miles of farmland and forest on the way to Northwood. Fern Eldridge & Friends manages to cram 35 dealers into a restored barn. You can expect collector-worthy 18th- and 19th-century furniture, folk art, textiles, architectural items and woodenware. For something more eclectic but nearby, try R.S. Butler's Trading Co. Inside a tulip-pink Victorian barn you'll find country furniture, old tools, architectural salvage, glass and dishware, even vintage records. If you need a break, head to Susty's Café for vegan fare: fresh fruit smoothies, wraps or tofu lasagna. That should keep you light enough on your feet to hit the road again.
Your next stop is a pair of refined shops in Chichester. Start at Austin's Antiques, where 30 dealers show an uncluttered mix that includes American cupboards, blanket chests and duck decoys. Next door, the year-old Keepers Antiques specializes in early American 18th- and 19th-century furniture and folk art. Shaker aficionados should make the pilgrimage down Horse Corner Road (left off Route 4) to Douglas Hamel Antiques.
From here, retrace your way east down Route 4, hitting shops you missed in the morning or revisiting ones for a second look. If the weather allows, you can even stop for a dip at the town beach on Northwood Lake.
As you make your way back toward the sea, think dinner. Newick's, a nearly 70-year-old institution, serves fried clams and chowder at tables overlooking Great Bay. For a more refined seafood meal, reserve a table at Pesce Blue back in Portsmouth. This sophisticated Italian hot spot is the perfect place to relive the day's hunt. Go ahead and pull out your newly acquired yellow ware creamer—just to gaze at it. Everyone will understand.
THE DETAILS
Lee Circle Antiques: 1.603.868.3424
Fern Eldridge & Friends 1.603.942.5602
R.S. Butler's Trading Co.: 1.603.942.8210
Susty's Café: 1.603.942.5862
Austin's Antiques: 1.603.798.3116
Keepers Antiques: 1.603.798.3399
Newick's: 431 Dover Point Rd., Dover; 1.603.742.3205
Pesce Blue: 103 Congress St.; 1.603.430.7766
NOTE: Information may have changed since publication. Please confirm key details before planning your trip.