It's 1774 here, in Virginia's first colonial capital. The dirt road winds past the Governor's Palace, where a cook is stirring Brunswick stew over an open fire, and the courthouse, where Grace Sherwood's witch trial is underway. A few miles down the road, Jamestown settlers are carving canoes and Revolutionary soldiers are firing cannons at the Yorktown battle site. But despite the anachronistic spectacle, Virginia's famous living museum is far from hokey. The entire area is fascinating, fun and in top-notch condition, thanks to renovations brought on by the 400th birthday of Jamestown in 2007. Spring is the best time to visit, for gorgeous blooms and mild weather. And when you've had enough of the 18th century, there are plenty of modern-day amusements.
WILLIAMSBURG
Beginning in the 1930s, Colonial Williamsburg's 301-acre historic area was transformed into a mock colonial town, thanks to a gift from John D. Rockefeller. Eighty-eight of the buildings are set on the original foundations, and more than 500 were meticulously reconstructed. The Governor's Palace, for example, was recreated in part using the obsessive notes that Thomas Jefferson left behind (including such details as the exact distance between windows). On a guided tour, you'll see rooms full of elaborate period furniture; inside the kitchen house, cooks might be preparing mutton or pies. Down the road, you'll find the wigmaker, apothecary and basket weaver. At the 240-year-old courthouse, visitors can volunteer to be a defendant or a juror in a mock trial.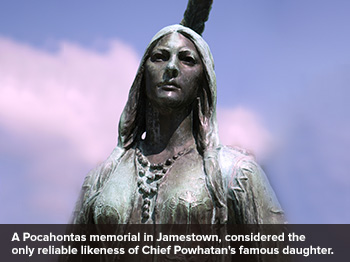 Back in the day, Mr. Jefferson hung out at the 1765 R. Charlton Coffeehouse, where he joined George Washington and other politically ambitious men to talk over coffee or hot chocolate. You may run into Mr. Charlton here, who will tell you that his delicious hot cocoa is made with cloves, anise and cinnamon.
In fact, Colonial Williamsburg would be pretty confusing without its 800-odd interpreters. These employees who pose as 18th-century folk rarely come out of character, even when they're off the clock. And don't call their authentic wardrobe "costumes." All the petticoats, bonnets and three-point hats are "interpretive clothing," sewn by hand on site using fabrics that would have been available back then. The interpreters are all eager to teach. Take the courthouse lawyer, dressed in ruffled sleeves, knickers and big buckled shoes, who describes what politicians argued about (liberty vs. slave ownership) during the drafting of the Bill of Rights. "None of it's folklore," says Virginia Lee, who has been guiding visitors here for more than a decade. "It's all based on fact."
At the sites of two projects currently underway, visitors can witness how historians turn archaeological research into a reconstruction. Bricks, nails, floorboards and other materials manufactured on site are being used to build Anderson's Blacksmith Shop and the Public Armoury, where war supplies were built and repaired.
Things do get a little intentionally silly during Revolutionary City, a daily roaming outdoor theater piece that launches with fife and drums. Events of 1774–1781 are enacted several times a day on the same streets where they actually occurred. The crowds follow the interpreters as they read the Declaration of Independence or protest the Stamp Act of 1765.
Evening reenactments take place at some of the colonial taverns, which serve beer in pewter mugs, surprisingly tasty peanut soup and syllabub, a frothy citrus dessert. Even the dinnerware is authentic, with many pieces modeled after 18th-century squirrel patterns excavated nearby. While you're eating, fiddle players meander through the large colonial rooms.
All over the grounds you'll find animals that are rare today, like Ossabaw Island pigs and Red Devon cattle. Spring is lambing time, when you might witness the birth of a Leicester Longwool, one of the oldest breeds of sheep and nearly unknown in the U.S. (The adults are comically cute, with lustrous coats that fall in loops.) And the 90 acres of gardens showcase native plants like purple broccoli, as well as stunning flowers. In spring, red buckeye, azaleas, lavender, daylilies and dogwood trees are all in bloom, and workers at the Colonial Nursery are starting to plant using 18th-century tools and techniques, like hotbeds, cold frames and bell jars.
JAMESTOWN and YORKTOWN
Nearby Jamestown and Yorktown were home to some of the first British settlements. Today, a high-tech gallery at the Jamestown Visitor Center displays an engaging portrait of the cultures that converged here from 1607 to 1699—Native American, British and African. Look for the only reliable image of Pocahontas, quite different from the Disney version, and an interactive film about the slave trade. Outside the center, in a recreated Powhatan Indian village, "settlers" (aka interpreters) are planting crops, processing hides and weaving fishing nets. The three sailing ships docked on the river are full-size replicas of the ones that carried the colonists to Virginia in 1607.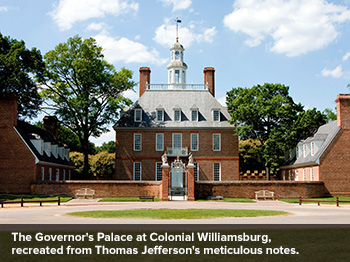 Twelve miles from Williamsburg, the Yorktown Victory Center was built on the site of the last battle between the colonialists and the British. Head to the shops and restaurants at nearby Riverwalk, or sail on the 105-foot schooner Alliance, which cruises the York River with an old-time waterman who recounts his stories.
CHANCE TO RECHARGE
Williamsburg is renowned for its golf courses, such as the 45-hole Golden Horseshoe (a Golf magazine Top 100) and Colonial Heritage, a 175-acre championship course designed by Arthur Hills. At the top of Duke of Gloucester Street, Merchants Square has more than 40 stores, from Williams-Sonoma and Talbots to Bella Lingerie and the Cheese Shop (a great place for a quick sandwich). In May, this courtyard hosts a Saturday farmers market, selling just-picked local produce and meats.
This is also where you'll find many of the city's best restaurants. At Berret's, sit on the lovely patio and order fresh oysters straight from the nearby York River and a shrimp-garnished Bloody Mary. The Fat Canary, also on Merchants Square, uses native ingredients in innovative dishes like lobster and chive salad with lemon-infused olive oil, and tuna wrapped in nori and tempura-fried. And although the Spa of Colonial Williamsburg sounds historic (it's "inspired by five centuries of wellness practices"), the three-floor facility has 12 light-filled treatment rooms. The Williamsburg Massage begins with a traditional herbal foot bath, but it's a long way from provincial.
GET YOUR BEARINGS
Colonial Parkway links the cities in the Historic Triangle—Williamsburg, Jamestown and Yorktown. The 23-mile road is lined with magnolias and offers glimpses of the James and York rivers. You can also get around by free shuttle (mid-March through October).
Go to history.org to buy the passes needed for entrance to buildings, exhibits and parking
Once you're in the area, pick up a "This Week" pamphlet for a program schedule, a walking-tour guide and a useful map.
THE DETAILS
The Governor's Palace: 800.447.8679
R. Charlton Coffeehouse: colonialwilliamsburg.com
Colonial Nursery: 208 W. Duke of Gloucester Street; 757.229.1000
Jamestown Visitor Center: 2110 Jamestown Rd; 757.253.4838
Yorktown Victory Center: 200 Water St; 757.887.1776
Golden Horseshoe: 401 S England St; 757.220.7696
Colonial Heritage: 757.645.2000; colonialheritageclub.com
Berret's: 199 S Boundary St; 757.253.1847; berrets.com
The Fat Canary: 410 W Duke of Gloucester St; 757.229.3333; fatcanarywilliamsburg.com
Spa of Colonial Williamsburg: 307 S England St; 757.220.7720
NOTE: Information may have changed since publication. Please confirm key details before planning your trip.