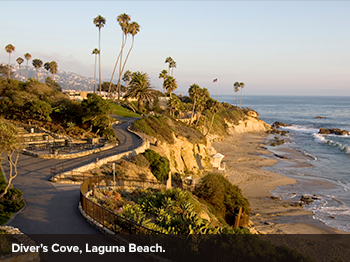 In Laguna Beach, 50 miles south of downtown L.A., wet suits may as well be the unofficial uniform, and many residents can't imagine ending the day without a sunset jog along the Pacific. Join locals in organic-food-driven restaurants, along scenic nature trails and out in the ocean on a surfboard. For our stay-fit guide to Laguna Beach, read on.
RIDE THE WAVES
If you're in the mood to surf, stop in La Vida Laguna, where instructors teach the basics (board safety, posture and ocean-crowd etiquette) before taking you out on the water to catch rolling waves. Or try your hand at stand-up paddleboarding with rentals from Westwind Sailing, in Dana Point Harbor. This quiet marina's multimillion-dollar yachts are definitely eye-catching, but keep a lookout for one of the harbor's resident seals or the occasional school of dolphins.
POUND THE PAVEMENT
Go for a power walk on Laguna's downtown trail, called the Path to Peace by residents, which meanders along scenic cliffs and seaside gardens. Or venture out to the 7,000-acre Laguna Coast Wilderness Park, which has 40 miles of trails. Try the 3.5-mile Laurel Loop, which cuts through grasslands, oak woodlands and coastal canyons with water views.
BREAK FOR ART
Between outdoor activities, check out the city's established arts scene. There are more than 100 art galleries in Laguna Beach, many of which, such as Salt Fine Art—exhibiting contemporary Latin American works—are located along Gallery Row. If you want to pick up a paintbrush yourself, sign up for watercolor or oil painting with Sawdust Studio Art Classes.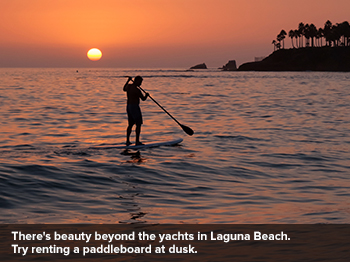 HEALTHY EATS
You can easily load up on bacon-topped cheeseburgers in Laguna, but wholesome organic foods are often the menu headliners. If you can pull yourself away from the freshly baked pastries at Zinc Café & Market—the cinnamon roll popovers!—order a latte and the breakfast scramble (egg whites served with brown rice, black beans and cantaloupe). Or at the all-vegan Stand restaurant, fill up on a guacamole burrito made with jicama and chilies.
Your daily serving of vegetables comes in a martini glass at Nick's Laguna Beach, thanks to its weekly-changing farmer's-market cocktail. Most ingredients in dishes such as the California ahi salad, made with shishito peppers, soybeans and Japanese cucumbers, are also sourced nearby. If you're celebrating a special occasion, make a reservation at Three Seventy Common. The open kitchen whips up seasonal good-for-you options, like a Mediterranean-style oven-roasted chicken and a kale salad topped with persimmons, golden raisins and apples.
THE DETAILS
Three Seventy Common: 370 Glenneyre St.; 949.494.8686; 370common.com
Nick's Laguna Beach: 440 S. Coast Hwy.; 949.376.8595; nicksrestaurants.com
The Stand: 238 Thalia St.; 949.494.8101
Zinc Café & Market: 350 Ocean Ave.; 949.494.6302; zinccafe.com
Laguna Coast Wilderness Park: 18751 Laguna Canyon Rd.; 949.923.2235; ocparks.com
Salt Fine Art: 1492 S. Coast Hwy; 949.715.5554; saltfineart.net
Sawdust Studio Art Classes: 935 Laguna Canyon Rd.; 949.494.3030; sawdustartfestival.org
La Vida Laguna: 1257 South Coast Hwy; 949.275.7544; lavidalaguna.com
Westwind Sailing: 34451 Ensenada Place, Dana Point; 949.492.3035; westwindsailing.com
NOTE: Information may have changed since publication. Please confirm key details before planning your trip.