Savannah is one of America's architectural gems. Its downtown is lined with 18th- and 19th-century buildings. And thanks to the city's original utopia-inspired planning, there are no fewer than 22 square parks, all shaded by oaks heavy with Spanish moss.
While Savannah has long catered to tourists with carriage rides and ghost tours, it has also inspired a wave of contemporary art, haute cuisine and high design. Much of the credit for this renaissance goes to Savannah College of Art and Design, or SCAD, a breeding ground for creative thought. Many SCAD graduates, from fashion designers and architects to coffee aficionados and entrepreneurs, decide to stay local and reinvest in the city.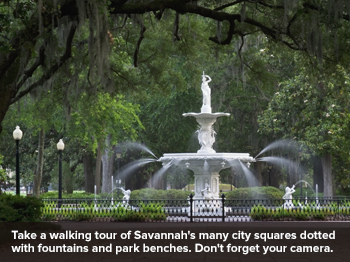 This mix of old and new makes Savannah an exciting weekend destination. Here's our guide to the best places to shop, eat and explore.
FORSYTH ON FOOT
Boutique shops and corner cafés share real estate with 18th- and 19th-century residences in this part of town, and a grassy city square dotted with fountains and park benches is never more than 3 blocks away. Get an overview of the area and learn about Savannah's impressive preservation efforts on a walking tour with architect and guide Jonathan Stalcup, founder of Architectural Savannah. His excursions explain the city's progression from Federal-style buildings to Greek Revival mansions to controversial protected sites, like a 1940s art deco department store now home to Levy Jewelers.
Of all Savannah's residential museums, the Owens-Thomas House stands out for its beautifully restored rooms, tableware that dates from the 1790s and architectural features, such as an oval-shaped living room complete with curved doors.
This pedestrian-friendly part of the city is also home to some of Savannah's best independent boutiques, especially along the parallel Bull and Whitaker Streets. At Satchel, SCAD graduate Elizabeth Seeger designs and makes leather bags by hand. One Fish, Two Fish and its annex across the street offer beaded tunics, wrap dresses with puffy collars and beachy home-decor items (like seahorse-shaped pewter salad tongs). At Number Four Eleven, check out the monogrammed napkins designed by New York transplant Courtland Stevens.
Just down the street you can update your wardrobe at Custard Boutique, a local go-to shop for made-in-the-USA tees and eco-friendly design labels, such as Amour Vert. Newcomer Harper sells silk scarves, chic dresses and hip jewelry, including throwback brooches and handmade lace earrings. Meanwhile you'll find ceramics from South Africa and hand-stitched Mexican throws at Folklorico, which sources its fair-trade crafts from all over the world. And at Shop SCAD, the artsy souvenirs—from structured shoulder bags to colorful journals—are designed by students.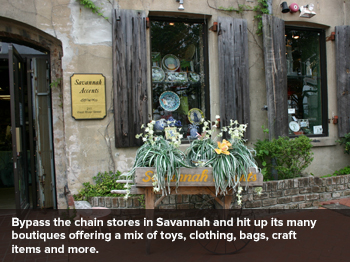 Rest your shopping bags at the Gryphon Tea Room, housed in a 1926 Scottish Rite building across the street. The charming spot has tasty lunch dishes, like a ratatouille sandwich topped with smoked Gouda. Also close by, the Public Kitchen & Bar has outdoor tables ideal for people-watching and serves a hot Cuban roll stuffed with pulled pork and sweet Creole mustard.
Wind down with a stroll through Forsyth Park, a 30-acre green space where magnolia and palm trees frame a two-tier fountain you may recognize from the films Forrest Gump and Midnight in the Garden of Good and Evil. The Mansion on Forsyth Park, a 125-room hotel set in an 1888 mansion, offers cocktails and dinner at the on-site 700 Drayton Restaurant (which also runs a cooking school). Expect dishes such as plump mussels with butter and chorizo and Georgia-sourced quail wrapped in bacon.
NORTH OF BROUGHTON STREET
This grid of blocks off of the Savannah River is popular among travelers, thanks to institutions like the Olde Pink House. The 18th-century mansion has a dining room for almost every mood: There are grand rooms with painted frescoes as well as wood-paneled nooks with candlelit tables. The she-crab soup comes with cracked pepper and a sprinkle of sherry. Another standby is Circa 1875, a French bistro with a cozy bar where veteran bartenders mix Hendrick's gin martinis infused with muddled cucumber.
New to the waterfront neighborhood is the Brice, a 145-room hotel housed in a former Coca-Cola factory whose hip lobby is hung with modern art. Pacci, the in-house restaurant, is an independent establishment helmed by beloved local chef Roberto Leoci (Leoci's Trattoria is its sister restaurant). He serves house-made pastas and cola-braised short ribs in a cheerful, light-filled space with black-and-white-checked tablecloths and painted Spanish-tile floors.
While you'll find plenty of chain stores on Broughton Street, hit up boutiques such as the Paris Market, a dreamy gift shop where hand-crocheted children's toys, soft cotton T-shirts packaged in baguette bags and lavender sachets are artfully displayed. One of the freshest restaurant concepts in town is the Andaz hotel's 22 Square, a cool space with white brick and a long ebony-marble bar. Snag one of the seats at the communal kitchen-side table. You'll know you're in for a treat when the basket of warm sourdough stuffed with pork belly and collard greens arrives at your table. There's more to look forward to, like a stellar tart filled with ricotta and seasonal vegetables; and the tuna carpaccio topped with house-made lemon preserves.
For a nightcap, head to the rooftop bar of the Bohemian Hotel, 4 blocks away. Here you can watch tugboats slowly make their way down the working river.

FARTHER AFIELD
Much of Savannah's creative energy is being channeled into neighborhoods just off the popular tourist blocks. In the up-and-coming SoFo (South of Forsyth) area, start your day with a cappuccino made with beans from local coffee roaster Perc or a horchata—Mexican rice milk flavored with cinnamon—at Foxy Loxy café, located in a modest Victorian. Lattes and Lone Star beers are just $2 from 5 p.m. to 8 p.m. on weekday evenings. Back in the Day Bakery, where you can indulge your sweet tooth with fluffy banana pudding and red velvet cupcakes, is also close by. At the top of the park, Local 11Ten turns out seasonal Southern dishes (duck breast dusted with pecans and lavender; fried chicken skins and champagne-marinated watermelon) and has a rooftop bar.
On the west side of town, the SCAD Museum of Art occupies the former central Georgia Railway headquarters and showcases exhibits by contemporary artists. Past displays have included pieces by Andy Warhol and photographer Jack Leigh. From there, it's a short walk Ampersand, a new lounge with a U-shaped bar and a wall covered with succulents. The handcrafted cocktails include the Antebellum Julep, made with Courvoisier, applejack brandy, rosewater and mint. Raise your glass to Savannah, a city that's mysteriously beautiful, rich in history and always forward-thinking.
NOTE: Information may have changed since publication. Please confirm key details before planning your trip.