The best way to check out the art scene here is to hit the sidewalk. On a self-paced art walk, you can visit several galleries in an afternoon, stopping in at coffee shops and wine bars along the way. Charleston's sherbet-colored buildings and network of narrow streets, some still paved with cobblestones, form an artful backdrop.
STARTING POINT
To begin, grab a city map (found in free guides at shops around town) or just start walking. You'll find dozens of galleries in the blocks south of Market Street between Meeting Street and East Bay Street. The hot spots here are along Church, Queen and Broad Streets. A short detour north on King Street will get you to Calhoun Street and the Halsey Institute of Contemporary Art, which has some of the most interesting and unusual exhibitions in the South.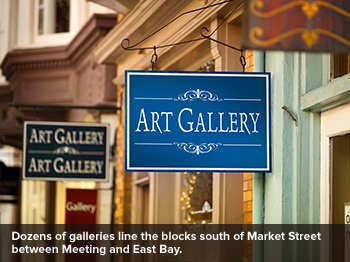 Begin your art tour with a dip into the city's cultural history at the more-than-a-century-old Gibbes Museum of Art. Here you can view everything from silhouette portraits to watercolor landscapes from pre-Colonial times up to today.
FRENCH QUARTER FINDS
If you plan your visit to coincide with one of the quarterly art walks organized by the French Quarter Gallery Association, you can join a crowd of culture seekers strolling in and out of about 30 Charleston galleries south of Market Street. Some 30 Charleston galleries participate in these evening events, offering food and wine and displaying art of all kinds, including the lush classical portraits at Ann Long Fine Art on Broad Street and works by young realist artists at Robert Lange Studios on Queen Street.
ARTFUL BITES
Charleston's food offerings are a terrific match for the city's art. Gaulart & Maliclet (also known as Fast & French), a café opened by French artists, is an easy stop for a coffee, a bowl of soup and a baguette. Around the corner, the wine bar Bin 152 serves charcuterie and cheese on wooden boards; all the art, tables and chairs are also for sale. A nice glass may be just what you crave after your day-long art walk.
NOTE: Information may have changed since publication. Please confirm key details before planning your trip.