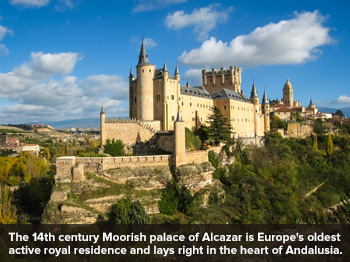 For more than seven centuries, the Moors ruled Spain's southern region of Andalusia. Today, this area reveals its ties to the past in unexpected ways. Those blazing white mountaisn towns? The architecture was influenced by the Berbers of Africa. Seville's cathedral? Its bell tower was once a minaret. That Moorish fortress in Málaga? It shares a hilltop with a parador, a hotel in a historic building. Andalusia itself ranges from fertile plains and jagged mountains in the north to 600 miles of beach-lined coast in the south, including the Costa del Sol. Add to all this sherry bodegas and fish shacks, bullfights and back roads, and you have the makings of a multi-day drive that can be tailored to your tastes. So gather some roadworthy friends to help you savor Andalusia, or as it was known by the Moors, al Andalus.
A CIVILIZED START
In the manicured gardens of Europe's oldest active royal residence, a dove dips its head into a fountain for a drink. An ornate horseshoe arch frames palm trees that sway lightly in the breeze. This tranquil scene—inside the sumptuous 14th-century Moorish palace of the Alcázar—unfolds smack in the middle of Seville, southern Spain's largest city. As the regional capital of Andalusia, it's a natural starting point for a trip.
Leaving the Alcázar, you find yourself looking up at Seville's mammoth cathedral. This gothic wonder took centuries to build and sits on the site of a medieval mosque. (It also happens to house the remains of Christopher Columbus.) The adjacent bell tower, a mishmash of Muslim and Christian architectural styles called La Giralda, acts like a physical timeline. Built as a minaret, the intricately wrought Almohad tower was topped by church bells in the 16th century after the collapse of Muslim rule.
A short walk brings you to the Guadalquivir River, this port city's lifeblood. Across the wide, slow-moving river is the one-time gypsy enclave of Triana, now home to dozens of ceramics stores selling brightly colored Moorish tiles, handpainted pots, vases and bowls. A turn upriver brings you to the 250-year-old Maestranza bullring. As many as 12,500 spectators attend Sunday afternoon corridas (bullfights) which are considered second only to Madrid's. You might find sameday tickets, but these tend to be in the sun. Scalpers demand three figures for better seats. If you prefer a less bloody option, sip a tinto de verano (Spain's answer to a wine spritzer) in a café by the river. Downstream, María Luisa Park offers a lush array of palms, orange trees and flower beds. Adjoining it, you'll find Seville's other icon: the Plaza de España, an arched twin-towered folly built for the 1929 Expo that feels like the theme park Walt Disney never dared build.
Pretty much any bar in Spain serves tapas. But in Seville, these bite-sized morsels are a religion. The faithful head down tiny twisting streets in the historic Santa Cruz district to hole-in-the-wall bars where glasses of wine or ice-cold beer are accompanied by plates of fat green olives, spicy meatballs and slivers of jamón serrano. Whole legs of this traditionally cured ham hang by the hoof. As in centuries past, sawdust covers the floors and the barmen keep track of the tabby chalking up drink tallies on the counter.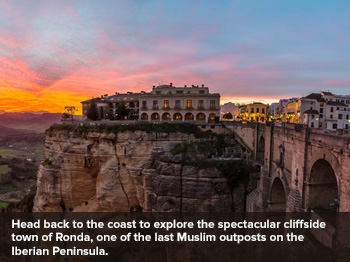 SOUTHWARD BOUND
Founded by the Phoenicians in 1100 BC, Cádiz may be Europe's oldest continuously occupied city. Thanks to a modern motorway, the historic coastal town is roughly a 90-minute drive from Seville. (Unfortunately, unlike the rest of the roads on this trip, this stretch is somewhat featureless.) The milky white light off the Atlantic and grand old houses with peeling paint lend Cádiz an aura of faded grandeur. But there are also leafy squares and—best of all—superb delicatessens (or ultramarinos, as they're known here). Inside, pungent goat cheeses fill cabinets; shelves display multicolored tins of tuna, mussels, anchovies, crabmeat and cuttlefish; and strings of dried vegetables and spices hang from racks.
When they're not strolling the promenade, residents head to the city's beaches. La Caleta, the northernmost strand, is the smallest and best, with a castle at each end and a bar that's a perfect spot for sundowners. Another option is to explore the Costa de la Luz (Coast of Light), whose miles of golden beach backed by rolling green hills stretch south toward Gibraltar. Despite its beauty, the region is relatively undeveloped, so the crowds are fewer here than on the neighboring Costa del Sol (Coast of the Sun). For a list of regional beaches, check out cadizturismo.com.
Just up the road you'll find Jerez—where sherry, the renowned fortified wine, has been made for more than 1,000 years. Head to some of the vast bodegas, lovingly referred to as "cathedrals of wine," to stroll through rows of dark wood barrels. As you breathe the heady, alcoholtinged air, you can almost feel the city's lifeblood maturing. Alvaro Domecq and Gonzalez Byass are the big names, but you should also search out some smaller makers—after all, no two sherries taste alike (turismojerez.com).
BACK ON THE ROAD
For a scenic drive, go northeast across the rugged sierra before turning south for Málaga. There are a half-dozen pleasant routes you could follow, but this mountainous road, though less direct, is worth it. The two-lane blacktop slices through undulating rows of olive trees, interrupted occasionally by the spectacular white towns of Arcos, Zahara, Setenil and Olvera. All have excellent restaurants serving hearty meals for just a few dollars. Plot your way between them, using Route A382 as your yardstick.
Turning back toward the coast takes you into Ronda, a spectacular cliff side town split by a gorge. (The city's naturally strategic location helped keep Catholic troops at bay until as late as 1485, making it one of the last Muslim outposts on the Iberian Peninsula.) Ronda's old Moorish district is filled with narrow streets, palaces and gardens. Cross a giddying bridge to find one of Spain's oldest bullrings. Though modest, this plaza de toros is where the modern "art form" of bullfighting was codified.
ON TO THE COAST
Another hour's drive from Ronda brings you to the Costa del Sol and that most Spanish of cities, Málaga. Here you'll find great tapas, beachfront fish restaurants, tree-lined avenues with open-air markets, and two wonderful art museums. The Museum of Contemporary Art is innovative and exciting, not to mention free (cacmalaga.org). But the star here is the Picasso Museum, set in a beautiful 16th-century palace (museopicassomalaga.org). Its collection has many lesser-known works and such standouts as Portrait of Paulo in a White Cap donated by or on loan from the artist's family. For a memorable view, head up Gibralfaro hill, home to a historic Moorish citadel and a luxurious parador hotel. From here you can see ferries bound for North Africa and the Canary Islands as they move against the dazzling Mediterranean below. Though Picasso left this region as a boy, its gorgeous landscapes were always reflected in his bold strokes and bright colors. After a few days touring, you'll understand how Andalusia could inspire a lifetime of art.
NOTE: Information may have changed since publication. Please confirm key details before planning your trip.