When you're perched at the top of Europe's tallest roller coaster, with the Roman city of Tarragona, the Catalonian coastline and the blue Mediterranean spread out below, you may wonder how the kids talked you into this one. Then gravity and adrenaline take over and you realize that you (and your kids) are having the time of your life.
1.) Spanish Style
It may be the architecture—ironwork balconies replete with potted bougainvillea, the attractive squares lined with palm trees, such as Plaza de la Constitución—or the suntrap beaches of La Farola, and Pedregalejo. But wherever you look, Málaga embodies so much that is Spain. Swap fish and chips for tapas, lager and lime for sweet wine, and learn a little Español to get ahead. ¡Salud!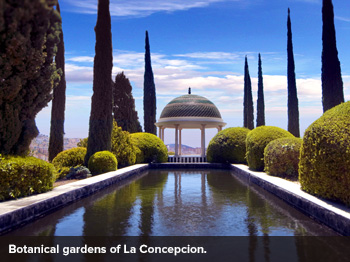 2.) Tropical Varieties
The spectacular botanical gardens of La Concepción were created in 1857 for an aristocratic family. More than 800 tropical and subtropical plants, including 100 types of palm trees, thrive in the gardens' Mediterranean climate.
3.) From the Soul
Fiery flamenco courses through the veins of many a Málagueño. It is learned and performed across the city. Susana Lupiañez teaches young dancers each week at La Lupi Flamenco. Colorful, passionate performances shouldn't be missed. Susana says: "Flamenco is very accessible, even when you see it for the first time."
4.) Food for Thought
Food is an art in Málaga, and the humble cod is king. Tapas are beautifully served in a contemporary style at La Barra, in Calle Bolsa, or in the rustic setting of Lo Güeno, in Calle Marín García, where porra, a type of gazpacho, and Málaga salad made with cod, potato, orange and olives, are a must.
5.) People Watching
Find a café, order a coffee and watch the world go by in Plaza de la Constitución, Plaza de la Merced or along the promenade at Pedregalejo beach. These areas are great for a relaxed afternoon, and local buskers are always keen to entertain for a few euros.
6.) Baroque Beauty
Málaga's Ayuntamiento, or City Hall, faces Paseo del Parque, which is full of tropical plants and beautiful purple flowering jacaranda. Its neo-baroque exteriors make it worthy of a visit outside of local government business.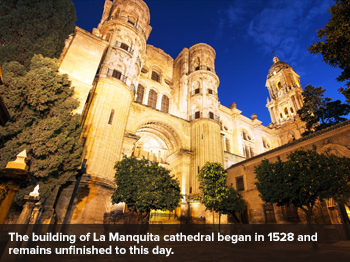 7.) Very Moorish
Started in the 8th century by the Moors, the Alcazaba was only completed in the 11th century. The fortification was built on the foundations of a Roman fort and housed the city's governors. Málaga's Alcazaba is one of the best preserved in Spain and features double walls and defensive towers, stunning archways and gardens. Skip the challenging uphill walk and take a bus from the Alcazaba to the Gibralfaro castle for spectacular views of the city.
8.) Málagan Masterpiece
Few could argue with Málaga's claims to artistic renown. The city's most famous son, Pablo Picasso, was one of the founding fathers of cubism. His birthplace, in Plaza de la Merced, above, houses an exhibition of his works and you can discover even more about him at Museo Picasso Málaga in Calle San Augustín. Málaga buzzes with creative excitement and the Centre of Contemporary Art features a host of challenging modern works.
9.) Glorious Grandeur
Málaga's stunning cathedral, built between 1528 and 1782, is known as La Manquita—the one-armed woman—as it's the only cathedral in the world with one tower. The other tower was never completed due to a shortage of funds. But this has not affected the grandeur inside. The spectacular interior reflects both baroque and renaissance styles. Plaza del Obispo, in which the cathedral sits, is a popular place to meet friends for food and drinks.
NOTE: Information may have changed since publication. Please confirm key details before planning your trip.