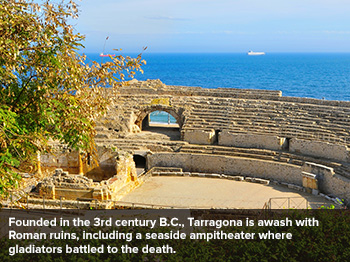 When you're perched at the top of Europe's tallest roller coaster, with the Roman city of Tarragona, the Catalonian coastline and the blue Mediterranean spread out below, you may wonder how the kids talked you into this one. Then gravity and adrenaline take over and you realize that you (and your kids) are having the time of your life.
ROME AWAY FROM ROME
Founded in the 3rd century B.C., Tarraco became an important Roman city. Today its World Heritage remains lie under modern Tarragona's center. Kids will thrill to stories of the Roman circus, whose chariot races drew 30,000 spectators, and the seaside amphitheater where gladiators fought. Roman walls and a section of aqueduct just outside town are still visible. In May, the Tarraco Viva festival celebrates the town's Roman heritage with recreated battles, Roman taverns and more.
ROLL WITH IT
Spain's star theme park, PortAventura, lies just southwest of Tarragona in the resort town of Salou. The park recently added a gigantic Himalayan-themed roller coaster that includes a breathtaking 256-foot plunge. The park is divided into zones—the Mediterranean, Polynesia, China, Mexico, the Far West and Sesame Street—and appeals to all ages. Rides are gentle in SésamoAventura; the Chinese and Mexican villages have shriek-inducing roller coasters and the Hurakan Condor free fall. Thrill seekers head for the Furius Baco ride near the main entrance: It accelerates from zero to a terrifying 84 miles per hour in just three seconds. There's also a water park, golf courses and a beach club.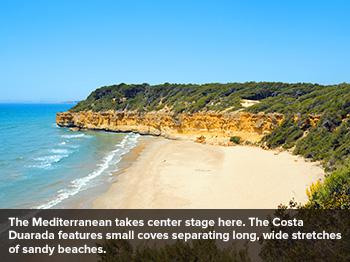 WATER EVERYWHERE
Also near Tarragona is Aquópolis, a no-holds-barred water park with some steep slides, mega-splashes, softer thrills for younger kids and dolphin shows. AquaLeón, 10 miles inland, combines a water park with a safari zoo.
HIT THE BEACHES
The biggest water feature around here is the Mediterranean itself. The Costa Daurada (also called the Costa Dorada, or golden coast; Daurada is the Catalan spelling) is a family-friendly coastline with small sheltered calas (coves) separating wide, long stretches of sand. You'll find your own favorite, but some nearby ones to try are La Pineda, a mile and a half of clean sand with a "subaquatic park" for divers and snorkelers, and La Móra, a short strand with gentle water. The next beach along, Tamarit, is equally tranquil and overlooked by the spectacular 11th-century castle of the same name. Most beaches have kiosks offering shade, seafood and pedalo and kayak rentals.
BOAT RIDES
Tarragona Blau runs jaunts around the harbor and along the coast from June to September, and child-focused fishing trips in April and May. The cheerfully painted tall ship Cyrano runs scheduled excursions and charters from Tarragona's harbor. Leaving from nearby Salou and Cambrils, Creuers Costa Daurada offers short and daylong catamaran cruises with time for lunch and swims. One boat has a glass hull for exploring the submarine world.
BARCELONA SIDE TRIP
One of the most seductive cities on the Mediterranean is only an hour from Tarragona. Gaudí's Sagrada Família basilica has a magic that kids will appreciate. The rambling Parc Güell invites exploration, as does one of Europe's largest aquariums. Fútbol lovers should visit FC Barcelona's stadium. The entrance fee includes an interactive soccer museum and the chance to walk out of the tunnel onto the field, just like the pros do before a game.
PORTAVENTURA TIPS
This theme park offers special packages, such as a money-saving 2-day pass. There are more live shows on weekends, but lines can be long; you'll pack more in on weekdays. Express passes give easy access to only the most popular rides, and only once each per day. Bring snacks and water to beat the park's high prices.
THE DETAILS
PortAventura, Salou: 34-977-779-090; portaventura.co.uk
Aquópolis: 65 Av. Pau Casals, Vila-Seca; 34-902-345-011; costa-dorada.aquopolis.es
AquaLeó: Finca les Basses, Albinyana; 34-977-687-656; aqualeon.es
Tarragona Blau: 34-671-212-521; tarragonablau.com
Cyrano: 34-615-084-440; cyrano.cat
Creuers Costa Daurada: 15 Av. Diputació, Cambrils; 34-977-363-090; creuerscostadaurada.com
Sagrada Família: 401 Calle Mallorca; 34-932-073-031; sagrada familia.cat;
L'Aquàrium, Moll d'Espanya del Port Vell: 34-932-217-474; aquariumbcn.com
FC Barcelona, Camp Nou, Avda. Arístides Maillol: 34-934-963-600; fcbarcelona.com
NOTE: Information may have changed since publication. Please confirm key details before planning your trip.