Flamboyant architecture is nothing new to Valencia. This handsome city on Spain's Mediterranean coast has stunning buildings around every corner. As you roam the old Barrio del Carmen, you'll inevitably stumble upon the palace that houses the National Ceramics Museum, with heroic figures carved in the alabaster facade that look as if they're about to spring into action in some bizarre computer-generated effect. Then there's La Lonja, a 15th-century silk market whose 24 interior columns seem to spiral up forever, as in a soaring Gothic cathedral. And the Estación del Norte, a 1917 train terminal with spectacular mosaics inside.
The modern-day rival to all these structures is the futuristic City of Arts & Sciences, a vast museum complex designed by Valencia's native son, architect Santiago Calatrava. Just as Frank Gehry's provocative design for the Guggenheim Museum in Bilbao brought hordes of visitors to a previously underappreciated Spanish city, Calatrava's work is doing the same for Valencia. And with the addition of high-speed AVE train service, the 4-hour trip from Madrid has been cut in half. That extra time won't be wasted as you explore this walkable city's appealing museums, garden gems and lively tapas bars serving earthy Valencian cuisine.
INTO THE FUTURE
The City of Arts & Sciences is widely considered Calatrava's best work (only the aquarium, the Oceanogràfic, is not of his design). You don't need to step inside to be wowed by the five structures; many visitors simply wander the grounds, awestruck. Reflecting pools create the illusion that the glittering white buildings are weightless, floating in air.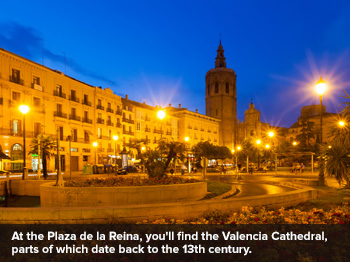 Calatrava bases much of his work on organic shapes inspired by nature, which inevitably leads to debate over what each building resembles. Most agree that the Hemisfèric planetarium, completed in 1998, is shaped like a human eye, with a lid that opens to observe the universe. The Science Museum, which followed in 2000, is said to be modeled after a huge dinosaur skeleton on one side, a waterfall on the other. Inside, the exhibits encourage interaction—an in-depth display on the hallowed sport of fútbol lets you kick a ball into a goal; success is met with recorded cheers. Remember Foucault's pendulum from high school physics? One of the longest ones is here. If you need to rest your feet, do it in the mirrored cube of a room showing "Zero Gravity," vivid images of Earth and skies reflected over and over again on its walls.
Then there's the Umbracle, an arched winter garden built over an underground car park—not that you'd know it. The opera house, the Palau de les Arts, is shaped like an upside-down boat, or perhaps a helmet with a feather on top (but let's not argue about it). Its 4 theaters hold more than 3,600 seats. Some say that the Oceanogràfic building looks like a lily, while others see a butterfly. In any case, if you go inside you'll see a shark tank with a walk-through viewing tunnel, some massive walruses with tusks that are worth the price of admission alone, and a beluga whale whose chunky, muscular body moves in a surprisingly balletic way.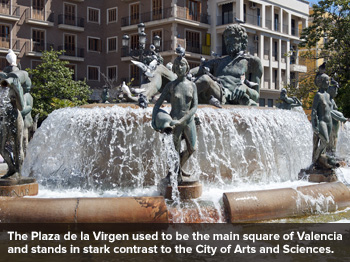 BACK TO THE PAST
The older parts of Valencia are a maze of twisted narrow streets and passages—the kind that all visitors to Europe crave. But the city also has stately tree-lined boulevards wide enough to accommodate any amount of traffic; there's never a rush hour here. Further proof of thoughtful urban planning lies in the site of the City of Arts & Sciences—a 5-mile-long series of formally planted, well-groomed gardens, where the Turia River once flowed (and overflowed). After some 100 people drowned in the disastrous flood of 1957, the city fathers decided to divert the Turia to the south and turn the riverbed into a park. Stop by Rent a Mega Bike and spend an afternoon pedaling its length. Plant lovers should also visit the Valencia Botanical Garden, set up by the University of Valencia to research medicinal and tropical plants. Its collection now includes orchids, bromeliads, cacti and orange trees, plus a well-tended population of cats.
To explore the city's older sections, start with the Barrio del Carmen. The cast-iron-and-glass Central Market, which opened in 1928, was built in the Modernismo style, which basically means a mishmash of different influences—this building looks a bit like a Victorian railway station. The parrot on the top spire symbolizes the market as a place to shop and socialize. The spacious interior is fastidiously clean, bright and open, with stained-glass windows and more than 700 vendors. This is the place to buy some prime jamón ibérico (cured ham), sliced paper-thin and vacuum-sealed to take home. Other good souvenirs: Spanish paprika and bomba rice, an absorbent variety used to make paella—a dish that originated in Valencia.
Next check out the National Ceramics Museum, housed in the Palacio de Marques del Dos Aguas. As you enter you'll see two Cinderella-style carriages, one owned by the Marquis who once lived here. Climb the stairs for the second-floor museum of the decorative arts, in rooms where the family lived and played. Don't miss the exquisite dollhouse, the 1863 Dresden furniture with ceramic insets, and the mirrored, gilt-trimmed ballroom. Displays on the top floor cover the centuries. Look for five striking plates donated by Picasso and a kitchen covered with Valencian tiles depicting fruits, vegetables and food prep.
At the Plaza de la Reina you'll find the Valencia Cathedral, parts of which date back to the 13th century. It's a pleasing mix of architectural styles—of its three doorways, one is Romanesque, one Gothic and one Baroque. Six huge gilt-framed paintings decorate the altar. If the Holy Grail Chapel is open, duck inside to see what is believed to be the legendary agate cup used during the Last Supper.
Across the Turia Gardens from the Barrio del Carmen you'll find the Museo de Bellas Artes—the Fine Arts Museum, in a former convent. Second only to Madrid's Prado, it's known for its ecclesiastical art, such as gilded, Gothic-style altarpieces, and works by the renowned Spanish artists El Greco, Velázquez, Goya and Murillo.
There's plenty more to see in Valencia, but whatever you do, leave time to loiter in the cafés, tapas bars and restaurants. It's hard to go wrong here, as the offerings range from robust, peasant-style cuisine (paella!) to avant-garde dishes with surprising pairings (anchovies, almonds, fennel). Typically, dinner doesn't start until 10 p.m., so rest up.
The Details
Mega Bike: rentamegabike.com
AVE train: renfe.com
NOTE: Information may have changed since publication. Please confirm key details before planning your trip.