Nothing captures the spirit of summer like an afternoon by the lake. It's the ultimate throwback vacation, encouraging you to take it slow, whether dangling your legs off the dock or waiting for that tug on your fishing rod.
Crater Lake 
Oregon
America's deepest lake began with a bang—an eruption that brought down a mountain, leaving a caldera that gradually filled with rain and snow. The result: Intensely blue water surrounded by old-growth forest laced with 90 miles of hiking trails. A few hours of hiking along the trail to Mount Scott rewards you with the view from the national park's highest point, overlooking Crater Lake; the shorter and less strenuous route, to Annie Creek Canyon, passes meadows ablaze with wildflowers in summer. For the complete lake perspective, drive or bike the scenic 33-mile Rim Drive. nps.gov
Caddo Lake 
Louisiana and Texas
Caddo is a sprawling maze of interconnected bayous, sloughs and ponds whose lush plants and endangered wildlife lend it a mystical beauty. (Bigfoot sightings have been reported here.) Spanish moss drips from cypress trees, some of them 400 years old, and lily pads blanket the water's surface. Rental canoes make for a leisurely outing; or go deeper into the backwaters in one of Caddo Outback Tours' swamp boats (caddolaketours.com). Abundant largemouth bass, crappie and catfish make this a popular fishing destination. 
tpwd.texas.gov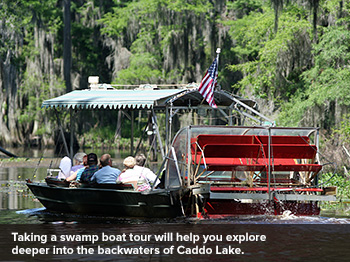 Lake Chelan 
Washington 
Water and wineries draw vacationers to Lake Chelan, in eastern Washington, about 3 hours from Seattle. Since the Kludt family established the first vineyard, in 2000, the number of wineries has swelled to 20; many, like Vin du Lac (vindulac.com), have outdoor terraces for tastings of crisp pinot gris paired with views of the pristine glacier-fed lake. Hop aboard Lady of the Lady II (ladyofthelake.com) for a scenic ride from the charming resort town of Chelan, at the lake's southern edge, to the rugged north, where black bears roam.
Lake Tahoe 
California and Nevada
The snowcapped peaks of the Sierra Nevada ring Lake Tahoe, where summer ushers in a fresh lineup of activities, from waterskiing and standup paddleboarding to lounging on the white-sand beach of Sand Harbor. Local bars keep things hopping after dark, and cultural activities include an outdoor Shakespeare festival. To escape the crowds, and wow your Instagram followers, catch a hot-air-balloon ride with Lake Tahoe Hot Air Balloons (laketahoeballoons.com).
Lake George 
New York
The Lake George Steamboat Company's paddle wheeler (as well as countless motorboats) plies the waters of this lake, just below New York's Adirondack Mountains (lakegeorgesteamboat.com). The Lake George region played a key role during the nation's Colonial period (with two forts to prove it) and has long been a popular warm-weather retreat. Kid-friendly activities in the area include miniature golf, go-karts and waterfront concerts with fireworks.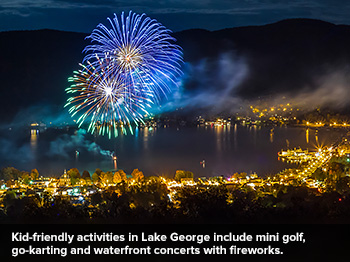 Lake Michigan 
Michigan and Wisconsin
Cherry pie and fudge are summer staples in the laid-back beach towns that dot Lake Michigan. Among them are two in Michigan, artsy Saugatuck and Charlevoix, which has many Victorian mansions. A high level of quartz gives the sand an especially soft character—and the sand reaches great heights at Sleeping Bear Dunes National Lakeshore, one of the country's finest camping spots (nps.gov). To the west, on the lake's Wisconsin shore, Door County charms weekenders with apple orchards, wineries and galleries.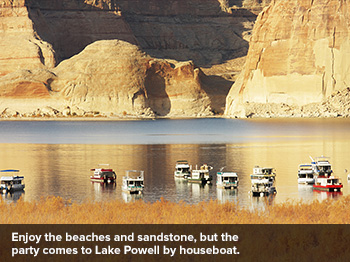 Lake Powell 
Utah and Arizona
The Southwest's need for water inspired the creation of this 186-mile-long reservoir, which brings a splash of brilliant blue to an otherworldly landscape of reddish sandstone formations. Rainbow Bridge stands out as the world's largest natural span, at 275 feet. You can reach it on an afternoon boat tour or from the comfort of your own houseboat (there are 5 marinas). Factor in sun-kissed beaches and Native American ruins and it's no wonder that houseboating on Lake Powell is the summer reunion spot of choice for many families. lakepowell.com
NOTE: Information may have changed since publication. Please confirm key details before planning your trip.