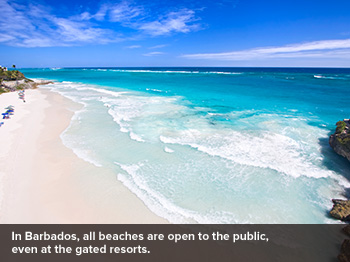 The warm waters around Barbados haven't changed in years; they're so crystal clear that swimmers can see their toes, the paddling sea turtles and the chalk-white sand on the ocean floor. But things onshore are changing. There's a buzz about the island's lavishly renovated hotels, new upscale shops and Euro-inspired cafés. And more grand plantation homes and lush gardens are open for touring than ever before. So, with the fall shoulder season's low prices, now is the perfect time for a Barbados getaway.
BEACH-AROUND
Once you get behind the wheel (cars keep to the left, British style), you'll quickly see—and feel—the wide mix of topography on Barbados. This island at the southern end of the Caribbean measures just 21 miles long and 14 miles across. It's mostly low and flat on the western and southern coasts; the hilly middle is where the sugarcane sways. And on the eastern shores, rugged cliffs rise above the open Atlantic and waves crash over coral boulders.
Wherever you go, all of the direct beachfront is public—even at the gated resorts, though it may not appear so. One of the prettiest beaches is just south of Bridgetown, at Needham's Point, a few minutes' walk from the 17th-century Fort Charles. This is Drill Hall Beach, known for its deep pink sand and the tall shade trees nearby.
At Bathsheba, the main town on the east coast, the beaches are dramatic, carved by the wild ocean, but undercurrents make swimming dangerous. Surfers from around the world catch waves at the famed Soup Bowl, the site of big surfing competitions, particularly in fall (for a schedule, go to barbadossurfingassociation.org). And over on Bathsheba Beach, locals gather for picnics and fishing, sometimes snorkeling to spearfish for octopus.
The so-called Platinum Coast on the west side, stretching from just north of Bridgetown up to Speightstown, is the poshest shoreline. Casuarina trees lean out over soft sand, and longtime properties such as the Colony Club, with its lagoon pools and swim-up bar, provide guests and day visitors with beach chairs, towels and icy drinks.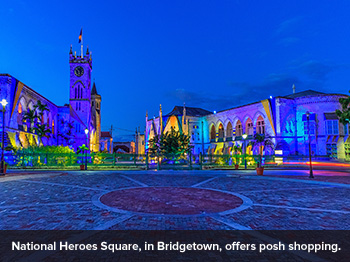 POOL-HOPPING
No matter where you're staying on Barbados, you can usually buy a day pass to enjoy the waterside amenities at other resorts, as if you were an overnight guest (as long as the resort isn't fully booked). If you try this anywhere, you should do it at the Crane, a century-old property on the southeast coast, with five pools set high on a cliff over the Atlantic.
TURTLE TIME
The green sea turtles swimming around Barbados have become a prime attraction; some weigh as much as 420 pounds and have shells four feet long. Catamarans and glass-bottomed tour boats cruise to hot spots where guides toss fish scraps and tourists are invited to jump from the boat to swim and snorkel. You can negotiate a fare at Holetown or Mullins Beach and hop on a boat (prices vary widely; offer about $25). It's also possible to book a sailing excursion in advance—sometimes with food, drinks and stops at shipwrecks included—through operators such as Small Cats Cruises.
GARDEN DRIVES
If you stick only to the coastline, you'll miss some amazing scenery in the interior. Particularly around Highways 2, 3 and 4, you can see brightly painted chattel houses (sharecropper homes with steep gabled roofs), centuries-old manors with remnants of sugar windmills, and cultivated gardens. Some of these landmarks are now open to the public, and they're terrific destinations for a drive. Northeast of Speightstown, the 400-acre St. Nicholas Abbey is one of the oldest surviving plantations, and its new owners have begun to bottle rum again. The Jacobian mansion, which sits at the end of a lane of mahogany trees, dates to 1658; as part of the tour, you can taste (and buy) the aged sugarcane spirits.
The mid-island countryside is a flower-lover's dream. Blue, yellow, lavender and pink blossoms fill Orchid World near Highway 3; follow its easy, looping hillside walk for sweeping views of sugarcane fields. A few minutes' drive to the north and west (between Highway 2 and Highway 3) is Hunte's Gardens, a lush gully filled with orchids and bromeliads.
North of Hunte's and due west of Bathsheba, look for a descending, unpaved road that leads deep into the junglelike Flower Forest. Just beyond the parking lot is a gift shop, where you can grab a trail map to find your way through a tropical forest dense with Barbados cherry and African baobab trees. Watch for green monkeys skittering around in the trees, particularly in the morning and late afternoon.
SHOP O'CLOCK
If you're in the mood for a duty-free Breitling watch or locally made rum cake, Barbados is a treasure trove—from Bridgetown's urban storefronts to the boutiques and galleries of Speightstown. The biggest retail splash is the recently opened 85,000-square-foot Limegrove Lifestyle Centre. Its Euro-style cafés sit beside Gucci, Ralph Lauren and Cartier boutiques. Nearby, at Chattel Village, chic boutiques are housed in cottages under the shade trees, including I Candi for dazzling cocktail rings and the sister shops of Lola Beach for mix-and-match bikinis and Beth & Tracie, with racks of elegant beach tunics and kaftans. To find interesting artisan crafts, seek out Earthworks Pottery, on a hill off Highway 2. There, clay pitchers and plates are painted in swirls of sherbet colors. The gift shop next door sells rum cakes and raw island sugar.
ISLAND FLAVORS
A "lime" is island-speak for a celebration with food and drink, and on Barbados, the lime never ends. Every Sunday, the Atlantis Hotel hosts a brunch buffet of Bajan dishes, like fried flying fish and cou cou (steamed okra and cornmeal), seafood stew with conch and crab, and rum-soaked bread pudding. Pan-fried whole snapper is the dish to order at Waterfront Café, in Bridgetown, with its views of the marina and the 19th-century parliament buildings.
On the Palm Terrace at the Fairmont Royal Pavilion, chef Didier Virot puts a dazzling array of flavors on the table—pickled seaweed, habanero-ginger sauces, cucumber aioli. Try the pork tenderloin with Chinese eggplant and French lentils. The morning crowd at the Surfers Café arrives with surfboards on roof racks for a fix of espresso and bagels or eggs and baked beans. Up the coast in Speightstown, the Orange Street Grocer turns out brick-oven pizzas and cupcakes. The café also sells Euro staples such as Nutella and Lea & Perrins—once again, the Old World shows itself in the West Indies sunshine.
VALUE
Around 7 p.m. on Fridays, fish shacks come to life along the beach at Oistins. Wahoo and marlin are grilled, and singers and dancers take the stage. The scene becomes a late-night party—a whole evening's worth of food and entertainment for only $15* per person.
THE DETAILS
Crane: Crane Beach, St. Philip; 246.423.6220; thecrane.com
Small Cats Cruises: Bridgetown, St. Michael; 246.421.6419; smallcatscruises.com
St Nicholas Abbey: Cherry Tree Hill, St. Peter; 246.422.8725; stnicholasabbey.com
Orchid World: Groves, St. George; 246.433.0774; orchidworldbarbados.com
Hunte's Gardens: Castle Grant, St. Joseph; 246.433.3333; huntesgardensbarbados.com
Flower Forest: Richmond, St. Joseph; 246.433.8152
Holetown, St. James; Holetown, St. James; limegrove.com
Earthworks Pottery: Edgehill Heights, St. Thomas; 246.425.0223; earthworks-pottery.com
Atlantis: Tent Bay, St. Joseph; 246.433.9445
Waterfront Café: The Careenage; 246.427.0093
Fairmont Royal Pavilion: Porters, St. James; 246.422.5555
Surfers Café: Oistins, Christ Church; 246.420.9283
Orange Street Grocer: 246.419.0838
NOTE: Information may have changed since publication. Please confirm key details before planning your trip.