Kuala Lumpur is the best walking town in Southeast Asia. With a population of less than 2 million, it has all the amenities of a much larger city yet retains an intimate, almost cozy charm. Wandering the streets of KL—as the abbreviation-crazy Malaysians call their capital—you soon discover that the city is one great emporium. Retail outlets range from sidewalk vendors working out of cardboard boxes to luxury boutiques and department stores, all offering an alluring array of chic, delicious and entertaining ways to part you from your money.
POSH MARKETS
KL is a young city. It was little more than a tin-miners' village until the 20th century, but then it came into its own in the years after World War II. From the beginning, Jalan Bukit Bintang (Star Hill Street) has been the city's prime retail district. Today it's an elegant, tree-shaded avenue of lavish international shops and malls—the modern Asian marketplace, air-conditioned against the steamy tropical heat. The poshest of these is the theatrically lit 7-story Starhill Gallery, where tuxedoed musicians play waltzes on grand pianos beside the escalators.
Jostling Dior and Louis Vuitton is Jendela KL, the established brand of the Malaysian batik designer Faisol Abdullah. He once made history by creating what was billed as the world's most expensive dress, the "Nightingale of Kuala Lumpur." Valued at more than $30 million, it was adorned with 751 diamonds weighing more than 1,100 carats. Faisol is best known for his intensely colorful men's silk shirts and handmade suits, but in 2008 he launched a line of batik products for the home. Look for his luxuriant floral upholstery fabrics and handwoven ikat place mats in shades of saffron and cinnamon.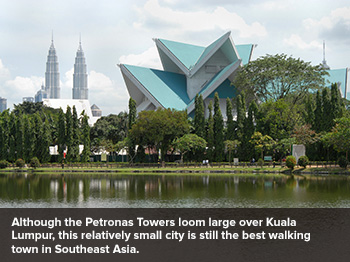 TOMORROW'S FASHIONS
If Starhill Gallery is too sedate for you, the liveliest marketplace in town is just around the corner.
Sungei Wang Plaza, on Jalan Sultan Ismail, is a bright jumble of tiny shops (anchored by the fine Parkson department store) where scrappy young designers work out of hole-in-the-wall boutiques. Facing a tattoo parlor, and just around the corner from a shop selling whoopee cushions and magic tricks, is Butterfly, the showroom of designer Kenneth Hoong. A sleek cocktail dress striped in feathery strips of frayed raw silk in lovely pastel hues is priced at $210*; Hoong also turns out smart silk and cotton tops for less than $35.
Lester Wong has participated in fashion weeks in Hong Kong and Singapore as well as events in KL, yet he still operates out of Sungei Wang. A gorgeous evening dress made of silk organza over Chinese silk of green-gold fading to black, with a pleated bodice silhouetted in golden beadwork, is tagged at $730. William Liew designs cool clubwear for young men, with red polka-dot and pleated jungle-print long-sleeved shirts at $50. His long lean loafers in perforated tan or acid-green suede are a handmade bargain at $90.
ASIAN FLAIR
Other Malaysian designers have tweaked traditional styles for a contemporary look. A decade ago, the venerable cheongsam—the sexy silk dress with side slits and a mandarin collar—was virtually relegated to Suzie Wong camp. But then Sunny Ng imaginatively re-created it in brilliant colors, often adding beads, faux gems and brocade appliqué. A crimson silk cheongsam with floral appliqué costs $550 at Ng's little shop in Hap Seng Tower on Jalan P. Ramlee. He also offers updates on classic menswear, such as a red toggle-tie cotton jacket ($150).
ANTIQUES AND MORE
Despite its relative youth, Kuala Lumpur takes its heritage seriously. Central Market, a superb, pastel-colored 1928 Art Deco building, was the city's "wet market" for fishmongers and fruit sellers until the 1980s, when it was slated for demolition. A group of investors stepped in and converted it into a mall. Central is a great place to pick up T-shirts and other souvenirs from pushcart vendors; there are also shops selling antiques, vintage toys and Malaysian crafts like songket, a fine cloth woven with gold and silver threads.
KL's most delicious place to shop for antiques is Precious Old China, a Malacca-style Nyonya restaurant at Central, where even the chair you sit on is for sale. Red-silk chair covers from Penang, embroidered in the enchanting, naive Straits-Chinese style, are $900; vintage shadow-box collections of butterflies and bizarre Malaysian insects are $100. (And yes, the lunch is excellent. If you feel brave, ask for santan durian, not on the menu, for dessert—a creamy preparation of Southeast Asia's infamous foul-smelling but delectable fruit.)
MALAY TRADITION
Without a doubt, the best-known Malaysian brand is Royal Selangor, the 130-year-old pewter-maker. A generation ago, the collection was showing its age, but the firm has since lured top international designers to create exquisite and innovative housewares. Royal Selangor products are sold at fine stores throughout the city and at the airport, but the most fun place to shop for pewter is at the factory in the suburb of Setapak. (To ask about free bus service to and from city hotels, call 03-4145-6122.) You'll start your tour in the small museum, then visit the factory floor (where you can bang out your own pewter dish) and finish up in a beautiful shop that sells a wide array of teapots, tankards, fruit bowls and picture frames. All portable—and unbreakable!
NOTE: Information may have changed since publication. Please confirm key details before planning your trip.