Just because you're traveling across the globe doesn't mean you have to spend a fortune—or skimp on a good time. Here are a few wallet-friendly ways to enrich your trip to Japan.
TOKYO
Consider taking advantage of your jet lag and heading to Tsukiji, Tokyo's fish market, on your first morning in Japan. Arrive around 4 a.m. if you want to watch the famous tuna auctions, at which chefs bid on 400 pounds of fish. Only 60 people are permitted at each session (there are two), and the spots are typically filled by 5 a.m., sometimes even by four. If you prefer to sleep in a little longer, you can skip the auction and still go the market for breakfast. Several small restaurants open to the public at 9 a.m. You may wait half an hour or more, but it's worth it to dine on some of the freshest sushi in the world. For less than $30*, a chef will prepare 12 pieces in front of you. Between bites of salmon or roe, you can sip complimentary miso soup and green tea.
Fans of the film Lost in Translation can reminisce about the indie flick at the Tokyo Park Hyatt's ritzy New York Bar. On the top floor of a 52-story skyscraper, the New York Bar offers spectacular panoramas of Tokyo, an extensive cocktail list and nightly jazz performances. Settle your bill before the show begins to avoid the $20 cover charge (8 p.m., Monday–Saturday; 7 p.m. on Sunday). Or spend the evening at the hotel's Peak Bar, on the 41st floor, instead. A few of the movie's scenes were shot there as well, and the Peak Bar offers nearly the same view, with one big advantage: the Twilight Time special. For $30 you can watch the sunset with unlimited drinks and canapés from five to nine nightly.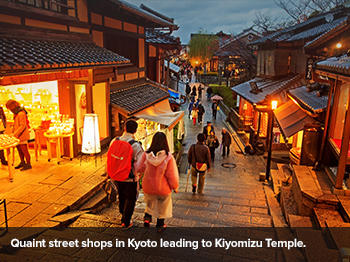 KYOTO
If you're planning to travel outside Tokyo, you may want to purchase a Japan Rail pass. It'll soon pay for itself. A one-way train ticket from Tokyo to Kyoto costs $111, while the seven-day rail pass allows you to travel around Tokyo and to surrounding areas (including Kyoto) for a flat fee of $120. The pass is available only to international visitors and must be purchased before arriving in Japan. Kyoto is home to 17 UNESCO World Heritage sites, many of which are Buddhist temples or Shinto shrines. When deciding on which ones to see, keep in mind that temples often charge an entrance fee but shrines rarely do. Although the fees generally aren't expensive, they can quickly add up. Choose which temples you want to visit ahead of time to make sure you don't accidentally exceed your budget. After a day of sightseeing, you can return to the train station for fresh sushi at bargain prices. The station contains a department store known as Isetan, whose two basement floors make up a high-end supermarket. On B1 you'll find a variety of sweets, while on B2 there's a large selection of prepared food. The grocery store sells some of Kyoto's most delicious sushi at low prices, and slashes those prices even further about a half hour before closing, at 8 p.m. Bring your meal to the station's Sky Garden, on the 15th floor, to picnic and people watch.
THE DETAILS
Isetan: Higashi Shiokoji-cho, Karasuma-dori, Shiokoji sagaru, Shimogyo-Ku, Kyoto; kyoto.wjr-isetan.co.jp
Japan Rail: japanrailpass.net
New York Bar: 3-7-1-2 Nishi Shinjuku, Shinjuku-Ku, Tokyo; 011-81-3-5322-1234; tokyo.park.hyatt.com
Peak Bar: 3-7-1-2 Nishi Shinjuku, Shinjuku-Ku, Tokyo; 011-81-3-5322-1234; tokyo.park.hyatt.com
Tsukiji: 5 Chome-2-1 Tsukiji, Chuo, Tokyo; 011-81-3-3542-1111; tsukiji-market.or.jp
NOTE: Information may have changed since publication. Please confirm key details before planning your trip.