A vacation to the Caribbean doesn't have to break the bank. These tips, from veteran travel agents and Caribbean specialists Terry McCabe and Margie Hand and the folks at CheapCaribbean.com, may help you save on your next warm-weather getaway.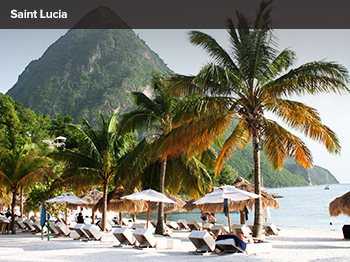 TIME IT RIGHT
There are several ideal times to head to the region. In spring, you won't have to compete with the crowds of the holiday season, the weather is lovely (there's generally little rain or humidity), and you'll sidestep the annual resort and restaurant closings of summer and early fall. Another bonus: After spring break and into the summer, prices drop as much as 40 percent to boost tourism and there are lots of festivals, such as the lively St. Lucia Jazz & Arts Festival and the Barbados Crop Over, which celebrates the end of sugarcane harvesting and ends with a huge carnival.
THINK VALUE, NOT BOTTOM LINE
The lower the airfare, the more affordable the vacation, right? Not necessarily. JetBlue, AirTran and other carriers offer relatively low-cost flights to popular destinations. But consider spending a bit more to visit lesser known, less developed islands, such as Bequia, in the Grenadines. Once you arrive, the more affordable accommodations, food and activities will in most cases make up for the pricier flight. The key? Plan ahead.
ASK AROUND
Avoid booking excursions in and around cruise ports, because they are often priced for tourists. Instead, ask your resort staff, cab drivers and other locals you encounter what they like to do. On Martinique, for example, we discovered that the Neisson rum distillery, which offers free tastings and rare, specially designated rums, was much quieter and more authentic than the more popular Clément distillery.
THINK (AND EAT) LIKE A LOCAL
Most food in the Caribbean has to be imported, meaning that your restaurant bill can cause serious sticker shock. To find an affordable meal that doesn't skimp on flavor, consider eating at fish and conch shacks, local markets, fish frys and barbecues. At Curaçao's Plasa Bieu, in Willemstad, you can feast on pumpkin pancakes and goat stew in a covered market for less than seven dollars, while the chefs at the Sunday barbecue hosted at the Aquarium, on Grenada, roast tuna and lobster over a coal pit. And the Oistins fish fry, on Barbados, serves up culture along with the daily catch.
NOTE: Information may have changed since publication. Please confirm key details before planning your trip.