Those who know where to look for bargains in this city of canals and gabled houses have always known that Amsterdam is a steal. A sense of frugality has long been entwined with Dutch culture. To make the most of your own money and time here, limit your hours in Amsterdam's tourist-clogged center and make for mellow and quirkier outlying neighborhoods instead.
EXPLORING EAST AMSTERDAM
A walk through the tree-lined neighborhoods of Amsterdam Oost (East Amsterdam), just 7 minutes by subway from the crush of humanity around Amsterdam Centraal, the central train station, will have you longing to buy one of the eccentric houseboats lining the Amstel River. Steps from the water, dine on French fare worthy of a Michelin star or two (at a fraction of the price) at Rijsel, tucked away inside a former 1960s home-economics school for women. Owners Iwan Driessen and Pieter Smits spotlight Gallic comfort foods, such as rotisserie chicken, cassoulet and chevreuil (roe deer). "We want to serve simple dishes prepared with a lot of care and love but without the oohs and aahs you find in modern molecular gastronomy," says Driessen, the chef de cuisine.
From October through March, join in a Dutch winter obsession: ice-skating at the city's largest outdoor rink, Jaap Eden. For one of the city's livelier and more budget-minded street markets, head to Dappermarkt to taste North Sea specialties, like raw herring and piping-hot battered and fried fish chunks called kibbeling. Retro fans frequent Heel Phil, an affordable secondhand store. Many clothing and accessory treasures from the '60s and '70s are priced at around 20 euros (about $22). And make time for an Amsterdam wheat beer at Brouwerij 't IJ, an organic microbrewery that sits in the shadow of an 18th-century windmill.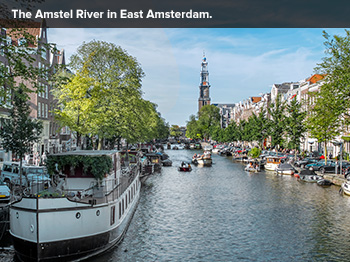 GOING DEEP IN THE JORDAAN
The Jordaan, just west of the central station, is one of Amsterdam's most famous neighborhoods. Tourists swarm here for postcard Amsterdam views—charming streets arching with narrow bridges, gabled canal homes that lean at impossible angles and the like. But despite the hordes, authentic Jordaan experiences can be had within a stone's throw of the lines winding around the Anne Frank House. Tour the Jordaan's hidden hofjes (interior courtyards) with fifth-generation Amsterdammer David de Slingeraar during a "Home Cooked Amsterdam" outing with Urban Adventures. After he shows you his 'hood's highlights, de Slingeraar invites you into his home, an apartment in a 14th-century monastery, for a traditional lunch of pannekoeken (Dutch pancakes filled with Gouda, ham and goat cheese).
Pop into Indianaweg 10, just a few doors down, whose pretty leather handbags, baskets and hand-embroidered tops are sourced by globetrotting sisters Romy and Débra den Dekker from places as varied as Morocco, Indonesia and Guatemala. And at Lena, another group of sisters joined by a friend pursue their dream of encouraging people to travel "with just hand luggage and a library card," says co-owner Elisa Jansen. At their "fashion library" you can rent new and vintage couture clothing for an affordably stylish night on the town.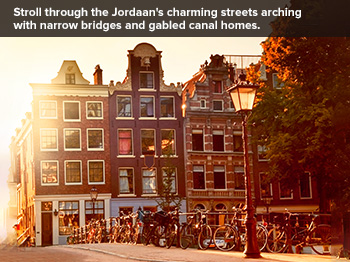 Plan to dress down, however, for the Jordaan's Café de Twee Zwaantjes, set on the picturesque Prinsengracht and in business since 1928. Co-owner Jos Dans can usually be found crooning classic Amsterdam ditties behind the bar ("We sing about divorce, heartbreak, she took my money, those kind of things," he says). Sunday nights feature live accordion music and impromptu sing-alongs. And for late-night snacks in the Jordaan, visit Boca's, a tapas restaurant popular with students thanks to inexpensive hapjes (small bites), such as mini burgers with foie gras and truffle mayo, bruschetta and bitterballen, a savory Dutch treat.
GO WEST
Just a 5-minute bike ride from the Jordaan, Oud West (West Amsterdam) is another quarter where bargains abound. Young parents pedal their kids in the typically Dutch contraption called a bakfiets (picture a wheelbarrow attached to the front of a bike). Artists are opening ateliers left and right thanks to relatively affordable rents. Mashed Concept Store showcases independent local designers and is the spot to score unique finds, like hand-forged scissors, handmade leather baby moccasins and lamb's-wool blankets that make perfect winter throws. "This neighborhood is still kind of upcoming and quite cheap; it's nice to see people living their dreams here," says Fleur Caroline Wensveen, who makes silver and gold jewelry sold at Mashed. Cross the street to find Following Lucy, a women's boutique where you can pick up affordable rubber boots for sloshy days. Near Bellamyplein, follow the tram tracks to Foodhallen Amsterdam, an industrial-chic space inside an old tram depot. "There's not really a food-truck scene in Amsterdam, but I kind of see this like food trucks," says American expat blogger Scott Hartbeck of the worldly collection of stalls selling French steak sandwiches, New Zealand meat pies, Turkish falafel and Belgian fries. There's a central bar, and prices for food and drink rarely rise past the 8-euro ($9) mark.
THE DETAILS
Rijsel: 52b Marcusstraat; 011-31-20-463-2142; rijsel.com
Jaap Eden: 64 Radioweg; 011-31-900-724-2287; jaapeden.nl
Dappermarkt: Dapperstraat; dappermarkt.nl; closed Sunday
Heel Phil: 88–92 Eerste Oosterparkstraat; 011-31-629-201-684; heelphil.com
Brouwerij 't IJ: 7 Funenkade; 011-31-20-528-6237; brouwerijhetij.nl
Urban Adventures: 011-31-64-367-2186; urbanadventures.com
Indianaweg 10: 12 Tichelstraat; 011-31-64-023-5754; indianaweg10.com
Lena: 174H Westerstraat; 011-31-207-891-781; lena-library.com
Café de Twee Zwaantjes: 114 Prinsengracht; 011-31-20-625-2729; cafedetweezwaantjes.nl
Boca's: 30 Westerstraat; 011-31-20-820-3727; bar-bocas.nl
Mashed Concept Store: 168 Jan Pieter Heijestraat; 011-31-636-315-377; mashed-concept-store.com
Following Lucy: 119C Jan Pieter Heijestraat; 011-31-20-489-9006; followinglucy.com
Foodhallen Amsterdam: 51 Bellamyplein; foodhallen.nl
NOTE: Information may have changed since publication. Please confirm key details before planning your trip.